Finder may earn compensation from partners, but editorial opinions are our own. Advertiser Disclosure
How to fill out the PSLF Employer Certification Form
Submit this form each year to make sure your repayments continue to qualify for forgiveness.
You need to fill out and submit an Employer Certification Form (ECF) for each eligible employer you work for while you make repayments toward PSLF. The sooner you start submitting your ECFs, the better — otherwise, you might find out some of your repayments aren't eligible when you think you're ready to apply. After you get approval for 120 repayments, you're ready to fill out the PSLF application.
What should I do before filling out the PSLF Employer Certification Form?
The Department of Education (DoE) and FedLoan — the servicer that processes PSLF applications — recommends you submit the Employer Certification Form as soon as possible. But there are a few steps you need to take first:
How to complete the Employer Certification Form in 5 steps
You can complete the PSLF Employer Certification Form (ECF) directly on the FedLoan website or by hand. Wherever you complete it, you still need to print and sign it before you can submit the form.
You can complete the form electronically or by hand using dark ink. To eliminate potential problems, enter all dates in the order of month, day and year (MM/DD/YYYY) and only include numbers, making sure your name and Social Security number are on the first two pages. Typically, it takes about 10 minutes to complete if you have the information you need on hand.
Step 1: Fill out the borrower information section.
Complete the first section with your legal name, Social Security number and contact information. If any of your personal details have changed since you first took out your student loan, check the box at the top of the section.

Step 2: Read and sign the borrower authorizations, understandings and certification section.
By signing this page, you agree to both let your employer release employment records to FedLoan and receive automated voice and text messages to your phone. You're also stating that you understand the terms and conditions of the PSLF application and certify that all information is true to the best of your knowledge.
If any of your employers have since closed down or won't certify your employment, you can still submit your ECF by checking the box at the bottom of the form and skipping Step 4.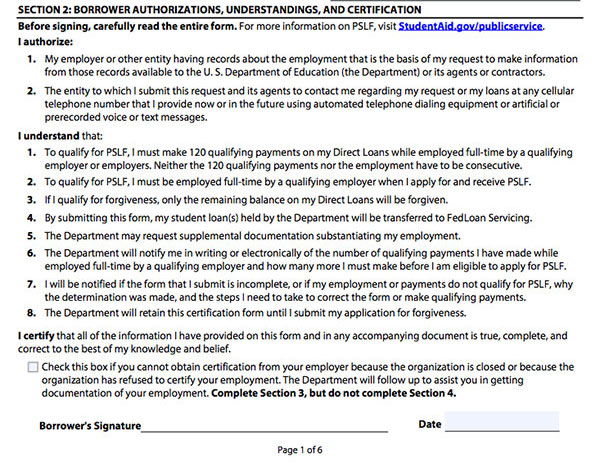 Step 3: Complete information about your employer.
You or your employer can fill out the employer information section.
If you choose to complete it yourself, you'll need to know the company's federal employer identification number (FEIN), which you can find on your W-2 tax form. If you work for a nonprofit, you'll need to know if it's registered as a tax-exempt 501(c)(3).

Step 4: Have your employer certify your application.
Print out the application and take it to your employer to have them sign it — certifying that you worked for them and the information provided is correct.

Step 5: Submit your form to FedLoan Servicing.
If your loan servicer is already FedLoan, you can log in to your account and upload your form through FedLoan's website.
If you're repaying your student loans through another servicer, you need to mail it to:
FedLoan Servicing
US Department of Education
PO Box 69184
Harrisburg, PA 17106-9184
What happens after I submit the ECF?
After you submit your first Employer Certification Form, the DoE transfers your student loans from your current servicer to FedLoan. Once your loans are transferred, two things happen:
You learn how many eligible repayments you've made toward PSLF so far.
You start making repayments to FedLoan, instead of your previous servicer.
The DoE and FedLoan recommend you continue to submit your ECFs each year until you've reached the 120 mark. At that point, you're ready to fill out the PSLF application form.
Why submit the ECF right away?
Submitting your ECF as soon as you've started making eligible repayments toward PSLF is a way of checking to make sure your repayments actually qualify toward PSLF. Once FedLoan processes your application, you'll be able to see how many eligible repayments you've made and how many more you need to make before you can apply.
FedLoan recommends that you continue to submit an ECF each year — even if your employers stay the same — to make sure your repayments continue to qualify toward PSLF. Even after your loans are transferred to FedLoan, your account won't reflect the eligible repayments you've made for that year until after you submit a new ECF confirming your employment.
Bottom line
Applying for Public Service Loan Forgiveness can be easy if you plan ahead. To get the fastest results, submit Employment Certification Forms each year you work a qualifying public service job — especially if you change employers. And keep track of how many qualified payments you've made so you don't have to scramble at the last minute.
You can learn more about how it all works with our guide to the Public Service Loan Forgiveness Program.
Frequently asked questions