Finder may earn compensation from partners, but editorial opinions are our own. Advertiser Disclosure
How to earn Chase Ultimate Rewards points
Sign up for the right card — or two — to earn big.
Four ways to earn Chase Ultimate Rewards points
Earn points with signup bonuses
Nearly all Chase cards — including cashback cards — offer a signup bonus to help you quickly earn points. Though there's no "best" time to sign up for a card, it's a good idea to keep an eye out for promos and limited-time welcome offers.
Compare cards for earning Chase Ultimate Rewards
The Chase 5/24 rule
Note that Chase will not approve applications for new credit cards if you've opened five or more credit card accounts within the last 24 months.
Informally called the 5/24 rule, this restriction applies to all credit cards you might have opened, not just Chase cards.
This means if you're interested in adding a few Chase cards to your wallet or want to take advantage of their welcome offers, you'll likely want to prioritize Chase over other cards to avoid running into this restriction.
Spend in eligible categories
You'll find a variety of earning categories across the Chase Ultimate Rewards cards, ranging from flat bonuses on all spending to 2x points on travel and dining, to 5% cashback on quarterly categories.
If you want to maximize your Ultimate Rewards, we recommend picking up two Chase cards for spending — one that offers a flat point reward rate on all spending, and one with bigger earnings for categories you spend on often.
For example, the Chase Freedom Unlimited® credit card earns an unlimited 1.5% on eligible purchases. This serves as a reliable everyday spending card that provides a steady stream of points.
If you want to push that earning even further, pair this card up with the Chase Freedom Flex℠. You'll earn 5x points for every dollar spent in rotating quarterly categories, supplementing the income provided by the Chase Freedom Unlimited®! When paired with the redemption potential of a Chase Sapphire Reserve® or Chase Sapphire Preferred® Card, this setup is referred to as the Chase Trifecta.
How cashback redemption works
Chase advertises its Chase Freedom Flex℠ rewards as cash back. However, you'll actually earn points when you use your card.
It takes 100 points to earn $1 in cash back. So, each point is worth 1 cent, which fits the industry standard.
You can redeem your points for various rewards using your Chase online account, including:
Cash back
Gift cards
Travel
Products and services from third-party merchants
Points may be worth less than 1 cent apiece if you redeem them for rewards other than cash back. That said, it's a good idea to check the redemption rate before using your points.
How to redeem Chase Ultimate Rewards points
Shop through Chase's online portal
Chase's shopping portal, called Chase Offers, offers a few opportunities to earn additional points on your purchases. All you need to do is log in to your Chase account, access the portal and make purchases using your Chase card.
Bonus point earnings vary based on the retailer, though you can find some great earning opportunities depending on what you're in the market for.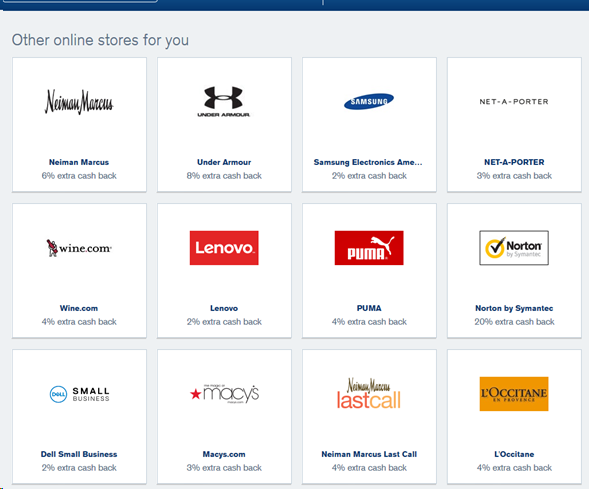 Chase Ultimate Deals
You can find limited-time promotions through the Chase Ultimate Deals portal on the Chase Ultimate Rewards site. Clicking on an available promo allows you to shop and earn even greater points than normal.
These deals change regularly, so it can pay off to check back in whenever you access your account.
Refer a friend
You can earn bonus points directly to your account when you refer a friend to sign up with your brand of Chase card.
The exact amount you can earn depends on the type of card you have. For example, the Chase Freedom Flex℠ earns 5,000 points (or $50 cash back) for each friend who gets accepted, up to 50,000 points each year.


Data obtained March 2019. Values are subject to change and should be used only as a general guide.
Bottom line
Earning is easy with Chase Ultimate Rewards thanks to its competitive earning rates, solid welcome offers and the variety of bonuses available through the Chase shopping portal. Grab a pair of Chase cards to complement your spending habits and you'll be able to take advantage of the great redemption options in no time.
Frequently asked questions
How much are Chase points worth?
Chase points are worth one cent per point when redeemed on cash back or gift cards.
Do Chase cashback cards earn Ultimate Rewards Points?
Yes, with a caveat. Cashback reward cards earn points you can convert into cashback at one cent per point. You can transfer these points to certain Chase cards to use them as Ultimate Rewards points.
Can you buy Chase points?
No. You can't purchase Chase points at this time.
How do I transfer Chase Ultimate Rewards points?
You can transfer points by selecting "Transfer to Travel Partners" under the "Use Points" menu on your Ultimate Rewards homepage.
Can I move points to another Chase card?
Yes. You can choose "Combine points" on your Ultimate Rewards homepage to move points from one Chase card to another.
It's easy to start building Chase Ultimate Reward points as nearly any card you choose will have strong earning potential. Take advantage of the signup bonuses and choose the cards with the earning categories you'll use most to earn rewards points faster.