Finder is committed to editorial independence. While we receive compensation when you click links to partners, they do not influence our content.
How to convert a spare room to a nursery for your baby
Ready to transform that extra room into a bedroom for your newborn? Get inspiration for your baby's bedroom.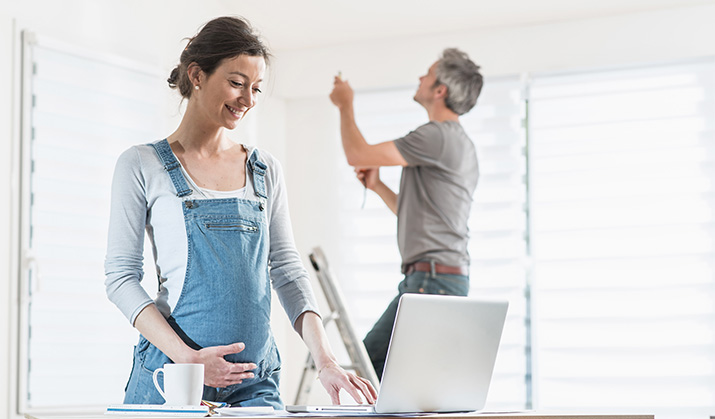 Having a baby is a wonderful, exciting time for parents, but it also means that you'll be making some changes in your life and around the house. Your new baby is going to need somewhere to sleep — their very own space where they feel completely comfortable and secure and can happily nap the day away.
Just because there's a baby on the way, it doesn't mean you need go out a buy a bigger house. Think about space you're not using, it's easy to transform a spare room into a beautiful (and practical) nursery with just a little bit of know-how.
What does a nursery need?
Setting up a nursery for a newborn baby can be daunting, especially when you're trying to work out exactly what you need. The list of items you want could be a long one, so it's important to have a clear idea of exactly what you need for your baby's bedroom to avoid any unnecessary expenses.
Let's take a look at some of the renovations expecting parents make when creating the perfect space for their new arrival.
Colors
The first step is to choose a calming, baby-friendly color for the room. Spare rooms are typically a forgotten and neglected area, so a fresh coat of paint or some new wallpaper can work wonders.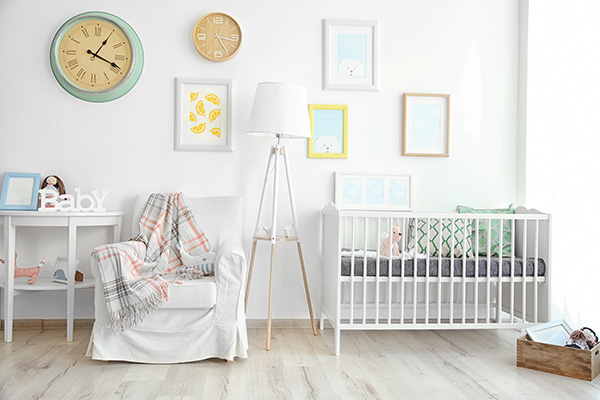 Pink for a girl and blue for a boy, right? Sure, it's a traditional approach, but there are plenty of more options to choose from for nursery color schemes. The key is to create a bright, calming and comforting space where your new bub will feel right at home.
Themes
If you're feeling especially creative, you can also create a theme in your nursery, such as animals or even your favorite nursery rhyme. You can choose decor, color scheme, furniture and accessories to set the mood in the room. The possibilities for personalization are almost endless, so have fun with it.
Just remember that your rosy-cheeked bundle of joy won't stay a baby forever. A color scheme or theme that looks super-cute now could look completely out of place in just a few years. So it's your call, if you don't mind redecorating once you've got a toddler on your hands, go for a theme suitable for a newborn.
Lighting
Since you'll be spending plenty of time in the nursery at all hours of the day and night, investing in a good lamp or night light will allow you to
Read while feeding or nursing your little one
Measure a medication dosage
Help you see when checking on the little one at night
You could also add in dimmer switches for the lights in the room to allow for different levels of light depending on what you're doing in the room. There are plenty of stylish and clever designs available, many of which have been specially made for kids' rooms.
You also need to consider the effect of natural light in your nursery. If you've spent time searching online for inspiration and ideas, you've probably come across plenty of light, bright and white spaces that look simply beautiful.
While plenty of natural light and illumination can make a nursery a calm and inviting space, this is also the room where you want your baby to sleep, not only at night, but also during daylight hours. With this in mind, make sure you have curtains or blackout blinds to create the perfect sleeping environment.
Crib and bedding
Whether you choose a bassinet or a crib, your baby is going to need somewhere to sleep. Bassinets are very convenient when your newborn is young, but cribs have the advantage of being useful for much longer.
There are plenty of safe, good-looking cribs on the market that are surprisingly cheap. You can go all-out on a big, elaborate crib or bassinet if you want, but you might rather spend that money on converting the spare room into a nursery. Cribs start at around $100 and prices can go up into the thousands.
Don't forget that you'll need a mattress, a couple of fitted sheets and a mattress protector for those inevitable accidents.
Apply for a credit card to help with your nursery renovation
Furniture
Chair for mom or dad
The most essential item of furniture (after a crib) for your new nursery is a comfortable chair. Whether it's for feeding or simply rocking your little one to sleep late at night, having somewhere plush and comfy to sit is a must. It doesn't necessarily have to be expensive, but you'll need to be able to sit upright in it to breastfeed — add cushions and pillows for extra comfort.
Table
A table close to your chair can also come in handy when you're looking to place down your phone, book, the baby's bottle or snacks without disrupting your baby's feeding or sleeping
Changing table
A changing table creates a dedicated and well-organized zone for changing and cleaning your baby. While these aren't essential, you choose to use a change mat on top of another surface. Be careful though, you'll have to keep an eye on your baby so they don't fall if there aren't protective rails on the surface you decide to change your baby on.
Make sure you also have all the essentials — diapers, baby wipes, cream and washcloths — accessible at a moment's notice in case of a messy emergency.
Baby bath
A baby bath is another non-essential item you may want to include to make bathing your baby easier than a soak in the bathtub or sink.
Apply for a 0% credit card to furnish your newborn's nursery. This way, you can get all the essentials you need to decorate and you'll skip out on paying interest as long as your pay your balance in full before the promotional period ends.
Storage
You'd be surprised how much stuff one tiny little baby can accumulate. As well as the pile of cute baby clothes, there are towels, blankets, wraps, toys, books and a whole lot more — adequate storage space is essential.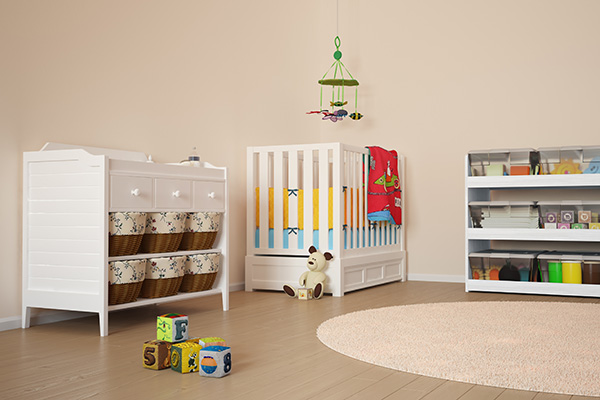 You'll want a chest or dresser to store your baby's clothing. Shelves and boxes will prove useful for storing all the little toys and trinkets your baby is gifted. Bookshelves can display some of your favorite baby books and a few stuffed toys, adding to the child-like ambiance of the room.
Don't forget that easy access to storage is always vital, as you'll rarely have both hands free to get what you want.
Shop on Wayfair for nursery furniture
How much will it cost to turn a spare room into a nursery?
The total cost of your nursery transformation will vary depending on the features and finishes you choose. Like any renovation, you can get to the end goal with a very basic budget or you can go all-out and spend big on a luxurious renovation.
The important thing to remember is that a nursery typically won't require too much building or construction work. Your major expenses will likely be things like painting, adding shelving and storage cabinets, and buying furniture for the room.
You can complete an impressive renovation for well under $1,000 — including the crib. For high-end renovations, a budget of around $5,000 can have impressive results.
Apply for Financing
Tips to create the perfect nursery for your newborn
The following tips will help you turn your unused spare room into a warm and welcoming nursery:
Small spaces. Forget about non-essential items like changing tables and choose furniture designed to fit in a smaller space. Take advantage of storage space under the crib and think of other clever space-saving ideas. Choosing a light, bright color scheme can make the room feel larger than it actually is.

Save money. From excited soon-to-be grandparents to generous friends at a baby shower, you'll be given plenty of useful items for your nursery — think furniture to little trinkets and accessories. Take advantage of hand-me-downs, such as old dressers, as these kind offers and presents can cut costs substantially.
Flooring. You might want to think about whether you need to change the flooring of the room. Kids are messy and whatever surface you choose will need to withstand a lot of punishment, so keep this in mind when planning ahead.
Accessories. The right accessories can add warmth and character to your nursery and help your growing baby feel right at home. Colorful artwork, mobiles, photos and more can contribute to the atmosphere. Don't forget about about buying a small fan to help keep you and the baby cool — it can also be handy source of white noise to fall asleep to.
Design ideas. You can access a never-ending supply of nursery design ideas online. Do some research, gather inspiration from a range of sources and combine it all together to create the perfect nursery.
When considering a home renovation, be sure to have all of your ducks in a row before you starting swinging any hammers. That means, you should obtain adequate funding to finish the project and have a start to finish plan of how the remodel will pan out.
More guides on Finder