Finder is committed to editorial independence. While we receive compensation when you click links to partners, they do not influence our content.
How to apply for a Parent PLUS Loan
What to do before, during and after filling out the application.
Direct Parent PLUS Loans might be more affordable than private student loans for some families. But applying isn't as simple as filling out the FAFSA — parents have to fill out a separate application.
Steps to take before completing the Parent PLUS Loan application
There are a few steps parent borrowers might want to take before getting started on the Parent PLUS application.
1. Check your eligibility
Make sure you meet the following criteria before getting started:
Biological or adoptive parent of an undergraduate student — stepparents might also be eligible
Child qualifies as a dependent according to the Department of Education (DoE)
No adverse marks on your credit report
Meet general requirements for federal student aid — this applies to both you and your child
You're ineligible for a Parent PLUS Loan if your child is over 23, married, participates or participated in active military duty, has children that are financially dependent on them, was an emancipated minor, was homeless or is at risk of being homeless.
You still might be able to qualify for a student loan if you have negative marks on your credit report, such as defaults or delinquencies. However, your application requires a few more steps.
2. Complete the FAFSA
Sit down and complete the FAFSA with your child, since the application requires information about your personal finances. You're both required to create a Federal Student Aid (FSA) ID — save this for your Parent PLUS application. You can do this before or after your child has been accepted to school by using our step-by-step guide to filling out the FASFA.
Your child will get a summary of the federal aid they're eligible to receive after the DoE processes the application. This includes federal grants, work-study and lower interest Direct Subsidized and Unsubsidized Loans. If your child can cover all of those costs with federal aid on their own, there's no reason to apply for a Parent PLUS Loan, which is more expensive and less flexible.
3. Calculate your loan amount
If you still need to cover part of the cost of tuition, figure out how much you're eligible to borrow. Parent PLUS borrowers can use the following formula:
Cost of attendance (COA) – financial aid award = Maximum Parent PLUS Loan
If you've already received a financial aid packet from your child's school, then you should know both of these numbers. Otherwise, contact the financial aid office to get a more accurate estimate of your child's expenses.
4. Compare private loans
If you have strong credit and a low debt-to-income ratio, there's a chance you'll find a better deal by cosigning a student loan for your child than getting a PLUS Loan. With interest rates fixed at 5.3% , a loan fee of 4.236% and few repayment options, you may be able to qualify for even lower rates elsewhere.
Many private loan providers allow your child to apply for cosigner release after making a few years of repayments and building their credit. If you want to move a Parent PLUS Loan to your child's name, you'll have to refinance.
5. Request an application
Once you've made sure you're eligible, know how much you need to borrow and weighed other options, you're ready to request an application from your school.
While most parents have to complete the DoE's Direct PLUS Loan Application for Parents, some schools might have additional forms or information for you to fill out.
How to complete the Direct PLUS Loan Application for Parents
Follow these steps to complete the application for a Parent PLUS Loan. Typically, it only takes 20 minutes to complete if you have the following details on hand:
Parent information
FSA ID
Permanent address
Phone number
Mailing address — or US address if you live abroad
Email address
Employer's name, address and phone number
Student information
Full name
Social Security number
Birthday
Permanent address
Phone number
Name of your child's school
Step 1: Log in to the FSA website
Follow the link you received from the financial aid office of your child's school or visit the application directly.
Remember that FSA ID you created when you filled out the FAFSA with your child? You also need it to access the Parent PLUS application. You can request to change your username or password by clicking Log In and then Forgot Username or Password?
Step 2: Borrower type and year
Read the introduction explaining how the Direct PLUS Loan application works before providing basic information:
Item 1: Select Parent Borrower.
Item 2: Select the academic year you're applying to cover with the loan.

Step 3: Student information
Complete the following section with information about your child and when you'd like to start repayments. Select your child's name from the dropdown list and verify their personal information:
Item 3: Verify the spelling of your child's first name, middle initial, last name and suffix.
Item 4: Verify your child's full Social Security number.
Item 5: Verify your child's birthday.
Item 6: Verify your child's permanent address — this might be the same as your address if they normally live with you.
Item 7: Verify your child's area code and telephone number.
Read Items 8 and 9 carefully: This is where you have the chance to request Parent PLUS deferment for while your child's in school and during the six months after they graduate. You might want to check out our guide to Parent PLUS Loans to learn the risks of deferring your loan (hint: you'll end up paying more).
Item 8: Check Yes if you'd like to defer your loan until after your child graduates, leaves school or otherwise drops below half time. Check No if you'd like repayments to start 60 days after the DoE disburses the loan.
Item 9: Check Yes if you'd like an additional six months after your child graduates, leaves school or drops below half time before repayments begin. Otherwise, check No.

Step 3: Authorization for school to use loan funds to satisfy other charges
Item 10: Read the authorization explaining your funds might be used to cover school costs other than tuition, fees, and room and board. Check the box authorizing the school to use the loan to cover any additional money your child owes, like lab fees, library fines or parking tickets.
Item 11: Read the Credit Balance Option explanation. If you'd like to receive any additional funds left over after covering your child's school account balance, check Me. If you'd like the money to go directly to your child, check The Student.

Step 4: School and loan information
Item 12: Select the location and name of your child's school. The school code and address should then appear.
Item 13: Select New if you're applying for a new Parent PLUS Loan for this application. If you're changing the amount for a previously submitted application, check Change. Don't see this item? There's nothing wrong with your application — it only appears if there's already an application on file for that student, school and year.
Item 14: This is where you enter the amount you'd like to borrow. You can choose to borrow up to the maximum amount your school will allow, apply for a specific loan amount, revise the loan amount from a previous application or request the loan amount later.
Item 15: Confirm the dates of attendance your loan should cover — you might want to double-check with your school's financial aid office about the loan period for the upcoming semester or academic year.

Step 5: Borrower information
This section involves verifying and adding to the personal information you already submitted when completing the FAFSA. If you notice an error in the prefilled fields, you likely won't be able to fix it on the application. Save your application and contact the school's financial aid department.
Item 16: Verify your Social Security number.
Item 17: Verify the spelling of your name.
Item 18: Verify your birthday.
Item 19. Select either US Citizen, Permanent resident/Eligible noncitizen or Neither of the above. If you're an eligible noncitizen, enter your alien registration number.
Item 20: There's nothing you need to do in this section: this is where the DoE informs you of your default status on any federal student loans currently in your name. If you're in default on any, you'll be unable to qualify for a Parent PLUS Loan until you make repayment arrangements with the loan holder.
Item 21: Enter your permanent address or verify it if it's prefilled.
Item 22: Check Yes and continue on to Item 23 if your mailing address is different from your permanent address. Otherwise, check No and continue on to Item 24.
Item 23: Enter your mailing address if it's different from your permanent address.
Item 24: This item will only appear if you've entered addresses outside of the US. Select whether or not you have a US mailing address. If you have one, write the address you'll use while your child is in school.
Item 25: Verify or enter your phone number, including the area code.
Item 26: Enter and confirm the email address you'd like FSA to use to send you correspondence. If you'd rather no email correspondence, leave this section blank.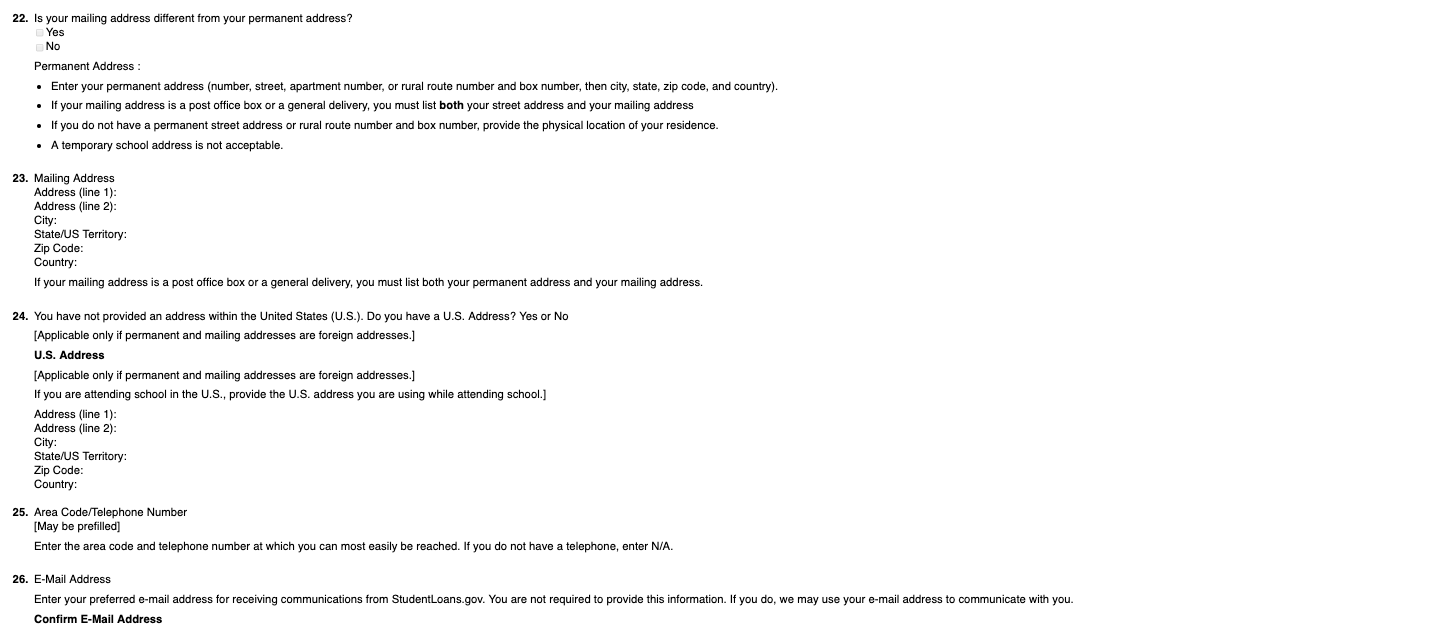 Step 6: Employer information
Items 27 and 28 might already be completed if you've provided this information on the FAFSA. In that case, double-check to make sure everything is accurate.
Item 27: Write your employer's name if you're currently working. Unemployed? Check I am not employed and skip to Step 7.
Item 28: Write your employer's address and phone number. Work for yourself? Enter your business's address and phone number instead.

Step 7: Certifications and important notices
For Item 29, read the following notices:
Gramm-Leach Bliley Act Notice. Provides information about how the DoE protects your information and identity.
Privacy Act Notice. Explains what the DoE does with sensitive information like your Social Security number.
Financial Privacy Act Notice. States that the DoE will have access to your past student loan records.
Paperwork Reduction Notice. Explains why the DoE is asking for this information and how long it should take to complete the application.
After reviewing these sections, check the boxes to:
Certify that the information you provided is correct.
Authorize the DoE to check your credit history.

Step 8: Submit for a credit check and review your options
After the certifications and authorizations, click Continue to submit the application and start the credit check. After the check is complete, you should receive an email with one of the following messages:
You have successfully submitted a Direct PLUS Loan request and your credit has been approved.
You're eligible for a Parent PLUS Loan. All you have to do is sign the Master Promissory Note (MPN).
Denied credit decision.
You need to take extra steps if you still want a Parent PLUS Loan. At this point, you have several options:
Bring on an endorser. Follow the directions to have an endorser — similar to a cosigner — complete an application, submit to a credit check and sign an MPN. You also need complete PLUS Credit Counseling.
Prove extenuating circumstances. If you have a negative mark on your credit report but a good reason for it, you still might get approved if you provide documents explaining the situation and complete PLUS Credit Counseling.
Challenge a mistake. Sometimes errors show up on credit reports. If you believe your denial was a mistake, you can submit documents proving otherwise.
Withdraw your application. Select I do not want to pursue a Direct PLUS Loan at this time to withdraw your application.
Consult the school's financial aid office. Select Undecided and reach out to the school for more details about your options.
Final step: Sign the Master Promissory Note
After submitting your application, the school's financial aid office should reach out to you to sign the Master Promissory Note (MPN), where you agree to the terms and conditions of the loan. If you have an endorser, they'll also have to sign the MPN.
When you receive the MPN, review or complete the borrower information and details about your child. You're required to add the names and contact information of two references you've known for at least three years who don't live with you and aren't the student.
Review the information about how the Parent PLUS Loan works before signing and dating the MPN. If you completed it online, you can submit it online. Otherwise, follow the school's instructions on where to send it.
Bottom line
Applying for a Parent PLUS Loan takes several steps beyond simply filling out the FAFSA. There's a separate application you have to complete, and you might have to submit multiple documents if you have a negative mark on your credit report.
Not sure a Parent PLUS Loan is right for you? Explore other ways to pay for school with our guide to student loans.
Frequently asked questions