How the Winter Olympics became a catwalk on the ice and snow
Could this be the most fashion-conscious Winter Games in history?
This year's Winter Olympics has become something of a catwalk. Everyone from the athletes to the commentators have been setting trends and making headlines with their designer uniforms and outfits.
From Armani and Vera Wang to Ralph Lauren, this year's event has been just as much about fashion as sport.
Here are just a few of this year's outfits that have been turning heads on the ice and snow in South Korea.
Now in his eleventh year as the official designer for the national team, Ralph Lauren's uniforms consist of Nordic-inspired sweaters, mittens and bobble hats in patriotic red, white and blue. The range, which is available online and in-store, has proved so popular that the $2,500 heated parka is currently sold out.
US figure-skater Nathan Chen was fitted out by fashion powerhouse Vera Wang when he took to the ice.
Even the snowboarding team have been turning heads in NASA-style uniforms designed by Burton Snowboards.
Dressed this year by Giorgio Armani, Team Italy looked elegant and dynamic in padded jackets, matching trousers featuring the national flag and the first verse of the national anthem printed inside the jacket, close to the heart.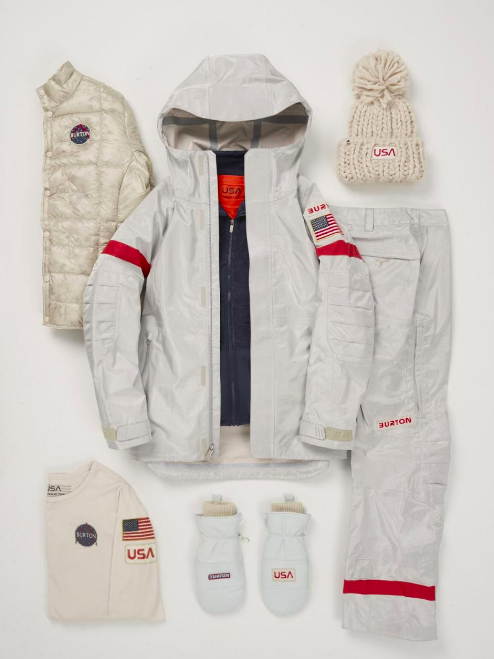 Picture: Burton
It's not just out in the cold where the fashions are causing a stir, but inside too, as two-time-Olympian-figure-skater-turned-commentator Johnny Weir mixed flamboyancy with chic as he showed off his very unique sense of style in Louboutin, Birkin, Hermés and Chanel.
Away from the Games, it seems others want a piece of the action, including JC Penney. Next month the American retailer is launching a new brand called Obsess. It features capsules inspired by influential young women, the first of which is Olympic gold medalist Laurie Hernandez.
If during these winter games you're still dreaming of summer, check out new swimwear ranges launched this week by Lilly Pulitzer and Lively and ban.do.