Debt is down, but not for the reasons you might think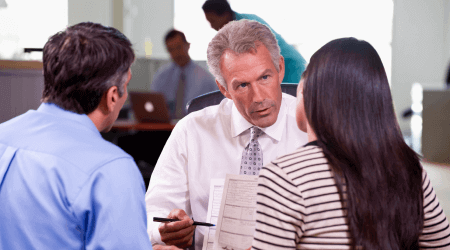 Borrowers are taking advantage of forbearance and lenders are being extra selective.
Americans have less debt and are making fewer late payments since the start of the coronavirus outbreak, according to the Federal Reserve.
Household debt levels dropped for the first time since 2014, the Federal Reserve's most recent Quarterly Report on Household Debt and Credit found — the largest decline since 2013. And delinquencies dropped a full percentage point from the end of 2019, declining 4.6% to 3.6%.
Isn't less debt good?
While this sounds great, it's not exactly the good news that it initially appears to be. These lower debt levels aren't the result of people paying off their loans and credit card balances. It's because fewer Americans are applying for loans — and lenders are being more cautious with approvals.
The drop in late payments is also likely a reflection of the unprecedented number of loans in forbearance, rather than healthy spending habits.
As government assistance and forbearance programs run out, experts expect many Americans to default on their loans. But there are some steps you can take to protect yourself for the near future.
What to do before forbearance ends
While some lenders are offering indefinite forbearance or deferment that you can renew each month, many have a limit on how long you can defer repayments. Even during COVID-19.
Under normal circumstances, forbearance programs run about three months. Some lenders have extended this. But it's likely that repayments will resume before the economy has recovered.
If you think you're at risk of missing repayments for the foreseeable future, talk to your lender now about making permanent changes to your repayment plan. For example, ask if you can extend your loan term, which will give you a lower monthly cost.
Lenders might be more flexible than they have been in the past. They also stand to lose big if everyone defaults on their loans after the forbearance period is up.
What about student loan forbearance?
Student loans work a little differently than other types of debt — especially federal loans. If you have federal loans, consider switching to an income-driven repayment (IDR) plan before your repayments start. With these plans, your repayments drop to $0 if you're laid off or can barely cover expenses.
If you don't have enough documentation of your income to qualify for IDR, look into graduated repayments, which increase over time, or extending your loan term.
Private lenders might also be willing to offer income-driven repayments — though not officially. Call your servicer and ask what your options are. At the very least, you may be able to extend your loan term to lower the monthly cost.
Is it possible to get a loan during COVID-19?
While lenders are approving fewer loans, that doesn't mean it's impossible to get funded. But lenders aren't treating applications the way they were in February.
For one, having good credit might not work as much in your favor. That mass forbearance that caused a dip in defaults is also artificially inflating credit scores.
And since some lenders aren't reporting loans in forbearance to credit bureaus, lenders aren't looking as favorably at a strong credit report either.
Instead, lenders are focusing on cashflow and income. Especially stability. If you lost your job or aren't a full-time employee, getting approved for a loan could be difficult right now.
Some lenders might even consider the industry you work in when you apply for a loan. If it seems like you could be at risk for a layoff, getting approved could also be difficult.
But it really depends on the lender. Each has its own special formula for underwriting loans. It's possible to get approved with one while getting rejected from another.
Is getting a loan a good idea right now?
Rates are at historic lows — if you can qualify. So getting a loan to fund an expense that can't wait could be a good idea. But only if you are certain you'll be able to pay it off.
In fact, if you're struggling with credit card debt, paying it off with a low-interest personal loan might actually be a smart move — even during COVID-19. That's because personal loans usually have lower interest rates than credit cards and therefore save you on interest.
But for assistance with bills, look at other options. Not only will you have a hard time finding a legitimate lender that you can qualify with, you also are at risk of missing repayments down the line, which can land you in an even worse financial situation.
Instead, look for grants and other types of financial assistance available to individuals who have been hurt by the outbreak.
Photo: Getty Images