Finder is committed to editorial independence. While we receive compensation when you click links to partners, they do not influence our content.
Your guide to honeymooning in Bali
Plan the perfect tropical honeymoon in Bali with this simple guide.
Every year, vacationers flock to Bali for its idyllic beaches, rich traditional culture and booming tourist scene. The romantic setting and myriad of jaw-dropping villas, hotels and resorts make it a popular place for honeymooners. If you're planning your honeymoon in Bali but want some tips and advice, this guide is for you.
Top honeymoon destinations in Bali
Bali offers something for everyone, and getting your trip right means choosing the perfect location. Whether you plan on spending long days relishing the sun on the beach, dancing the night away at one of Bali's famous clubs or escaping to a forest retreat, here is what you need to know about each area on the island.
Kuta
Kuta is a renowned surfing hub and one of the most famous vacation spots in the world.
The hotels and entertainment options that are offered suit a range of budgets. While it's still popular with the backpacking crowd, high-end hotels and resorts have set up shop here in recent years, and honeymooners won't be disappointed with the array of swanky suites available. It's perfect for young couples who want stylish accommodations as well as nightlife and party options nearby.
Legian
Legian is located just north of Kuta and offers clean, quiet beaches. The accommodation options are plentiful and offer a wide range in terms of budget and style. It's ideal for couples who want the convenience of staying close to the action but also desire a haven to retreat from the chaos.
Seminyak
Seminyak has a ritzy reputation thanks to its rows of chic hotels, restaurants and upscale nightclubs. Honeymooners will love the extra attention to detail in the villas and resorts, as well as the spa and massage services. You will definitely be spoiled for choice when it comes to romantic holiday packages in Seminyak. If you're looking for an elegant beachside resort, start here.
Sanur
Sanur is famous for its quieter setting and offers a perfect blend of urban comforts and tranquil natural spots. If you prefer to spend your honeymoon away from the tourist madness but still want close access to Denpasar and the surrounding beaches, it's an ideal choice.
Nusa Dua
The tourist spots on Nusa Dua were designed specifically for high-end tourists and offer a range of five- and six-star resorts and hotels, a golf course, and plenty of spa and relaxation services. It is located on the beach on the southern tip of Bali, making it an ideal coastal retreat. Honeymooners will love the outstanding suites and the standard of service.
Ubud
Ubud is located in the exquisite central highlands, surrounded by temples and traditional culture. The range of spa retreats, upscale resorts and elegant tropical hotels are impressive and will well serve nature-loving honeymooners looking for tranquility. If you don't mind foregoing proximity to the beach, Ubud makes an elegant and unforgettable place to stay.
When's the best time to go on a honeymoon in Bali?
Many tourists try to avoid the rainy seasons, which run from January to April and October to November each year. However, those rains are mostly characterized by afternoon downpours that clear up by nighttime, and the mornings are usually sunny, so the choice of season really depends on your preference. If you plan to be beachside each day and don't want your trip spoiled by rain, make sure you're there during the drier season. If you prefer to avoid the tourist crowds and don't mind a little rain, plan for the wet season.
Case study:

Kyle's experience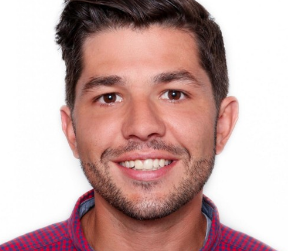 Kyle Morgan
Producer
We flew from Sri Lanka into Ngurah Rai International Airport in Denpasar for the second leg of our honeymoon. As we got through customs, we saw a 20-person line waiting for the ATM and figured it'd be smart to get some local currency.
It makes sense to get Indonesian Rupiah (IDR) before leaving the airport because you'll need local currency to tip your driver.
As far as tipping goes, hotels and restaurants typically pop a service charge on your bill. However, if the service is above and beyond — which it was everywhere we went — you can leave a little extra. Others services you'll want to tip are: hotel porters, taxi drivers, tour guides and masseuses.
We stayed in Ubud, Bukit Peninsula and Seminyak. Ubud is a must for the street market and Sacred Monkey Forest Sanctuary. Our hotel in Bukit Peninsula was the perfect mix of luxury and ultimate relaxation on the beach. We even booked a private sunset cruise around Jimbaran Bay which included snacks and wine for $90 USD.
Compared to the others, Seminyak was unmatched for its nightlife. Every city has its own vibe, so do some research to see where you'll be best suited — or enjoy it all!
Prices are going to be a lot cheaper then they are in the US. We spent a few hundred dollars under budget for our 13-day stay in Bali — and we ate and drank a lot!
Always keep a little bit of cash on you for spending. As for credit card acceptability, restaurants, bars and retail shops should accept Mastercard and Visa, so bring a card with no foreign transaction fees.
Tip: Opt for bottled water over tap, your stomach will appreciate it.
Hot Bali honeymoon packages
Top Bali hotels with honeymoon suites | The best of the rest
Traveling during COVID-19
The CDC continues to advise caution when traveling within or outside the US, though it
no longer requires self-quarantine or a COVID-19 test
for fully vaccinated travelers as of April 2021. It recommends that you delay travel if you are not fully vaccinated to protect yourself and your family from getting or spreading the virus.
When traveling, follow safety measures that include wearing a mask in public, social distancing and washing your hands. If you are diagnosed with, have symptoms of or are waiting for COVID-19 test results — or are otherwise at risk of illness — do not attend gatherings or travel for 14 days.
Bottom line
Bali is a true paradise for honeymooners, with its lush beaches and fabulous night life. After pinpointing your destination, its time to plot your route around the island, by Bemo, ojek, hired driver, tourist shuttle and more.
And don't forget about financing — you may want to look into a honeymoon loan if you're strapped after wedding expenses.
Frequently asked questions
Bali travel deals
More guides on Finder