Finder is committed to editorial independence. While we receive compensation when you click links to partners, they do not influence our content.
Beginner's guide to homeschooling
While it looks different for every family, the one unifying theme it offers is flexibility.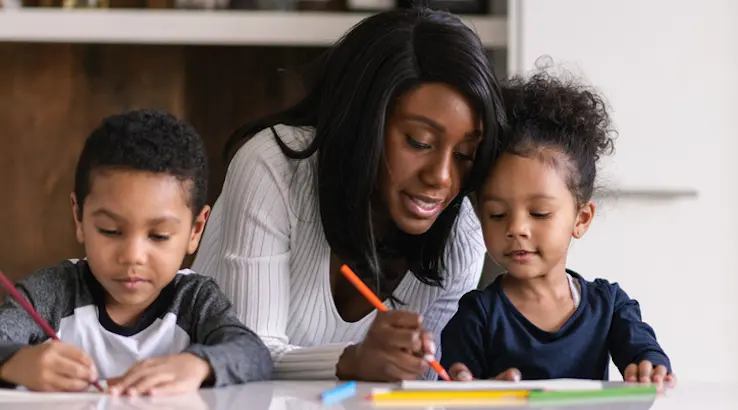 The coronavirus has changed everything we do in a very short time — including how we educate our children. Parents, children and teachers alike have been forced to step out of their comfort zones and transition to remote learning in order to stay safe amid the pandemic.
But like all new ideas, distance learning through public schools has proven to have its fair share of kinks. Children have struggled to simply get their work done each day, let alone truly learn and take something meaningful out of their lessons.
As a result, many parents have taken this as an opportunity to explore alternative forms of learning, the most popular among them homeschooling.
How does homeschooling work?
Homeschooling involves forgoing traditional public or private schooling in favor of lessons from home. What that looks like depends on the type of curriculum and homeschooling approach you choose, as well as your child's learning style, age, interests and schedule.
With a traditional approach to homeschooling, children study the conventional content areas of math, science, social studies and language arts. They use a fixed curriculum — often a textbook or online program — and have daily assignments to complete, just like in school.
It's common for children to have a fixed schedule daily to accomplish their assignments in each content area. Parents can monitor their child as they work, check in periodically and review assignments after they're completed — checking for accuracy and quality.
Most of these traditional homeschool curriculums have study guides, answer keys, teaching and learning tips, and even online support groups to help students and parents navigate and complete the assignments.
Secular vs. religious homeschool curriculums
Though there are many ways to homeschool, most choose either a secular or religious curriculum.
Those who homeschool for religious reasons tend to follow a curriculum that includes biblical stories, parables, bible-based learning and ongoing moral instruction. Religious curriculum considers God as the basis of all things and usually teaches science from a creationist point of view.
Other families who are homeschooling for nonreligious reasons opt for a secular approach. A secular curriculum isn't antireligion — it's often taught by families of varying faiths and beliefs. It simply takes a more neutral approach to education with a focus on math and science, and teaching theology from a historical and sociological perspective.
What are the legal requirements for homeschooling?
As you might have noticed, a common theme of homeschooling is variance. Very little is set in stone — and while confusing, this is part of the appeal of homeschooling. If everything was federally mandated to be one way for everyone, would it really be homeschooling?
An example of this is the local requirements for standardized testing. Requirements vary by state, district and sometimes by age, grade level or intellectual abilities.
For example, there are virtually no legal requirements regarding homeschooling in Kentucky save a record of attendance. But in New York, standardized assessments and state-mandated subjects are enforced.
Research the homeschool laws and requirements for your state before you begin your homeschooling journey.
How much does homeschooling cost?
You could pay anywhere from $700 to over $1,800 a year to homeschool one child, according to online homeschool resource Time4Learning.
Like everything else with homeschooling, costs vary by the type of curriculum you choose, as well as the equipment and supplies needed. A child with special needs may require specific technology or other adjustments that can add significant cost as well.
With a growth in homeschooling over the last 10 years, many resources are available online at little to no cost. The cost of pens, pencils, notebooks and other supplies should be the same as for children enrolled in a public or private school.
Does the state offer funding for homeschooling?
Most states don't provide funding to homeschooling families — even though they must continue to pay local school taxes. And those that do generally come with strings attached.
For example, a few public charter schools in Hawaii provide homeschool families with a financial allotment to pay for curriculum, technology and extracurricular activities. But supplies must be returned at the end of the year, and students attend classes in person several times a week or month depending on the school.
5 benefits of homeschooling your child
Though public schooling is the most common way of educating children in the 21st century, homeschooling offers many benefits to families craving flexibility.
You're in control of your child's education. You get to be directly involved in how and what your child learns. Anytime you like, you can bring in other children, tutors, mentors and even traditional schoolwork to round out your child's education.
Flexible scheduling. You're in control of planning your child's education, and so you have the freedom to schedule classes and learn around your family's schedule.
More family time. You can grow closer as a family, not only spending more time together but also doing so while accomplishing important goals and growing as people.
Less opportunity for bullying. You're able to be more selective with whom your child is exposed to daily — meaning less exposure to bullying, which is more common in public school.
Foster child's unique interests. Your child's particular gifts can be cultivated continuously through a homeschool curriculum specifically designed for them.
4 drawbacks to watch out for with homeschooling
Though there are many benefits to homeschooling, consider the drawbacks as well.
Intensive parental involvement required. As a parent, you're required to play a more active role in your child's education. This can take a lot of time and planning.
Standards of education fall on your shoulders. In public school, the government's standards and testing are responsible for the outcome of your child's education. But when homeschooling, that responsibility yours to take on, which can be intimidating.
Less opportunity for your kids to socialize daily. Your child has to find creative and new ways to socialize, which can be a challenge.
Sports and extracurricular activities may be limited. Depending on your state or school district's homeschooling laws, you might need to jump through hoops to get your child signed up for sports or other extracurricular activities like prom.
7 popular homeschooling programs to mix and match
Just as a chef in a restaurant uses different ingredients to produce different types of meals, a homeschooling parent can use different teaching and learning styles to fit their specific goals — or their child's nature, curiosities, habits and talents.
While the dozens of varying homeschool programs can sound daunting, seven popular curriculums can help you launch your search.
Homeschooling program
Curriculum
Grade levels
Montessori

Free movement
Large, unstructured time blocks
Multigrade classes
Interest-based and individualized learning plans

Pre-K to 5
Classical

Biblical-Classical studies
Great Books reading
Applied Trivium that teaches each subject based on 3 levels of development: grammar, logic and rhetoric

K–12
Charlotte Mason
Child-directed observational approach

K–6
7–12 with support of outside curriculum

Unschooling
Freeform and student-centered approach
Unconventional and individual studies
Pre-K to 12
School-at-Home
Complete curriculum packages — often arranged by school year
Pre-K– to 12
Unit Studies
Hands-on approach to studies that are thematically related
Pre-K to 12
Eclectic Education
Child-directed, resourceful and studies that aren't based on curriculums
PreK–12
Costs of these programs vary by the curriculum and supplies you opt for — ranging anywhere from a few hundred dollars to thousands.
Many parents are teaming up to form homeschool co-ops
Families interested in cherry-picking which aspects of traditional schools they'd like to copy or practice often enroll their children in co-ops.
Co-ops are a type of microschool. They resemble private schools, but on a much smaller scale — starting at about 30 students.
Some homeschool families use co-ops as a smaller, more tight-knit version of a public school and have their children take a full schedule of academic classes. Others use co-ops as a supplement to their own homeschool curriculum to give their child access to extracurricular classes, new hobbies or socialization.
Parents might take turns teaching all of the classes and activities themselves, or they might chip in to hire a group of teachers and instructors to help. Meeting spots include homes, churches, libraries and community centers.
7 steps to start homeschooling your kids
Though the process may sound daunting, it's fairly simple to "pull" your kids from public or private school to homeschool them. The exact steps you take will vary depending on where you live and your family's unique situation though follow a general pattern:
Research the homeschool laws in your state. Depending on where you live, you might need to meet notification, immunization, subject and classroom hour requirements.
Write a letter of withdrawal. This is typically sent to your child's current principal or superintendent declaring your intent to homeschool for the coming school year. Check local requirements for the format and wording of the letter, as well as the date it's due.
Choose a curriculum. The beauty of homeschooling is that you can mix and match different elements and approaches from different curricula to create one that works for your child's needs and interests.
Plan out your school day. Depending on the type of homeschool curriculum you choose and your family dynamic, this could be a set schedule or one that's flexible to meet your child where they're at each day.
Create a learning space. This might include multiple spaces with different types of learning materials at each.
Decide on any extracurricular or sports activities. Check the laws in your state or district to see if it's possible to sign your homeschooled child up for sports or clubs at their local public school. If it's not an option, look into activities through private sports organizations or local community groups.
Research local co-ops. Facebook, NextDoor, online community boards and homeschool associations in your county or state are great ways to find homeschool co-ops that fit your family's needs.
Pro tip: It bears repeating to make sure your decisions meet your city and state's education laws and requirements. Reach out to your state's department of education and connect with homeschool support groups in your area who have experience navigating your local regulations.
What to consider when planning your child's homeschool curriculum
When planning your child's curriculum, here are a few factors to keep in mind.
Your child
Age
Learning style
Interests, strengths and areas for growth as a student
Career goals — depending on your child's age
Extracurricular activities and/or sports
Your family
Parenting and teaching style
Background and gifts
Daily schedule
Access to resources, learning experiences and support groups
Locally available co-op programs
A day in the life of a homeschooling family
It's Monday morning and both brother and sister are up and out of bed by 9:30 a.m. They both make their own breakfast and the typical "school day" begins.
Today, both are studying the novel Animal Farm together. They spend 30 minutes reading and another 30 minutes answering questions in their guided reading workbook.
This is followed by an hour of math and a 20-minute break. This takes us to lunch, which lasts around 40 minutes most days.
After lunch, studies continue with an online science lab for an hour and a project for social studies that also lasts about an hour.
The day finishes with brother practicing baseball in the backyard, while sister practices basketball at the park down the street.
By 5 p.m., everyone is home, learning is done and the children have time for socializing with friends, pursuing hobbies or doing chores around the house.
Of course, this is only one example. An important takeaway is that it's both flexible and entirely driven by the family themselves.
The children are self-directed, but supported by caring adults. If you don't have the ability to provide this kind of environment that allows for adjustments to learning, schedules and support, then homeschooling may not be the best fit for your family.
While homeschooling doesn't require constant teaching, nagging, effort and angst — depending on your child, their age and your family environment — these are necessary at times. If this doesn't sound like something you can take on right now, public or private school may be the way forward.
6 tips for talking to your child about the move to homeschooling
It can be challenging to pull your kids out of a school they're accustomed to and put them into a homeschool environment. Luckily, there are many tips to help acquaint your child with this pathway of learning.
Here are a few pointers — from a homeschooling dad who's been there.
Sit down with your child and discuss the upcoming changes. Explain why you made this decision. Remind them that though it may be jarring, the decision wasn't taken lightly/
Listen to their concerns. Ask your child if they have any questions and do your best to answer them fully and honestly.
Discuss how you might work to address issues. Make sure they feel heard and help them begin to see their education as a journey the family is taking together.
Explain how you plan to cultivate their other interests and hobbies. Let them know that the move to homeschooling can provide opportunities to pursue their passions through outside groups and activities.
Emphasize the ongoing importance of friendships and relationships. Reassure your kids that though there will be growing pains, homeschooling offers the same potential for the development of a social life and friendships as traditional school through clubs, team sports and more.
Reassure them that you're in this together. Let your child know that no matter what, their needs will be met on an ongoing journey together as a family.
How to build your homeschooled child's social skills
Building your child's social skills isn't simply a part of schooling, but rather a natural part of raising them. This means that friendships, family relationships, participation in clubs, sports, hobbies — and even the neighborhood you live in — are all factors in developing their social skills.
You can also use project-based learning, place-based learning, service projects and community activism to embed working with peers and members of the community within the homeschooling experience.
Bottom line
Homeschooling gives you the flexibility to cater to your child's individual needs, interests and learning style. But it requires trial and error, planning and organization, and a clear and positive enthusiasm for learning that can't wane when things get difficult. As a homeschooling dad myself, I can attest that your attitude as a parent will almost always dictate the attitude of your child.
Not sure homeschooling is right for your family? Explore your other options with our guide to K-12 online schools.
Frequently asked questions
More guides on Finder