Finder is committed to editorial independence. While we receive compensation when you click links to partners, they do not influence our content.
Send an international money transfer online with Western Union
Quickly and easily send money overseas online or in person with Western Union.
Western Union is the world's largest money transfer company. The service allows you to make quick and easy money transfers to more than 200 countries around the world, and it has been helping people to send money for over 135 years.
You can lodge a transfer with Western Union either online or in person, and transfers can be sent 24 hours a day, seven days a week. You can send funds from your credit card, debit card, bank account or cash, to a bank account, or mobile phone. And if your recipient needs cash fast, Western Union has more than 500,000 agent locations around the world where the cash can be picked up.
$7,500
Max. Transfer Amount
Details
Product Name
Western Union International Money Transfers
Min. Transfer Amount
$1
Max. Transfer Amount
$7,500
Transfer Methods
Online, Phone, Agent, Bank Account to Bank Account, Cash Transfer, International Money Order
Transfer Options
One off payments
Transfer Speed

Minimum transfer time

Same day
Customer Service
Phone, Email
Available Currencies
AED, AFN, ALL, ANG, AOA, ARS, AUD, AZN, BAM, BBD, BDT, BGN, BHD, BIF, BMD, BND, BOB, BRL, BTN, BWP, BZD, CAD, CDF, CHF, CLP, CNY, COP, CRC, CUP, CVE, CZK, DJF, DKK, DOP, DZD, EGP, ERN, ETB, EUR, FJD, FKP, GBP, GEL, GHS, GIP, GMD, GNF, GTQ, GYD, HKD, HNL, HRK, HTG, HUF, IDR, ILS, INR, IQD, ISK, JMD, JOD, JPY, KES, KGS, KHR, KMF, KRW, KWD, KZT, LAK, LBP, LKR, LRD, LSL, MAD, MDL, MKD, MMK, MNT, MOP, MRO, MUR, MVR, MWK, MXN, MYR, MZN, NAD, NGN, NOK, NPR, NZD, OMR, PAB, PEN, PGK, PHP, PKR, PLN, PYG, QAR, RON, RSD, RUB, RWF, SAR, SBD, SCR, SEK, SGD, SLL, SOS, SRD, STD, THB, TJS, TMT, TND, TOP, TRY, TTD, TWD, TZS, UAH, UGX, USD, UYU, UZS, VEF, VND, VUV, WST, XAF, XCD, XOF, XPF, YER, ZAR, ZMW
| | |
| --- | --- |
| Online Transfer Fee | $15 |
| Exchange Rate Updates | Real time |
Western Union's coronavirus response
If you're used to sending money in person and can no longer access brick-and-mortar stores due to lockdown, WU has launched the
Digital Location
program. We understand this can be a complicated shift in your money sending routine, so please refer to the
Digital Location section
of this guide for more information on where to find a Digital Location and how to use it.
Western Union exchange rates
Western Union updates its exchange rates regularly in line with fluctuating market conditions. As you'll see in the comparison table below, the company offers competitive rates when compared to banks and even online money transfer services. However, it's important to remember that fees will also apply to any transaction.
1 HKD in
Western Union / (Inverse)
HSBC / (Inverse)
OFX / (Inverse)
USD

0.1261/ 7.93

0.1280/

7.81

0.1272/

7.86

GBP

0.0946/ 10.6

0.0966/

10.3

0.0954/ 10.5

CAD

0.1643/ 6.09

0.1675/

5.97

0.165/

6.04

JPY

13.584/ 0.07

14.2227/

0.07

14.0703/ 0.07

EUR

0.1073/ 9.32

0.1093/

9.15

0.1080/ 9.26

AUD

0.1664/ 6.01

0.1695/ 5.90
0.1677/

5.96

PHP

6.7729/ 0.15

6.8966/ 0.15

6.6660/ 0.15

CNY

0.8080/ 1.24

0.8220/1.22

0.8025/ 1.25

THB

4.0568/ 0.25

4.2608/

0.23

4.0845/ 0.24
*Rates as at 9:23pm on 13/6/2018
How much does it cost to transfer money with Western Union?
The fees for Western Union may vary depending on how much money you are sending and where you are sending it to. To help you work out how much your transfer will cost, the company has a handy price estimator on its website.
As an example, sending HKD$1,000 cash to United Kingdom will incur a transfer fee of HKD$15 which is reflected in the screenshot below. This fee may vary depending on the country you are sending or the transfer service you pick. Check the price estimator to see how much your transfer will cost.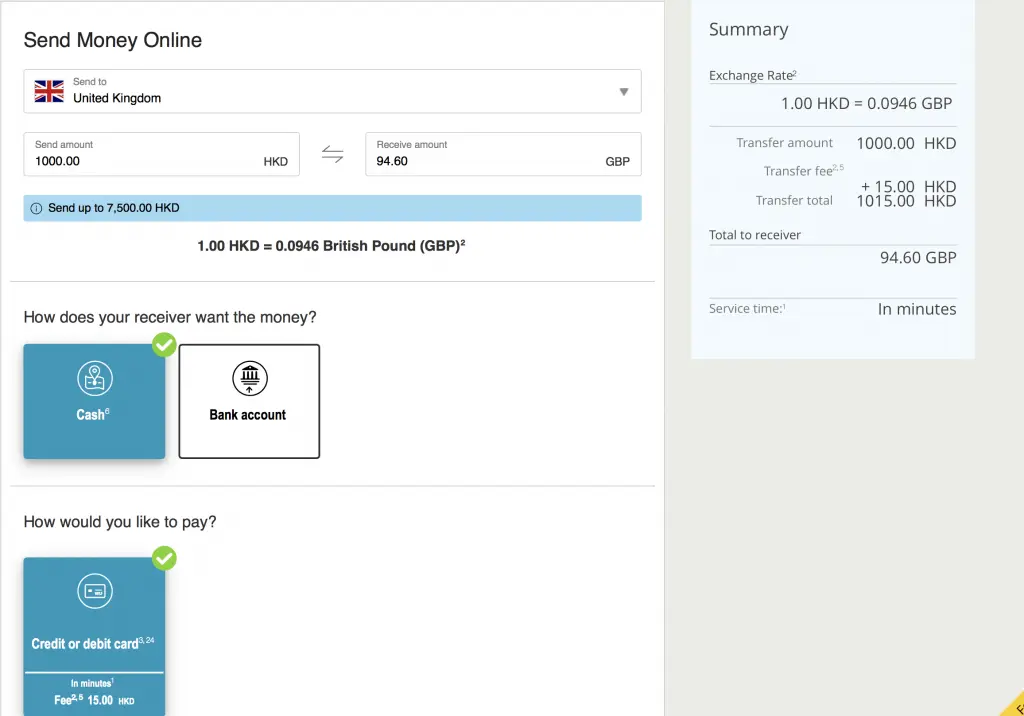 *Screen shot taken 13 June 2018
---
Maximum transfer amount and available countries
After your first registration and login, you will be able to send up to HKD$7,500 per day or per transaction. With more than 135 currencies available, Western Union lets you transfer funds to more than 200 countries. While no list of excluded countries can be found online, the company does not offer transfers to a few select countries such as Iran and North Korea.
---
What types of transfers can you carry out with Western Union?
Western Union offers a wide range of options when you want to send money overseas.
Online transfers. You can lodge a transfer online via the Western Union website.
In-branch transfers. You can schedule a transfer by visiting your local Western Union branch – the company has over 500,000 agent locations worldwide.
Cash pick-up. Your recipient can pick up the funds by visiting a Western Union branch.
To a bank account. Funds can be transferred straight into your recipient's bank account.
To a mobile phone. In select countries, Western Union allows you to deposit funds in a mobile wallet, which is an electronic account linked to the receiver's mobile phone.
If you need help lodging a transfer, you can seek assistance by visiting a branch. Customer service is also available through an online FAQ section, via phone and through email.
---
The registration and transfer process
Registration. You'll need to register with Western Union in order to use its money transfer services. You can do this online via the website in less than five minutes.

Only Hong Kong nationals or residents can register for the Western Union service in Hong Kong.

Identification. As part of the registration process, you'll need a Hong Kong government issued passport and identity card for identification purposes, so have these handy. You will also need to provide your residential address. You also need to be over 18 years of age.
Make a transfer. Once your profile has been created, you can lodge transfers online or in person at a branch. You'll simply need to supply your recipient's full name and address, plus a credit, debit or prepaid Visa or Mastercard issued by an Hong Kong bank.
Transfer complete. Though funds availability can be affected by factors such as agent location hours, funds are typically available for your recipient to pick up within minutes.
---
Pros and cons of using Western Union
Pros
Currencies available. Western Union lets you transfer funds to more than 200 countries around the world.
Money in minutes. In many cases, your recipient is able to access the funds within minutes.
Better exchange rates than banks.Western Union typically offers exchange rates that are slightly better than those offered by banks.
Cons
Fees apply. From the example above, a standard fee of $HKD15 will apply to your transfer.
Rates could be better. You'll typically be able to find better exchange rates from some online money transfer companies.
---
What other products and services does Western Union offer?
Business transfers. Western Union Business Solutions offers a range of international payment solutions for small businesses and larger enterprises. It offers attractive exchange rates and the ability to do business with more than 200 countries.
---
How does Western Union compare to other providers?
Disclaimer: Exchange rates change often. Confirm the total cost with the provider before transferring money.
FAQs about Western Union
Western Union provides a viable option if you're looking to send money overseas quickly. However, compare the rates and fees this company offers with those of other money transfer services to find the right service for you.
Got it – what do I do now?
If you believe Western Union can help with your money transfer needs, click on the green "Go to Site" button at the top of this page to be securely taken to the Western Union website where you can source a quote.