VMWare shares climb 21% on takeover talk. Is it time to buy, hold or sell the stock?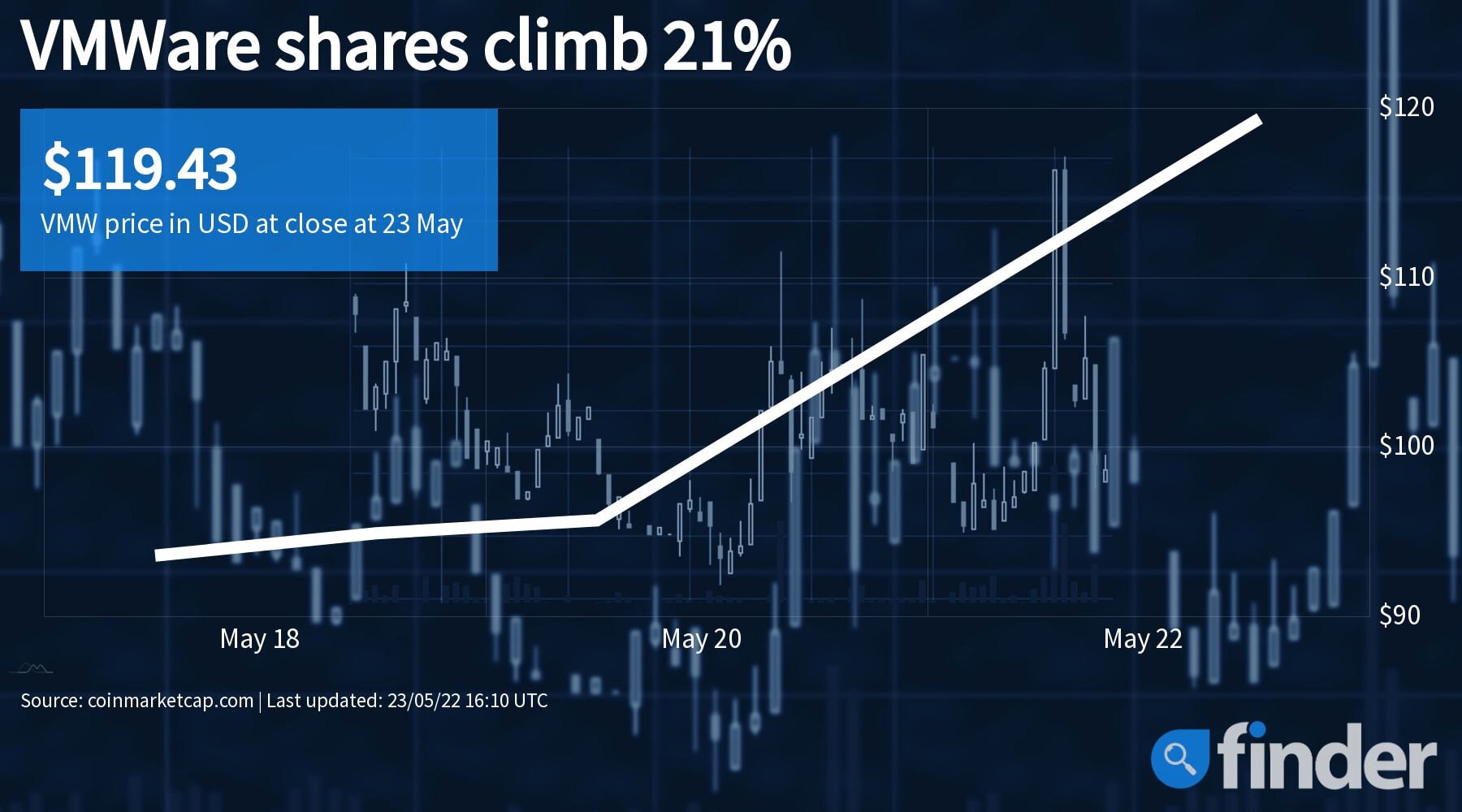 VMWare shares surged on reports Broadcom is in talks to buy the cloud company. Even without the deal, Morningstar sees more upside potential for VMWare.
VMWare (VMW) climbed 21% after news reports that Broadcom (AVGO) is in talks to buy the cloud company in what Bloomberg said could be the biggest acquisition of a technology company.
Broadcom will likely pay about $140 a share, or $60 billion, to buy VMWare, Wall Street Journal reported. That's a 17% premium to Monday's price of $119.49, after the stock had been boosted by speculation of a takeover.
Shares of Broadcom fell 2.9%, going against the tide of positive sentiment that has pushed the Nasdaq 2.1% higher. The price tag for the deal is about a quarter of the size of Broadcom's current market capital of $214 billion.
Is it time to buy VMWare shares?
It's too early to say whether the deal will materialize and whether there's much more upside for VMWare. The price is still below Morningstar senior equity analyst Mark Cash's fair value estimate of $175 a share for VMWare. For that reason, he prefers that the cloud company remain a standalone business, instead of being taken over by the semiconductor maker.
Analysts who track the stock see potential upside for VMWare, if investors are willing to ride out the recent market downturn. Even before many of them could adjust their price outlook to account for the deal, analysts already have an average price target of $139.41 for the stock, a gain of more than 16% from the current price, according to Yahoo Finance data.
Twenty-two of the 36 analysts who track the stock recommend that investors buy shares of the company, according to Yahoo Finance.
Risks that VMWare deal could face the same fate as Twitter
Those who have seen the Twitter (TWTR) saga would know there's never a guarantee that a rally from a potential takeover can be sustained. Even after Tesla (TSLA) CEO Elon Musk announced he would pay $54.20 a share to take over the social media platform, the price never reached that level. Today, Twitter shares are trading at $37.60 after climbing to $52.10 in late April, falling back as Musk has expressed doubts about the deal.
If Twitter's outcome is any guide, and you're convinced that fears of a recession could resurface to threaten the stock market rebound, now may be a good time to cash in on your gains while VMWare is still hot.
VMWare's fundamental rating is more bearish than the IT services and consulting industry, according to Refinitiv. While its gross margin has been higher than its industry average for each of the past five years, its debt-to-capital ratio has also been higher.
Why Broadcom shares are selling off
Judging from investors' reaction to Broadcom shares, the deal may face objections from shareholders. The acquisition could add to the semiconductor maker's debt pile of more than $39 billion, if the transaction will bind the company to assume all of VMWare's debt.
As of Jan. 28, VMWare had $12.7 billion in total debt, and a $1.5 billion unsecured revolving credit facility.
The deal could also prove to be disadvantageous for both VMWare and Broadcom as it may result in customer attrition and channel partner alienation, Citi Research analyst Fatima Boolani said in a Dow Jones report.
Even the technical charts don't favor Broadcom right now. Oscillators and moving averages show sell signals, according to TradingView.
Ready to open an account or considering a new broker? Find the best online brokers for your needs. Or check out fees and features in our comparison table to find a better deal today.
The value of any investment can go up or down depending on news, trends and market conditions. We are not investment advisers, so do your own due diligence to understand the risks before you invest.