HelloFresh review
Fixings for meat- or veggie lovers, low-cal diets and families.
One of the most popular meal subscription boxes in the country, HelloFresh offers a variety of dietary options to choose from, helping families across the country spend less time grocery shopping and more time at the table.
This brand usually offers deals on your first box and sometimes even free shipping. But if you're not one to love a lot of plastic packaging, this might not be the box for you.
Quick take
Pros
Quality products. HelloFresh commits to using high-quality ingredients packaged fresh and ready-to-cook.
Cancel or pause any time. Manage, change or cancel your plan online or through Hello Fresh's app.
Multiple ways to reach support. HelloFresh's Customer Care Team is available via chat, email or phone.
Cons
A lot of packaging. With nearly every ingredient in its own package — even a clove of garlic — which some reviewers find wasteful.
Difficult cancellation with autopay. Some customers complain about trouble canceling or catching orders before weekly automatic payments and shipments.
How does it work?
HelloFresh is one of many meal-delivery services that strives to make dinner easier for singles, couples and families. Founded by former bankers and finance guys, HelloFresh is designed to provide wholesome meals to take the planning, shopping and hassle out of keeping you and your family fed.
When you sign up with HelloFresh, you choose a plan that works for your lifestyle and budget — from classic to veggie to bigger family boxes. You manage your plan — including whether you want to pause a week for vacations or a break — online or through the HelloFresh app, and a box of everything you need to cook a meal is delivered to your door each week.
Well-planned recipes promise dinner on the table — from chop to chew — in around 30 minutes or less. And the company tries its best to locally source the products within each box.
Box size and pricing options
When you sign up with HelloFresh, you select either classic, veggie or family box plans. As you plan your meals for the week, you choose from 25+ delicious recipes for delivery the following week.
Here's the breakdown of what you'll pay per person for each HelloFresh plan:
| Number of meals per week | Price per serving |
| --- | --- |
| 2 | $11.99 |
| 3 | $9.99 |
| 4 | $9.49 |
| 5 | $8.99 |
| 6 | $8.49 |
Shipping, payments and cancellations
Can I get free delivery?
Yes — during special promotional offers. HelloFresh often waives its shipping fee on your first order. If this is the case, you'll see the shipping cost replaced with the word "FREE" when you choose your plan.
Otherwise, expect to pay $7.99 each week for shipping.
Payment options
HelloFresh accepts all major credit cards and PayPal.
The payment method that you use to sign up will be automatically charged weekly unless you pause or cancel your plan. If you're just trying out HelloFresh using one of many free-week promo codes out there, cancel your subscription before you're charged for another week.
Can I skip weeks with HelloFresh?
Yes. You can skip a week any time, but update your account at least five days before your next scheduled delivery. Otherwise, changes won't take effect until the following delivery.
To skip a delivery week with HelloFresh, follow these steps:
Log in to your HelloFresh account and click My Menu.
Select the delivery day of the week that you'd like to skip, then click Manage Week.
Click Skip.
How do I cancel my subscription?
To cancel your HelloFresh subscription:
Log in to your account, then go to Account Settings.
Scroll down to the Plan Settings section and click Cancel Plan.
You'll be prompted with a few questions. Follow the on-screen instructions to complete the cancellation.
You should see a pop-up message confirming that your subscription has been canceled.
All cancellation and skip requests must be completed by 11:59 p.m. PST at least five days prior to your next scheduled delivery. Cancellations are not accepted after this cut-off date.
What sets HelloFresh apart?
HelloFresh focuses on delivering fresh food that's pre-portioned and ready to cook, taking time-consuming prep work out of the equation. Food comes separated by meal, and portion sizes are split up so you can cook the entire meal at once or in smaller servings.
Some people accuse other meal kit competitors of skimping on serving sizes, but that doesn't seem to be the case with HelloFresh. Customers are generally happy with how much they get out of their boxes.
Firsthand HelloFresh review
HelloFresh sent me one free box to try, but I wasn't otherwise compensated to write this review. This is my honest, unbiased opinion after receiving my box.
Unboxing HelloFresh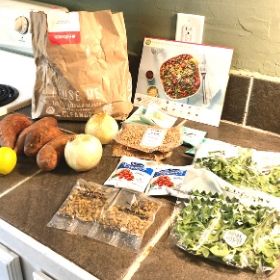 My HelloFresh box arrived very quickly and was neatly organized into individual bags with all the ingredients I'd need for each separate meal. While this made food prep super convenient, the downside is that there's a lot of packaging involved — every piece of the recipe is individually-wrapped. That said, I love the idea of using the bag that the ingredients come in for kitchen scraps as you cook!
Clear space in your fridge for several large bags of goodies, depending on how many meals you ordered that week.
First impressions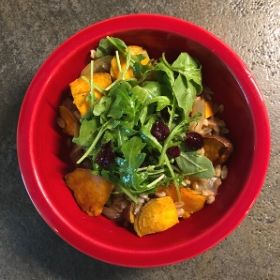 The first meal I cooked was the roasted veggie farro bowl. The recipe instructions were very easy to follow, and I loved that everything was already pre-portioned for me — there were even two-person and four-person portions, in case I didn't want to cook all four servings at once. As promised, prep work was minimal — though it did take me more than the allotted five minutes to prep and chop veggies, especially with the four-person serving.
The produce — which included sweet potatoes, onions and lemons — were all fresh and in good condition, and I barely needed to use anything from my pantry. My only complaint about this meal was that the recipe required lots of bowls, making cleanup time-consuming. Otherwise, I enjoyed a tasty meal without having to hit the store.
Overall take
I really enjoyed getting the chance to cook out-of-the-box, plant-based meals that I wouldn't have otherwise tried on my own. The recipes were easy to tweak to my liking, such as leaving out sugar in a cranberry and lemon juice marinade and lightly heating up chickpeas in a dash of olive oil rather than deep-frying them. And because everything came individually-portioned, I could easily leave out the cheese on my serving without making my spouse go cheese-less as well.
On the downside, some of the produce wasn't so fresh. I got a couple questionable green peppers with broken skin and some tasteless grape tomatoes. Granted, the tomatoes at the grocery store usually aren't so great this time of year.
Try HelloFresh
HelloFresh vs. competitors
Explore other meal kit services by dietary requirements, special offers, number of people, meal preparation and average price. Select the Go to site button for more information about a particular service.
Bottom line
If you're short on time but want to get back in the kitchen, HelloFresh can hook you up with quality ingredients and hand-crafted recipes created by dietitians in the know.
Still on the fence? Compare other meal delivery options to find the best one for your dietary needs and budget.
Frequently asked questions
How many calories are in HelloFresh meals?
HelloFresh meals range between 650 and 800 calories per serving, with specific calorie-smart options on the low end of this range.
Is HelloFresh's packaging recyclable?
Yes — most of HelloFresh's packaging is curbside recyclable. But you may need to break down boxes and remove plastic for pickup.
Does HelloFresh have gluten-free, nut-free or dairy-free options?
No. Although it offers plant-based options, HelloFresh does not offer gluten-free, nut-free or dairy-free meals.