Finder is committed to editorial independence. While we receive compensation when you click links to partners, they do not influence our content.
Helix Sleep mattress review
The mattress you can customize to fit you — and your partner's sleep style.
Obviously, everyone has different body types and sleeping preferences, which can make shopping for your average run-of-the-mill mattress a bit of a challenge. What's worse is if you share a bed with someone with wildly different sleeping habits. If you're looking for a more personalized mattress shopping experience, Helix could be just the ticket.
10 months
Warranty period
Available through Klarna
Financing
Review by
gabrielle.pastorek@finder.com
---
Gabrielle Pastorek is the shopping and travel publisher at Finder, helping readers to round up the best deals, coupons, retailers, products and services to make sound financial decisions. She's contributed more than 800 articles to the site and is a quoted expert in Best Company and DealNews. She earned an MFA from the University of Pittsburgh, with essays and short stories published in The Collagist, Blue Monday Review, Blotterature and others. When she's not writing, Gabrielle can be found out in the barn with her horse, Lucy.
Expert review
If you've searched far and wide for the mattress of your dreams but keep coming up short, Helix's personalized quiz and customized mattress design technology might be for you. Price-wise, Helix clocks in right around average range with its competitors, so you won't have to pay an arm and a leg to get a customized sleep, either.
We recommend Helix's mattresses for a variety of people and sleeping styles, including couples, soft bed lovers and firm bed lovers — all thanks to this brand's unique customized offerings. Helix Sleep also offers an organic option in its Birch model.
Current Helix discounts
It looks like we don't have any coupons at the moment.
What does Helix carry?
Mattresses
Remember when we said Helix is all about customization? Well customized mattresses are this brand's specialty, so if you're sick of the one-size-fits-all mattress game, head over to its website and start your quiz.
Answer questions like what size mattress you're looking for, your age, height, weight, sleeping preferences, sleeping position, quality of sleep and some specs about your current mattress. The quiz only takes about three minutes or less to complete, but it can make all the difference when it comes to getting your best night's sleep yet.
Beyond mattresses
Pillows. Helix pillows come in standard and king sizes. If you tend to sleep hot, try the Helix Cool pillow, which features a cooling polyethylene outer cover.
Mattress protectors. Machine washable, waterproof, comfy, quiet and fits any mattress

— everything you want in a mattress protector.

Bed frames and foundations. Choose from a metal bed frame or traditional foundation to support your new mattress.
Prices and payment
Expect to pay anywhere from $600 to $1,245 for your Helix mattress, depending on the size you choose. You could save even more if you have a coupon code or are shopping during a special sale event.
Payment options
Pay for your Helix mattress using PayPal, Visa, Mastercard, Discover or American Express. Although Helix's checkout page is secure, paying with PayPal can give customers an added layer of security. To pay with PayPal, just click the Checkout with PayPal button on the checkout page when you're finished shopping. You should be redirected to log into your PayPal account and verify your information. You'll still have a chance to review your order on the Helix website once you've finished this step.
Does Helix offer financing?
Yes, you can finance your mattress by clicking Finance with Klarna at checkout. If you want to go this route, you could get as low as 0% APR interest financing for six months, plus you'll get an instant answer regarding your eligibility as soon as you apply. There's no annual fee when you finance with Klarna, but you will be charged a $35 late fee for late or returned payments. You won't be able to use any promo codes if you finance your mattress, though.
Features of a Helix mattress
What is it made of?
Since your Helix mattress is customized to you, the materials chosen for your new bed will vary. Helix uses three different materials for its mattresses, including its very own proprietary Helix Dynamic Foam, pocketed microcoils and high-grade polyfoam.
Helix Dynamic Foam isn't traditional memory foam, nor is it latex — it's somewhere in between. The high-grade polyfoam comes in a variety of densities to suit your personal sleeping preferences and needs.
Do you need a box spring?
No, you don't need a box spring for your Helix mattress, although you can use one if you want. The company suggests using a bunkie board with your box spring for maximum comfort. If you are using a bed frame with slats, make sure they are not wider than five inches apart, since that could cause sagging and might even void your warranty.
How many years does a Helix mattress last?
Helix mattresses are relatively new to the market, so we can't say for certain how long yours might last. That said, our research has found that Helix's special foam should last longer than regular memory foam, and Helix does offer a ten-year warranty. The most common warranty claim for these mattresses is indentation, which needs to be more than one inch to be eligible for a warranty claim.
Can I rotate or flip the Helix mattress?
Never flip your Helix mattress, since it has been built with varying layers that need to be in a specific order. The blue support layer should always be on the bottom, with the white layer on top.
You can rotate your mattress if you'd like, but Helix says you don't have to, since its mattresses are built to last. If you have a Dual Comfort mattress, with two different customized sides, keep in mind that rotating it could change the sides that you and your partner sleep on.
Sizing guide
Helix mattresses come in six sizes:
| Twin | Twin XL | Full | Queen | King | California King |
| --- | --- | --- | --- | --- | --- |
| 39" x 75" x 10" | 39" x 80" x 10" | 54" x 75" x 10" | 60" x 80" x 10" | 76" x 80" x 10" | 72" x 84" x 10" |
Shipping and delivery
Can I get free delivery?
Yes, if you are shipping to any location in the US, there are no delivery charges. Canadian customers are charged $150 CAD, plus customs tax.
Does Helix offer a trial period?
Yes, Helix offers a 100-night trial period. You can test out your new bed for 100 sleeps before deciding if it's right for you. If not, no problem. Helix will refund your order and pick up your mattress for free.
What's Helix's return policy?
Helix offers a 100-night risk-free trial on all mattress purchases, sheet sets, pillows and bed frames, so take some time to get to know your new mattress before committing to it. If you're happy with the feel and design but ordered the wrong size, Helix will work with you to exchange it for a different size. However, you can't make any changes to the other details of the mattress.
Note that some non-mattress items may not be eligible for a return:
Helix adjustable base. Cannot be returned and does not come with a trial period.
Mattress protectors. Cannot be returned once opened. Helix will issue a return within 30 days if the mattress protector is still in its original packaging.
For help with returns and exchanges, contact Helix support at help@helixsleep.com or 888- 330-0781.
Are Helix returns free?
Yes, all Helix returns on mattresses, sheets, pillows and bed frames are free. There may be an additional return shipping fee for mattress protectors.
How do I return items to Helix?
To start your return, email help@helixsleep.com. Use the subject line: "Return Request – [Your Order #]." In the body of your email, include the full name on your order and why you'd like to make a return. Within 1 to 2 business days, Helix customer service will respond to set up a removal date, free of charge.
Shipping costs
Shipping is always free to US customers. Canadian customers can expect to pay $150 CAD, plus customs tax.
How can I track my order?
Once your order ships, you'll receive a confirmation email and tracking number from Helix. You can also log into your Helix account, click on My Orders, enter your confirmation number and view the tracking information there if the order has already shipped.
How do I order a custom mattress?
If you've decided to order a custom mattress, you'll have options to personalize your bed and make it ideal for you and your needs. Customize your bed based on the number of people who sleep in it, your weight and more. It's easy to do using the Sleep Quiz on Helix's website and you can even save your progress for later.
Step by step guide to ordering a custom mattress
To order your custom mattress, follow these steps.
Visit the Helix Sleep website.
Enter some basic info about yourself, like your name, age, height and weight.
Answer some questions about your typical sleeping habits and position.
Respond to some queries about your sleeping temperature and any nighttime pain you might experience.
Rate your current quality of sleep.
Answer questions about your current mattress and how you feel about it.
Click see results to reveal your perfect custom mattress.
The site will calculate a recommendation based on your answers, then you'll have to click see my results a second time to continue. Then you'll receive your customized mattress result. You can adjust it to your specific preferences or add the mattress to your cart and check out. You can also save your design for later if you aren't quite ready to purchase.
What sets this brand apart?
The coolest and most unique feature of Helix mattresses is that they are customized to fit your own sleeping needs and preferences. For this brand, mattress shopping is a science. Its technology combines important, fancy-sounding factors like density, indentation load deflection (ILD), spinal alignment, point elasticity, temperature regulation and more to design a mattress just for you.
What do people really say about Helix mattresses?
Since Helix is relatively new to the online mattress party, there aren't quite as many reviews out there as some other brands, and its Facebook page doesn't share customer reviews. That said, based on the information that is out there about Helix mattresses, most people seem to love the fact that they can customize their mattress. By far, the biggest perk of this feature is that you can customize each side of the bed, so you don't have to worry about fighting over firmness options.
At least one review mentioned that Helix materials — particularly the foam layer — didn't seem as high-quality as some of its competitors.
How can I contact customer support?
Contact Helix customer support by calling 888-330-0781, emailing help@helixsleep.com or tweeting @helixsleep. The company also offers a live chat option, but you're unlikely to speak to a real person using this feature. Still, if you have a basic question you can't find on the FAQ page, online chatting could help you get a quick answer.
Why should I shop at Helix?
Pros
Made in the USA. All Helix mattresses are made right here in America.
Free shipping and returns. Shipping and returns within the US are on Helix.
100-night trial. You'll have 100 nights to give your Helix mattress a try, totally risk-free.
Customize your mattress. All Helix mattresses are custom-designed to fit your specifications.
Cons
Hybrid-only. Helix mattresses are customized to your needs, but they are all hybrid blends of foams and coils. If you're looking for something different, Helix might not be the best fit.
Is Helix Better than Purple?
It's worth comparing several mattress brands before buying one online. Both Helix and Purple mattresses use a special proprietary material that's different from regular memory foam. Helix's customizable Dynamic Foam tends to be bouncier and more responsive than Purple's Hyper-Elastic Polymer material, making it better for sex. On the other hand, Purple mattresses tend to be cooler and have received slightly higher satisfaction ratings from customers.
Take a look at our review for more details about the Purple mattress.
Frequently asked questions about Helix mattresses
I'm allergic to latex. Is that a problem with a Helix mattress?
No, Helix mattresses do not contain any latex materials.
Does Helix have any physical locations?
Yes, Helix has a showroom in New York City, where you can watch your custom mattress being designed right in front of you.
What happens to returned mattresses?
Helix never resells or restocks returned mattresses. Instead, the company tries to donate returned mattress locally. If this is not possible due to relevant laws or the state of the mattress, Helix will recycle the mattress.
---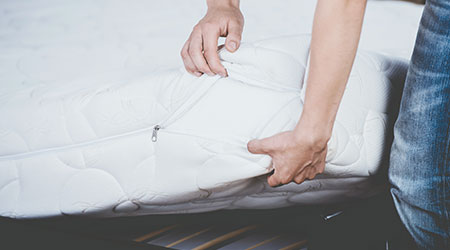 The complete guide to buying a mattress online
If you're not sure yet if Helix is right for you, jump over to our complete guide to buying a mattress online. We give you tips on how to choose the right mattress for you and compare online mattress brands side by side.
Images: Helix.com