Finder is committed to editorial independence. While we receive compensation when you click links to partners, they do not influence our opinions or reviews. Learn how we make money.
Guide to Hawaiian Airlines rewards program
Frequent Hawaii travelers will appreciate this straightforward and reliable program.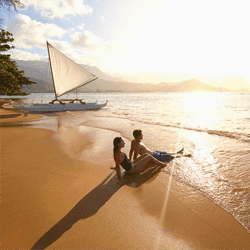 Hawaiian Airlines is one of the few airlines out there that rewards miles for distance flown on its loyalty program. This makes it a great, user-friendly choice for those who often travel to Hawaii or travel between the islands.
How much are HawaiianMiles worth?
According to our calculations from the HawaiianMiles site, HawaiianMiles are worth about 1.2 cents per mile on average as of April 2019. Miles may be worth more or less depending on how they're redeemed.
Do HawaiianMiles expire?
Yes. If you don't earn or redeem miles within 18 months, your current miles will expire. Purchasing a flight, or using a Hawaiian Airlines cobranded card, both count toward earning miles.
How do you earn HawaiianMiles?
The most common ways you'll earn HawaiianMiles to your account is through flying with the airline or spending with an eligible credit card.
Aside from mile bonuses for spending on certain categories, credit cards often provide welcome offers that can boost your earnings. For example, the Hawaiian Airlines® World Elite Mastercard® currently offers a signup bonus of 60,000 bonus miles when you spend $2,000 on purchases in the first 90 days of account opening.
Consider a card from another airline
Citi® / AAdvantage® Platinum Select® World Elite™ Mastercard®
Read more
Compare credit cards for earning HawaiianMiles
Hawaiian Airlines currently offers two cobranded credit cards that can help you earn bonus miles directly to your account when you spend on Hawaiian Airlines and other eligible purchases. These cards also offer other travel benefits associated with the HawaiianMiles program.
If you're looking for a credit card with more reward categories that can still help you earn HawaiianMiles, several Amex, Marriott and Diners Club cards can earn points you can transfer to your HawaiianMiles account.
Loyalty program elite levels
Hawaiian Airlines offers an elite status within the HawaiianMiles program called Pualani Elite. Elite status comes in three flavors — Pualani Gold, Pulani Platinum and Premier Club. Here's how to earn each status and the benefits you'll gain with each.
Pualani Gold
To earn Pualani Gold status, you'll need to either travel 30 segments or 20,000 miles in a calendar year. Some of the notable perks you'll get upon earning Gold status include:
50% bonus miles when traveling on a revenue ticket
Earn 500 miles minimum when traveling between neighboring islands
Complimentary upgrades and bonuses
First two bags checked in for free
No blackout dates for mileage rewards
Discounted awards when booking online at HawaiianAirlines.com
Larger seat selection at time of booking
Fare-hold reservations
Access to first class check-in line
Premier club access
Zone 2 priority pre-boarding
Pualani Platinum
You'll need to either travel 60 segments or 40,000 miles with Hawaiian Airlines to earn Pualani Platinum status. Platinum members earn many of the same benefits as Gold members with a few additions and improvements:
Earn 100% additional bonus miles when traveling on a revenue ticket
First three bags checked free
Zone 12 priority pre-boarding
High priority on special invitations to Hawaiian Airlines events
Premier Club
This is the only membership level you can pay your way into. Activate this level by paying a one-time $299 activation fee or earn it by traveling 40,000 miles — either way, your membership is valid for 12 months. When renewing your membership, you can pay $249 or fly 35,000 miles. With Premier, you get some of the perks of the other membership levels, including:
Access to all Premier Club lounges in Hawaii, excluding the Plumeria Lounge in Honolulu, where you can buy access for $40
First two bags checked free
Zone 2 priority boarding
Earn 500 miles minimum when traveling between neighboring islands
Priority security lines at select airports
Complimentary upgrades
You're eligible for a variety of complimentary upgrades depending on your elite status. Here is Hawaiian Airline's upgrade chart: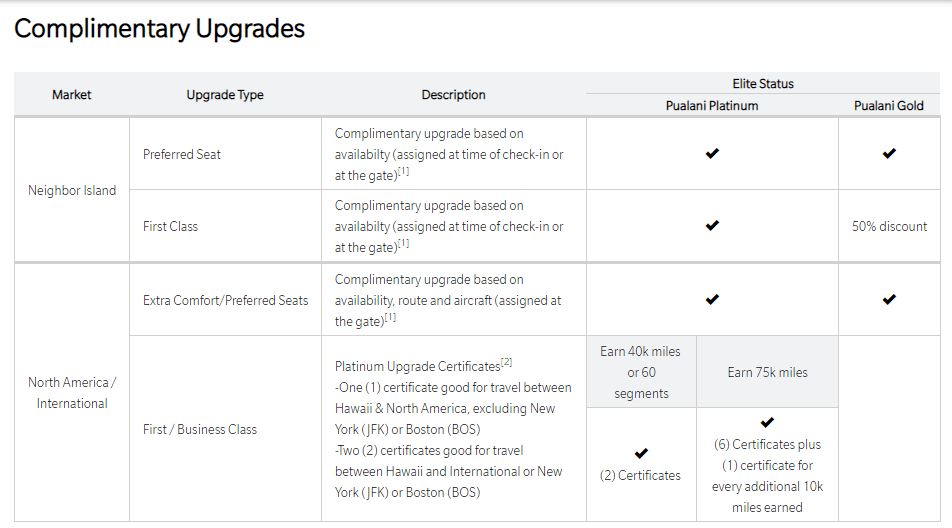 Data obtained April 2019. Values are subject to change and should be used only as a general guide.
Bottom line
If you're a resident of Hawaii or simply looking to expand your Hawaiian experience, Hawaiian Airlines is a prime choice for travel to and between the islands with some great redemption opportunities.
If you don't travel to Hawaii regularly though, you might not be able to make the most of the HawaiianMiles program. Review other airline loyalty programs and cobranded cards to find a reward program that suits your travel.
Frequently asked questions