Finder is committed to editorial independence. While we receive compensation when you click links to partners, they do not influence our opinions or reviews. Learn how we make money.
Haven Life insurance review 2020
This all-digital approach to life insurance means you could get coverage in minutes
finder.com's rating: 4 / 5
★★★★★
Get a quote if… You want an immediate decision on term life insurance.
Pick something else if… You want a permanent policy.
$100,000 to $3,000,000
Coverage
Details
| | |
| --- | --- |
| Free quote | Online |
| Policy options | Term |
| Term lengths | 10, 15, 20, or 30 years |
| Monthly cost | $14.72/month |
| Claim methods | Phone |
| Available states | All 50 states |
| Customer support | Phone, Online |
| Riders | Accelerated death benefit rider, Disability income benefit rider, Long-term-care rider, Waiver-of-premium rider |
Expert review
Review by
julia.cameron@findercrew.com
---
Julia Cameron is a writer and editor who has experience in finance, mergers and acquisitions, content marketing and immigration law. She has a passion for interior design and an affinity for Old Florida, where she lives with her family.
Expert review
If you're in the market for term life insurance, Haven Life offers flexible, affordable policies at the click of a button, with great customer service to back it up. However, it has strict underwriting guidelines that may exclude those with pre-existing health conditions working against them.
What types of life insurance coverage does Haven Life offer?
This company offers term life insurance only. (Its parent company, MassMutual, has a much wider selection of products if term life isn't for you.)
Term life insurance
Term life insurance is often the most affordable type of life insurance policy, and there's no exception here. Available in 10, 15, 20 and 30 year terms with up to $3 million in coverage, premiums start as low as $7 a month and remain unchanged over the term of your policy.
Haven's site helps you determine how much coverage you need and for what term. Best of all, it's instant: Once you find a policy that works for you, purchase it online for immediate coverage.
No medical exam is necessary for most applications, but you might need to submit to tests if you renew your policy after a lapse.
What riders can I add to my life insurance policy?
Haven offers a handful of supplementary riders to provide stronger situational coverage, including:
Accelerated death benefit. If you're diagnosed with a terminal medical condition, you can receive up to 75% of your benefit before you die to pay for medical expenses.
Waiver of premium rider. Allows for a six-month, premium-free period if you get injured or can't work temporarily.
How do I get a low rate?
Like most providers, Haven Life analyzes your health and lifestyle to determine your rate. But with so many factors at play, it's tough to estimate what your rate will be — unless you use Haven Life's online quote tool.
Regardless of your quote, living a healthy lifestyle is the best way to get the lowest insurance rates. And best rates typically go to those who fall within a few health and history markers:
Blood pressure. Your blood pressure should be between 90/60 and 130/85 to get the best rates from Haven Life.
Cholesterol. Life insurance providers measure your ratio of good to bad cholesterol and sometimes your overall cholesterol level when determining your rate. While Haven Life isn't clear about its requirements, an overall level of 200 and an HDL ratio of 3.5 are good targets.
Family history. Family history may affect your risk level as an applicant, so you can get the best rates at Haven Life if none of your family has died from heart disease, vascular disease or cancer before age 65.
Tobacco. Tobacco and nicotine use greatly affect your overall health and life expectancy, so you'll be excluded from the "Excellent" health class if you've smoked in the past five years.
Driving record. Generally speaking, insurance providers expect a clean driving record for the best rates. While Haven Life doesn't mention its requirements, you have a better chance of lower rates with three or fewer violations in the past three years.
Pros and cons of Haven Life
Haven Life is an innovative life insurance provider backed by one of America's most trusted institutions. However, it does come with a few potential downsides, depending on your needs.
Pros
Simplicity. Haven Life's fully-digital model makes shopping for life insurance easy.
Financially sound. Backed by MassMutual, one of the most secure financial institutions in the country, it's capable of paying claims.
Fast. The online platform makes turnaround faster than the competition. Get coverage almost instantly, with claims paid out quickly.
Flexible. Customize your policy to suit your needs — ideal for such a significant investment.
Cons
Offers term life only. If you're looking for a permanent policy, look elsewhere.
Strict underwriting. While some insurers offer lenient underwriting, Haven's more strict with its three rate classes — the best unavailable entirely if you're a smoker.
Online only. A benefit for most, you can only get a policy through Haven's site. If you're not comfortable making such a large purchase online, look to competitors.
Compare other life insurance companies
Haven Life review and complaints
It's refreshing to see so many positive reviews online. The company is rated 9.3 out of 10 on Trustpilot, followed by a long list of customer praise.
Elsewhere, customers report satisfaction with Haven's easy application system and customer service. It might just live up to the hype.
How does Haven Life protect my data?
Haven Life collects your personal information in order to respond to your questions and requests for services, verify your identity, tailor content and offers, and provide you with certain services. Haven Life does not share your info with unaffiliated third parties without your consent.
Your data is kept safe with physical and electronic and safeguards. Hven Life even contractually requires service providers to protect your data and use it exclusively for the purpose of performing certain business functions on their behalf.
How do I sign up?
To get a quote and sign up for a policy, begin by clicking Apply Now on Haven Life's homepage and then Let's begin.
Next you'll answer basic information about yourself and select the amount of coverage and length of term you desire. Then click Calculate.
You'll be presented with an estimate of your monthly rate. If you're happy with the price and you'd like to apply, click Continue.
You are then required to create an account by entering your email address and creating a password. Once you've created an account, you can proceed to the application.
The application requires answering an extensive list of questions in order to give you an instant decision and to allow you to sign up online. Information you will have to provide includes:

Your contact info
Social Security number
Income
Any risky behaviors or hobbies

Family and personal medical history
Beneficiaries
Source of funds for payments

Finally, verify your email address and click Get my decision.
I've signed up. What happens next?
Most applicants get an instant decision. If at any time during the process you need assistance, you can use the live chat feature to communicate with a representative.
If you are approved, you will need to set up a pre-authorized checking account so that your monthly payment can be automatically drafted each month. This is the only way to make payments with Haven Life.
More about Haven Life
If you've ever shopped for life insurance or retirement plans, chances are you've come across MassMutual. Sitting at No. 76 on the Fortune 500, the company has served the US since 1851.
Aiming to breathe life into the antiquated insurance industry, MassMutual created Haven Life in 2015 to sell term life policies. The company's young, yet, modern approach to life insurance, is making it easier than ever for people to get coverage.
While Haven Life is an innovative insurer, it's limited to term life insurance. If you're looking for a permanent policy, compare life insurance providers.
How do I file a life insurance claim with Haven Life?
Filing a claim with Haven Life is just like applying for coverage: It starts with Haven Life's site.
1. Visit Haven Life's site and click Get Your Real Rate.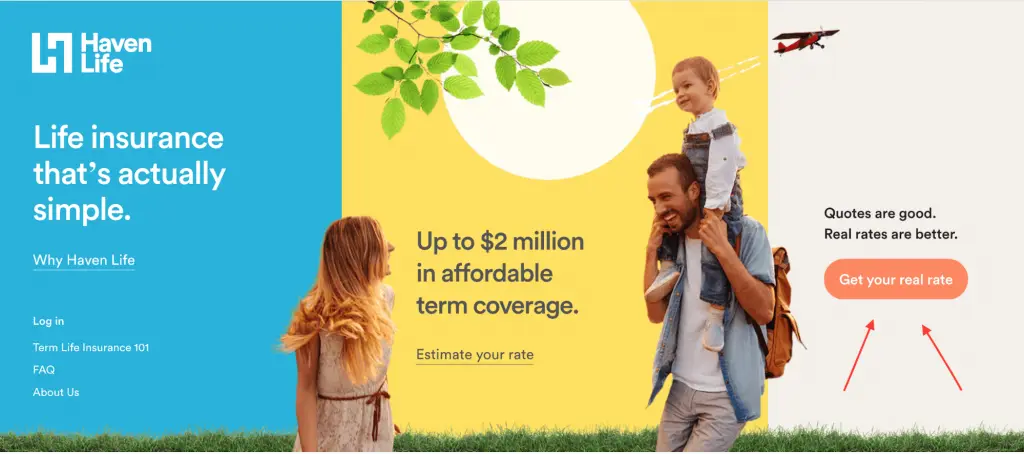 2. Gather your personal info, including your driver's license, Social Security number, height and weight and personal and family medical history. Then click Let's Begin.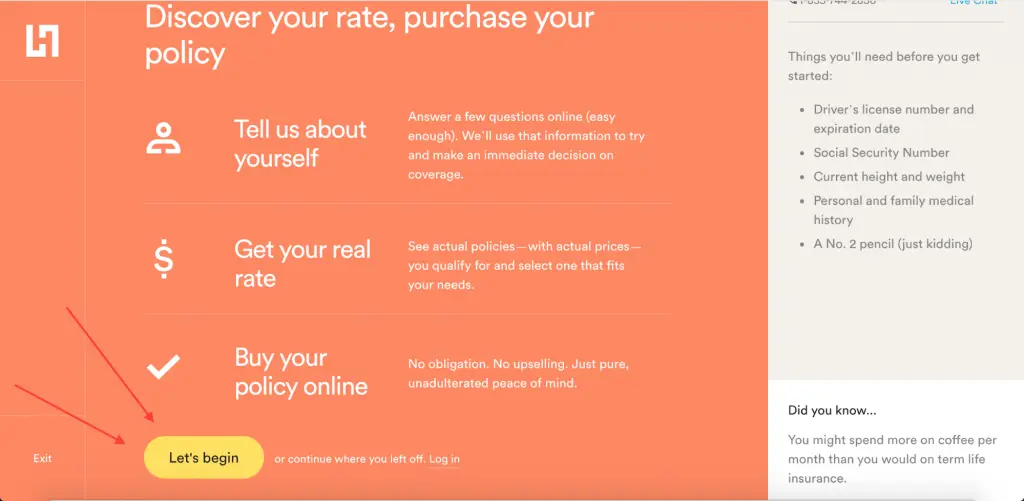 3. Enter your ZIP code and create an online account.
4. Complete the rest of the application, then read through your coverage.
5. Submit and pay for your policy, and you're covered.
What other services does Haven Life offer?
Haven Life is designed to sell term life insurance only, which means it doesn't provide any other services. If you're interested in permanent life insurance or investment vehicles, consider its parent company, MassMutual.
Haven Life's financial stability and credit ratings
Haven Life is accredited by the Better Business Bureau (BBB) with an impressive A+ rating to match. But because its a fairly new startup, you won't see much in the way of reviews by major credit agencies.
Its parent company, MassMutual, is rated A++ (superior) by A.M. Best, the most relevant ratings agency in the insurance industry. This highest rating means that MassMutual is extremely stable financially.
Frequently asked questions
Life insurance ratings
★★★★★ — Excellent
★★★★★ — Good
★★★★★ — Average
★★★★★ — Subpar
★★★★★ — Poor
Our experts analyze life insurance companies to help you to find the strongest possible policy and premium for your family's needs. We assess their financial strength, customer satisfaction, policy features and riders. We then give each insurer a score between one and five stars that reflects their offering and reputation in the industry.