Finder is committed to editorial independence. While we receive compensation when you click links to partners, they do not influence our content.
Happsy mattress review
Sleep happy and light as a feather.
I bought myself a Happsy Mattress. I've slept on it before giving this review, and you can rest assured you're getting an honest, unbiased opinion.
Size reviewed: Queen
Cost: $1,399
Trial period: 120 days
Warranty: 10 years
Free shipping: Yes
Shipping time: 5 days
Shop Happsy now
Call me the world's most reluctant mattress shopper. I'd been sleeping on the same full-size mattress for more than two decades.
And as cozy and content as I was on my childhood bed, my partner was tired of the limited space and waking up stiff and sore. Even I had to agree it was getting cramped.
But I worried a new mattress wouldn't compare to my old one. And I was concerned about flame retardants in many traditional mattresses. Admittedly, my current mattress probably contained them, but I reasoned it'd surely off-gassed by now.
Happsy's Organic Bed in a Box caught my attention because it's made of GOTS-certified organic wool, cotton and latex, guaranteeing no fumes to off-gas. Plus, it's less expensive than other popular organic mattress brands. I took a leap of faith and tried it to see if it could keep both me and my partner comfortable.
Happsy mattress review
Unpacking the mattress
I'd never purchased a bed in a box before, so I didn't really know what to expect. My mattress came compact in a small box, vacuum-sealed in thick plastic casing. I rolled it out in my living room and let it expand there.
This took a couple of days — so don't get rid of your old mattress just yet! The company says you can sleep on it within 30 minutes, but I found it needed extra time to decompress — and so did I.
The company suggests having two people set it up, and I definitely agree. Our bedroom is just down the hall from the living room, so it was a short trek to place it on the bed.
But I imagine it's tough to haul up a flight of stairs, so try to unbox it near your bedroom. And be sure to hold onto the original packaging — you'll need it if you decide to return.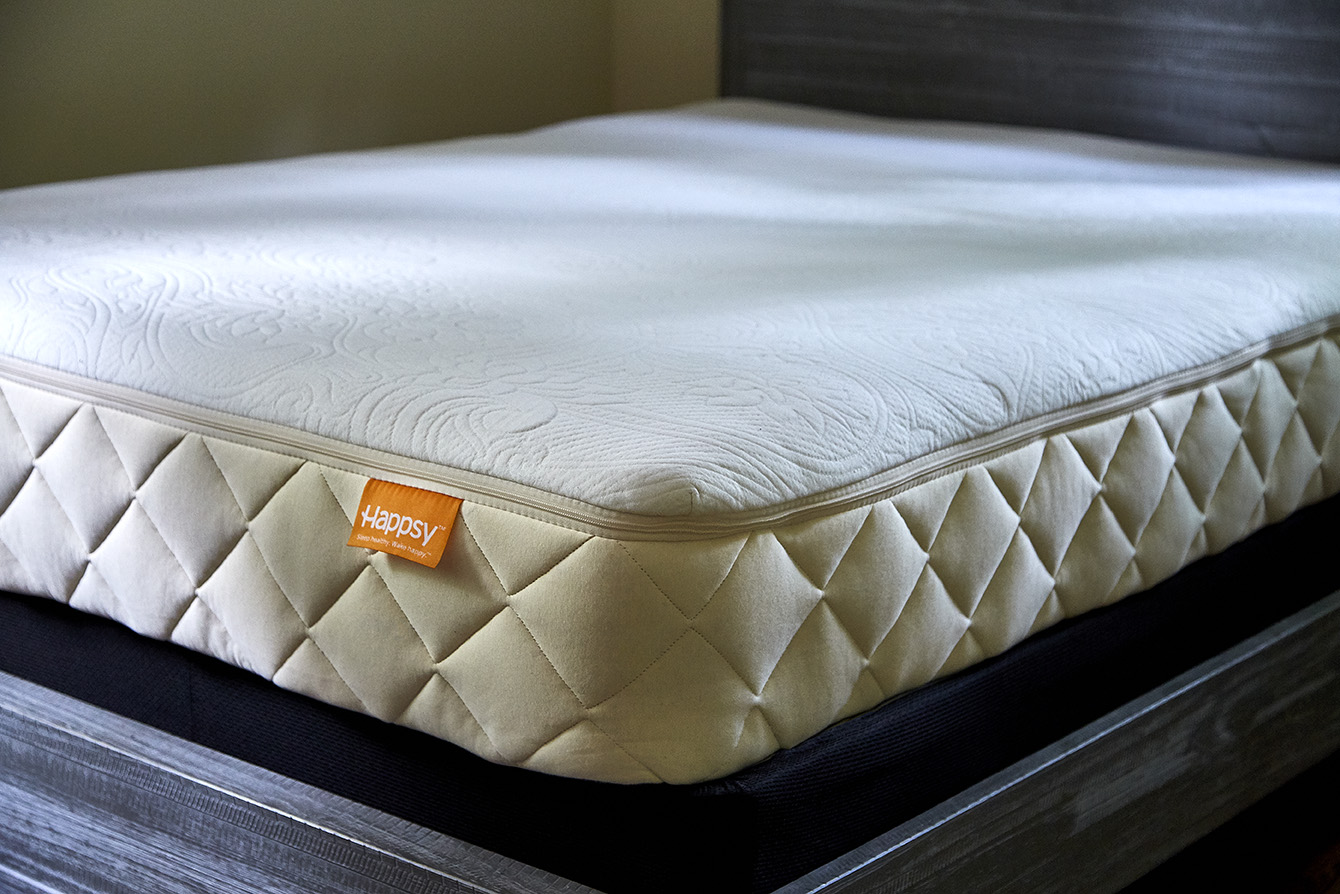 Initial thoughts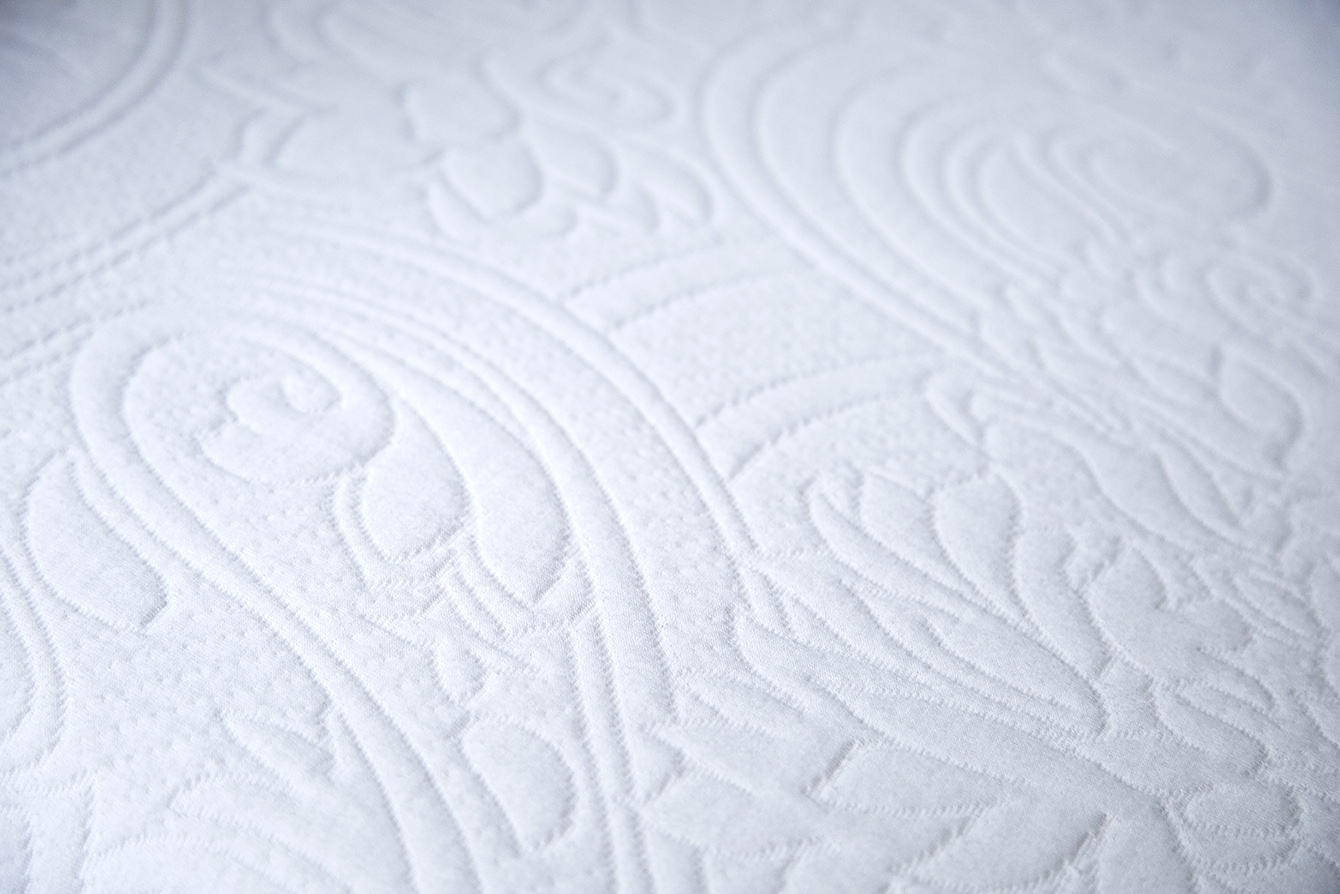 Despite letting it expand for several days, the mattress hadn't quite decompressed. For a week or two, I felt off-kilter — almost like my feet were higher than my head. My partner, on the other hand, was so happy to have the extra room he didn't complain.
Aside from my head-over-heels position, I noticed I almost felt weightless on this bed. Sometimes spring beds have a lot of give when you lie on them, but not this one. I felt gently propped up as if on a cloud.
One year in
Yes, I've been sleeping on my Happsy for more than a year, so spoiler alert: I love it! Within a few weeks, the mattress decompressed further and I felt like I was properly lying on it.
It's definitely plush yet very supportive — I'd call it medium-firm. Happsy also sells a topper for extra softness, but I skipped it. I never have any hip or shoulder pain lying on this bed and find it soft enough.
The one caveat to the bed of my dreams is it possibly traps heat. I say possibly because I tend to run hot and also sleep with a plush comforter, so it's hard to say if the mattress is entirely to blame. But you may want to tuck that tidbit away if you sleep hot.
Pros
100% certified organic. Since the mattress is made without adhesives or flame retardants, I rest easier knowing I'm not lying on toxic chemicals.
Extended trial and warranty. There's no pressure to make a snap decision on where to spend a third of your life. A 120-night trial and 20-year warranty makes buying a Happsy risk-free.
No off-gassing. With no toxic chemicals to emit, there's no smell or off-gassing with a Happsy.
Holds up over time. Unlike the all-foam mattresses I've slept on that are comfortable at first but quickly deteriorate, the Happsy is still going strong.
Cons
Price. Although it's cheaper than many all-organic options, the price is still steeper than other popular brands.
Traps heat. Despite being made partially with moisture-wicking wool materials, the mattress can trap heat. I tend to wake up hot at times, especially in the summer.
Happsy vs. competitors
The Happsy is a great option in the organic mattress sphere. Compare other popular brands to find the best fit for you:
Bottom line
To make a long, sleepy story short, I found my match made in heaven in my Happsy mattress. Oh, and my partner sleeps happy now too.
Would you recommend this mattress to a friend?
Yes, I would! If you're dreaming of an organic mattress that offers firm support with a plush, luxurious feel, the Happsy may be a great choice.
More guides on Finder