"Hamilton" coming to theaters, Disney+ in 2021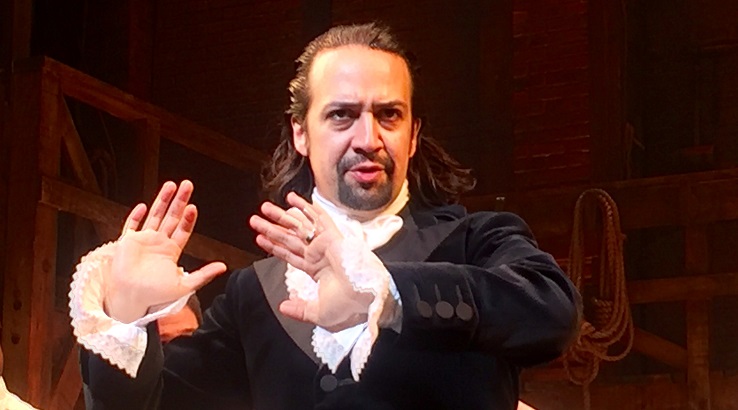 Disney has won a bidding war for the filmed version of the record-breaking musical.
Disney has bought the worldwide movie rights to Lin-Manuel Miranda's "Hamilton," the 2015 hip-hop musical that won eight Drama Desk Awards during its original off-Broadway run, and a record 16 Tony nominations and 11 Tony Awards in its first Broadway run, Deadline reported on Monday. The 11 wins just missed out in taking the record, earned by "The Producers" in 2001.
Disney plans to release a film version of the musical, featuring the original cast, on October 15, 2021, with a likely placement on Disney+ following thereafter.
"I'm so proud of what Tommy Kail has been able to capture in this filmed version of Hamilton — a live theatrical experience that feels just as immediate in your local movie theater," Miranda said in the article. "We're excited to partner with Disney to bring the original Broadway company of Hamilton to the largest audience possible."
The entertainment giant is an insatiable monster when it comes to content. Be it Marvel, Pixar or Lucasfilm, the House of Mouse is not afraid to throw around its money to buy and package the hottest things on the cultural landscape. It turns out that Broadway is not exempt.
The musical's movie rights arguably went for more than any finished film in recent history; the movie was shot and produced by the same directorial team as the musical in 2016. The movie was part of a bidding war with undisclosed studios.
"Lin-Manuel Miranda created an unforgettable theater experience and a true cultural phenomenon, and it was for good reason that Hamilton was hailed as an astonishing work of art. All who saw it with the original cast will never forget that singular experience," Disney CEO Bob Iger told Deadline. "And we're thrilled to have the opportunity to share this same Broadway experience with millions of people around the world."
"Hamilton" for the people
Toward the end of the original run featuring the original cast and Miranda, "Hamilton" tickets went for a minimum of $500 and were regularly sold out. Miranda has, per Deadline, justified the large paycheck as a way of sharing the musical to an audience who would not be able to enjoy it otherwise.
"I fell in love with musical storytelling growing up with the legendary Howard Ashman-Alan Menken Disney collaborations — The Little Mermaid, Beauty and the Beast, Aladdin," said Miranda, who — following the musical's original run — entered into a working relationship with Disney, starting with a role in 2018's "Mary Poppins."
Based on the book by Ron Chernow, "Hamilton" presents the life of Alexander Hamilton — a Founding Father, the first Secretary of the Treasury and the founder of the U.S. Mint and the First Bank of the United States, a forerunner of what would become the Federal Reserve — from his childhood as an orphan to his fateful duel with former Vice President Aaron Burr. The musical has become noted for its race-conscious casting, its blending of musical styles and its sensibility as a story about "America then, as told by America now."
Picture: Getty Images