Finder is committed to editorial independence. While we receive compensation when you click links to partners, they do not influence our content.
HoloLens not on the Halo agenda for at least seven months
Microsoft's exciting new augmented realty headset the HoloLens has already utilised the Halo universe for a tech demo, but will we see any gameplay in the near future?

If Microsoft wants the HoloLens to take off as a vital piece of kit for gamers already overloaded with playing options, then it needs to link the device to Halo. The company's biggest gaming brand can pave the way for adoption of the innovative augmented reality technology, but it would appear any such union of Halo gameplay and HoloLens is some way off.
The HoloLens is a visor-like headset that sits over your eyes and augments the world around you. It is not virtual reality – as seen with PlayStation VR and the Oculus Rift – as you remain rooted in the real world. Instead the visor manifests holographic imagery in that real world and allows you to interact with it. I was lucky enough to use the HoloLens at E3 2015, and the fundamental experience is quite incredible.
The tech demo I played was set in the Halo universe, but it did not feature any gameplay. Instead it was used as part of an interactive mission briefing ahead of a multiplayer match in the new Warzone mode. Your AI companion, Cortana, took my team through a holographic overlay of the map and gave us a breakdown of vehicles and enemy types. A Halo-like objective marker appeared in the world and led us to different areas of the booth, too. And at one point I looked towards a blank wall, only to see a window open to reveal a thriving alien world outside full of activity. It was awesome.
But it was not gameplay; it was effectively a gimmick. A demonstration of technology to stimulate one's imagination. Recently I had the opportunity to talk to 343 Industries' design director on Halo 5: Guardians, Kevin Franklin – you may have already seen our articles "I spent months of my life working on splitscreen for Halo 5: Guardians" and "the fans influence Halo more than Microsoft" – and I asked him about the future of Halo and the HoloLens. Franklin made it clear that any future the two might share won't be on the agenda for some time:
Check out more Xbox content on finder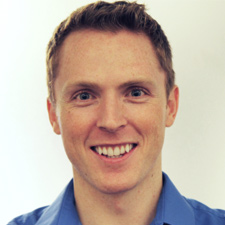 Kevin Franklin
– Kevin Franklin is the design director at 343 Industries
– He was the lead designer on Halo 4's competitive multiplayer and is currently working on Halo 5: Guardians as design director
– Franklin recently made the 2015 Forbes 30 Under 30 list
I was lucky enough to enjoy the Halo HoloLens demo at E3 2015; it was great, but it wasn't used in gameplay. Surely you've thought about how HoloLens could be integrated into Halo so I ask you, in a perfect world, how would Halo use the HoloLens?
KF: Oh, man. Designers always have a lot of ideas on this stuff, but we can't really think about it too much as we're so focused on building our console experience. HoloLens is really, really, exciting. It was great to see it at E3. Lots of ideas came up, but getting Warzone off the ground and getting the best possible console experience has been 100-percent of our focus, and we're all about sustaining that right now. We've actually got a lot more Warzone and a lot more Arena content coming over the next seven months and it's taking up all of our time. So we haven't been able to think too much about getting the HoloLens into Halo.