Finder is committed to editorial independence. While we receive compensation when you click links to partners, they do not influence our content.
"The fans influence Halo more than Microsoft"
It's Microsoft's most important brand in its battle to lead the Xbox One to console dominance, so does that mean the industry giant is overly hands-on with its development?

We recently caught up with Kevin Franklin, design director at 343 Industries, who is currently putting the finishing touches on blockbuster Halo 5: Guardians ahead of its October 27 launch. We were lucky enough to have a lengthy chat with him about the development of the game, and will be posting the interview in full shortly. In the interim, we're starting to roll out some snippets of what he said in anticipation – if you haven't already, check out "I spent months of my life working on splitscreen for Halo 5: Guardians" and 343 Industries explains the 46GB install size of Halo 5: Guardians.
There's plenty to look forward to with Halo 5: Guardians. An epic single player/online co-op campaign that follows two teams of four – one lead by the legendary Master Chief and the other by a new character, Locke – as one chases the other across the universe in the shadow of a new threat looming over everyone. The ever-popular multiplayer mode returns, too, led by the epic new Warzone, a game type that pits Red vs. Blue vs. AI in huge, vehicle filled maps.
With so much resting on the game's success and a relatively new developer at the helm of the series (after creator Bungie moved on to make Destiny), you must wonder how hands-on Microsoft got with Halo 5's direction. Surely it would want some say in the final product given the overall risk to the Xbox brand? So we asked Franklin;
Check out more Xbox content on finder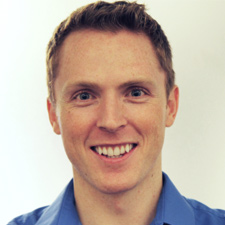 Kevin Franklin
– Kevin Franklin is the design director at 343 Industries
– He was the lead designer on Halo 4's competitive multiplayer and is currently working on Halo 5: Guardians as design director
– Franklin recently made the 2015 Forbes 30 Under 30 list
Halo has become so much more than a game. It's a powerful weapon for Microsoft in its fight for the largest install base of consoles. How closely does Microsoft, the giant corporation, influence the development of Halo and define its journey from concept to release?
KF: I wouldn't say very much at all. I think the fans influence Halo more than Microsoft. Look at what we're launching this year, like Arena, our competitive mode that's built for e-sports. That's what the fans are asking for; our hardcore competitive community were asking for that, it wasn't Microsoft asking for it.
Warzone was designed by the fans in a lot of ways, too. I remember going back and reading hundreds and hundreds of forum posts, and everyone would make these bullet point lists of what they wanted to see in the next Halo game. Or people were starting big threads like, "what do you want to see in Halo 5?" And then they would post off things like, "giant vehicle battles" or "having the AI (artificial intelligence) in multiplayer." And we were like, "wow, these all sound like things the fans want to build, so how do we go and do that?" Microsoft has been supporting this goal, providing things like dedicated servers. Plus the Xbox Live platform has really been upgraded a lot, and the power of the Xbox One has been really awesome to build on.
In fact, as a designer, at first I was like, "well, what does that extra power even mean?" Once we started defining the actual 24 players [for Warzone], the dozens of AI and the dozens of vehicles, we were like, "okay, now we actually can build something crazy big and epic. How do we, as designers, make the best possible experience within those constraints?"
---