Finder is committed to editorial independence. While we receive compensation when you click links to partners, they do not influence our content.
"I spent months of my life working on splitscreen for Halo 5"
October 27 can't come soon enough for the millions of gamers looking forward to Halo 5: Guardians, but the lack of the series' signature splitscreen mode has dampened that anticipation somewhat. We spoke with design director Kevin Franklin from developer 343 Industries about the mode's disappearance.

Halo 5: Guardians is a massive game of two halves. There is the huge campaign filled with larger worlds, a compelling story, and a smarter AI. Then there's the biggest competitive multiplayer component that the series has seen, including the all new epic battles of Warzone. For the first time in the series' history, however, both halves of Halo will lack splitscreen functionality. Multiplayer, be it co-op or competitive, can only unfold online. It's been a bitter pill to swallow for many long-time fans, with petitions aplenty doing the rounds on the internet hoping to get the original same-couch experience reinstated.
Finder.com.au was lucky enough to spend some time with the game's design director, Kevin Franklin, who has been intimately involved in Halo 5: Guardian's multiplayer development. We have a full, lengthy interview that touches on many aspects of the game that we'll run in full shortly. However, we thought we'd pass on an early look to his insights into the demise of the splitscreen experience, which suggests its removal was a truly personal and painful decision 343 Industries wish it didn't have to make.
Check out more Xbox content on finder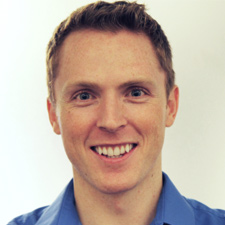 Kevin Franklin
– Kevin Franklin is the design director at 343 Industries
– He was the lead designer on Halo 4's competitive multiplayer and is currently working on Halo 5: Guardians as design director
– Franklin recently made the 2015 Forbes 30 Under 30 list
Let's get into the dirty laundry – what's more important, graphics or gameplay?
KF: Gameplay.
Yet ditching splitscreen gameplay as an option feels like it's got a lot to do with prioritizing graphics: how do you respond to that line of thought?
KF: Well, 60fps was a huge deal, but I feel like that's a gameplay decision, too. Yeah, the game has to look good. We want to make it look amazing, but we have a really good relationship that we built – especially over Halo 5: Guardians – with the art team so that we're constantly going back and forth between art and gameplay to make sure it looks good, yet still plays really well. There's still a technical challenge without splitscreen, as we need to make it look good and hit 60fps while making our release date. Dropping splitscreen was a really tough call but, unfortunately, it's what we had to do.
This was something we spent hours and hours on… So it's not something where we were like, "oh f–k, splitscreen". It was a lot of work and painful to see it go.
I know Phil Spencer, the head of Xbox at Microsoft, has come out and said splitscreen gamers are the minority, but they're still hardcore fans and it means a lot to them. So can you give them anything? Has there been any talk about splitscreen internally? Any thought about delivering it in a patch or as DLC?
KF: Nothing I can… so I just want to make it really clear, I can't confirm that we're doing anything. I can tell you that I can relate to the way you're feeling. I was a hardcore splitscreen player and I don't really want to make any assumptions on how anyone would want to play. I'll just tell you, splitscreen not appearing in the game was a decision that the team didn't take lightly. It was a really difficult one and I'm sorry to see it go. But we do really feel like we have an amazing offering. We've built the largest multiplayer game ever: I think we just have to remind ourselves of that when we play.
At any point did you even get a technical demo of it running in splitscreen?
KF: I haven't played it since Halo 4: that was the last time I played splitscreen. I can't remember the exact [order of development]. When we were building our prototypes, we weren't really using splitscreen because in our natural development environment, we only have one kit. But with our designers we do something called neutral perspective scripting. So imagine you're playing splitscreen on Halo 4 and four of you are in a game together – let's just say you're playing capture the flag and you've got a mix of Red and Blue guys. All of a sudden one of you runs over and picks up the flag, so the announcer would naturally say, "you have the flag."
Originally, the announcer on the Red team would then go, "enemy team took your flag." And then the other guy on the Blue team would hear, "teammate took the flag." So you would have these three voice-over lines that would play, right? That's just the way the game works naturally. So I spent over six weeks, just sitting there, every single day, going through all the different lines and putting in conditions and case scripting so that when someone picked up the flag, it would just say, "Blue flag taken." And lines like this are just called having a neutral perspective, so that way you wouldn't hear three annoying lines. It's the same thing with the ball getting picked up. It's the same thing with a team coming from behind with five kills to win. So we have to basically rescript the game and do a special presentation layer for splitscreen, and I did all this for Halo 5: Guardians. We did it again. We were intending to have from the multiplayer design side, and it's something we put a lot of time and effort into. So I don't want you to think that it was abandoned early on. This is something that we spent hours and hours on – I spent months of my life working on for Halo 5. So it's not something where we were just like, "oh f–k ." It was a lot of work and painful to see it go.
Well here's hoping splitscreen makes a triumphant comeback in the future…
KF: I wish I had better answers for you on the splitscreen stuff as I can tell you're passionate about it. I think it's fair to ask [these questions]. I'm a Halo fan, and I think it's frustrating, personally, that when I get in front of my Xbox there aren't a lot of couch games I can play.