Finder is committed to editorial independence. While we receive compensation when you click links to partners, they do not influence our content.
343 Industries explains Halo 5: Guardian's 46GB install size
It's one of the Xbox One's most hotly anticipated games, and if bigger is better, then its hefty install size promises good things, but why is it so large? We asked the developer…
We recently crunched the data and put together a list for the install size of every currently available Xbox One game – you can check it out here, it's a very handy resource. In the process of putting together that list we discovered just how big Halo 5: Guardians will be at launch, and it doesn't cast a svelte shadow. At 46.19GB, it's the eighth biggest game in the Xbox One's history – here is the top 10. – and will eat up 13% of your internal hard drive.
We recently got a chance to talk to Kevin Franklin, the design director at Halo 5: Guardians' developer 343 Industries, and we thought we'd take the opportunity to ask him why the game has such a significant install size. The below is an extract from a much larger interview that we will be posting in the very near future. More from Keith can be found in the article "I spent months of my life working on splitscreen for Halo 5."
Check out more Xbox content on finder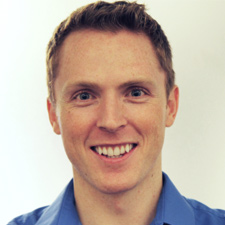 Kevin Franklin
– Kevin Franklin is the design director at 343 Industries
– He was the lead designer on Halo 4's competitive multiplayer and is currently working on Halo 5: Guardians as design director
– Franklin recently made the 2015 Forbes 30 Under 30 list
Did you know that Halo 5: Guardians has the eighth biggest install size of any Xbox One game? It's 46GB at launch; what makes the install size of a game like Halo 5 46GB, and a game like Rise of the Tomb Raider just 20GB?
KF: I'd say just the scale. Not a complete technical answer, but the scale of the content in the game is just mind-blowing. We have different types of warthogs and different types of scorpions; when you get really deep into the requisition system, there's also legendary variants of all the weapons. There's a massive amount of ways you can customise the look of your Spartan character a well. So we've got a huge customisation system with everything from helmets, visors, skins and emblems, right through to actual animations. We actually just showed off the new assassination animation that you could get from the requisition system.
So that coupled with our very, very, large set of maps – we have 20 multiplayer maps that will be available at launch and then we're going to have 15 post launch. There's also hundreds and hundreds of Forge pieces that players can use to customise the levels. There's a lot of content and when I walk around the halls at 343 Industries looking at all the people doing hard work – building all sorts of stuff for the game – it doesn't surprise me at all that we have a large install.