Finder is committed to editorial independence. While we receive compensation when you click links to partners, they do not influence our content.
The Solace Tracksuit by Gymshark review
This super soft tracksuit is ready for the gym, the couch and everything in between.
Gymshark gave us a gift card to test out a pair of these track pants on our own. As nice as this gift was, it hasn't influenced our opinion in any way.
Finding athletic clothes that work for feminine bodies is challenging. It seems like companies believe women's workout garb should simply be a smaller version of men's favorite designs. But, as any woman knows, that's not exactly the truth. Our curves often get in the way: We need something designed uniquely for our bodies. Gymshark has hit the nail on the head with its latest women's design, the Solace Tracksuit. It's soft, comfy and specially designed for a woman's body.
Why we love the Solace Tracksuit
The Solace Tracksuit is available in five trendy colors: a sweet blush pink and a stylish purple hue, as well as more standard dark gray, black and navy. Gymshark generously gave us a gift card to try one piece of this tracksuit to show just how soft and high-quality it is.
The track pants I ordered took about a week to arrive and I had to sign for the delivery, since it had come all the way from the UK. I chose the blush pink track pants which are beautiful and light without being too see-through — I seriously love them.Be warned: Although the light pink color won't show it all, it's not exactly opaque. If you wore bulky or bright colored undies, you could definitely see them through the pants. I'm not bothered though, since it's the perfect shade that's been trendy all year.
You'll love this tracksuit as soon as you pull it out of the packaging because, wow, it's soft. The material is incredibly smooth without feeling at all fragile or apt to rip. I would pick this cozy set to relax in over some of my pajamas.
The pants fit like a glove, even though I'm curvy. Gymshark's design doesn't expect you to be rail thin or tall. It accommodates for a round, girly butt and thick thighs and features a drawstring, so you won't have to yank your pants up the whole time you're at the gym or on a run … because what's more annoying than that? I also appreciated that the pants have zippable pockets to store your ID or keys. The zippers are very small and light, so they won't come unzipped by accident or smack your legs while you're working out.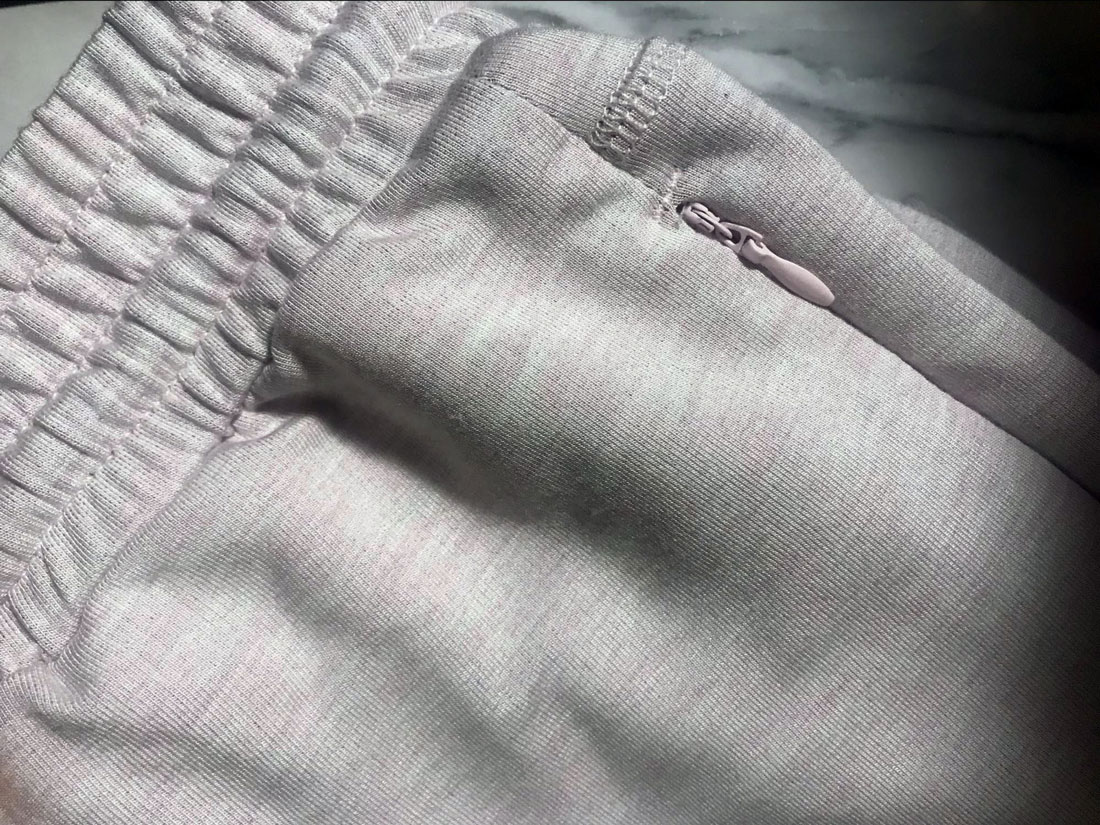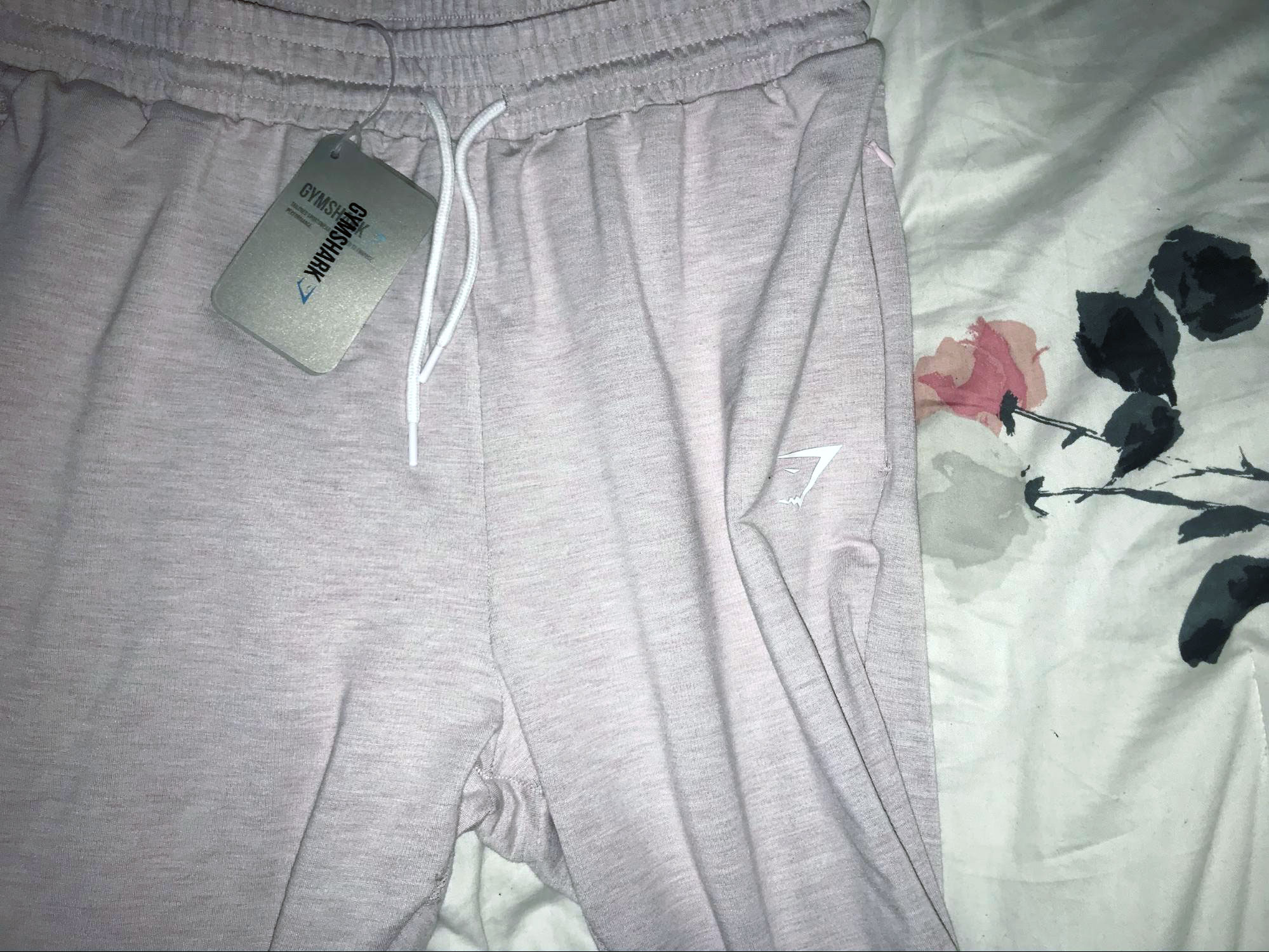 Want to complete your tracksuit? We didn't find any online reviews on the Solace Sweater just yet, but it looks equally comfy yet a little warm for a workout. The fabric is fairly breathable, but I overheat in long sleeves and would have to wear a tank top or t-shirt underneath. The sweater has the same small-zippered pockets as the pants, so you'll have double the safe-storage opportunities if you wear the two together.
This matching tracksuit set is so soft and comfy you won't want to take it off. The stitching and fabric are high-quality and I expect that mine will last a long time. The versatile Solace Tracksuit is perfect for running errands, hitting the gym or just hanging out. I love the pink and purple color options: It's refreshing to see an athletic company offering soft and pretty colors. Overall, I think this tracksuit is a great choice for any active girl on the go.
Where you can get it
Shop the Gymshark website, where you'll find the Solace Tracksuit and lots of other high-quality women's athletic wear.
Cost
The Gymshark Solace Sweater costs $48 and the Solace Bottoms cost $46. Together the two ring up at just under $100 — well worth it for the quality.
Gymshark deals and discount codes
It looks like we don't have any coupons at the moment.
Fashion finds:
Shop some of the best nursing shoes to help you stay on your feet in comfort and style. We share our picks and tips and advice from nurses.
Read more…
Is your town on fleek, c'est chic or just plain meek? Finder explores the most fashionable cities in the United States.
Read more…
Shop hot deals on bras, pajamas, slippers, perfume and more for a limited time. Here's what to know.
Read more…