Finder is committed to editorial independence. While we receive compensation when you click links to partners, they do not influence our opinions or reviews. Learn how we make money.
Guide to Bank of America rewards program
A cashback card might be your best bet if you're looking for pure value.
Bank of America offers a range of credit card options, including travel, cashback and rewards cards. However, they all work in a similar fashion no matter which card you choose. As a result, using the program is a breeze.
Why should you take part in Bank of America rewards?
What Bank of America's reward structure lacks in transfer capabilities, it makes up in credit card options with strong earning potential. The Bank of America® Cash Rewards credit card is one such example of a strong, flexible rewards card.
Couple these credit cards with a straightforward approach to redemption values, and you have a reliable, fire-and-forget rewards machine. The cards are especially valuable when it comes to cashback rewards.
How much are Bank of America points worth?
Each Bank of America point is worth one cent, regardless of how they are redeemed. This is at odds with other credit card rewards programs which often have varying point values depending on how points are redeemed.
Bank of America cards that earn rewards points
All Bank of America cards earn points — even Bank of America's cashback credit cards. However, you can only redeem points as cash back with cashback cards.
Choosing Bank of America cards
While all Bank of America cards earn points, not all cards can be used to access every redemption options. For example, you're generally limited to cash back redemption when using Bank of America cashback credit cards. Meanwhile, only travel cards can access the Bank of America Travel Center.
Bank of America's website doesn't make it clear whether you can transfer points from one account to another, such as from your cashback card to your travel card. Instead, the site recommends calling to check for transfer eligibility. Consider calling before applying to understand your full range of earning and redemption options.
Transfer partners
Bank of America travel rewards doesn't currently offer any point transfer opportunities. This means Bank of America runs behind some of its competitors when it comes to pure point value. For example, points transferred from the Amex Membership Rewards program can double or triple in overall value.
However, booking travel through the Bank of America travel center is still a solid use of your points particularly when paired with the Bank of America® Travel Rewards credit card. You'll earn three points per dollar spent on travel booked through the Bank of America travel center when you use this card.
How to navigate account
View rewards
You can view your rewards summary by clicking on the Rewards tab under your account summary in the account overview. From here, you can click to redeem or transfer points.

Alternatively, you can navigate to your rewards by selecting "Rewards & Deals" in the top navigation bar and then clicking on "My Rewards."

Redeem points
Once clicking through to "View/redeem points," you'll be led to a screen where you can choose redemption options. Redeeming points toward statement credit gives you the best value for your points.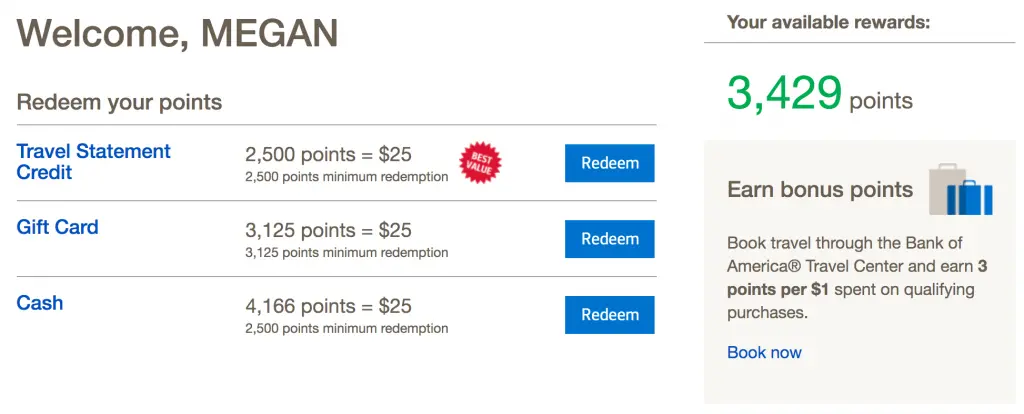 When redeeming for statement credit, you can choose which purchases to apply your rewards to. Here Megan is redeeming points to pay for a trip to Disneyland!
You'll need at least 2,500 points (worth $25) to make a redemption. You can apply points to pay for part of a purchase if you don't have enough points to cover the whole purchase.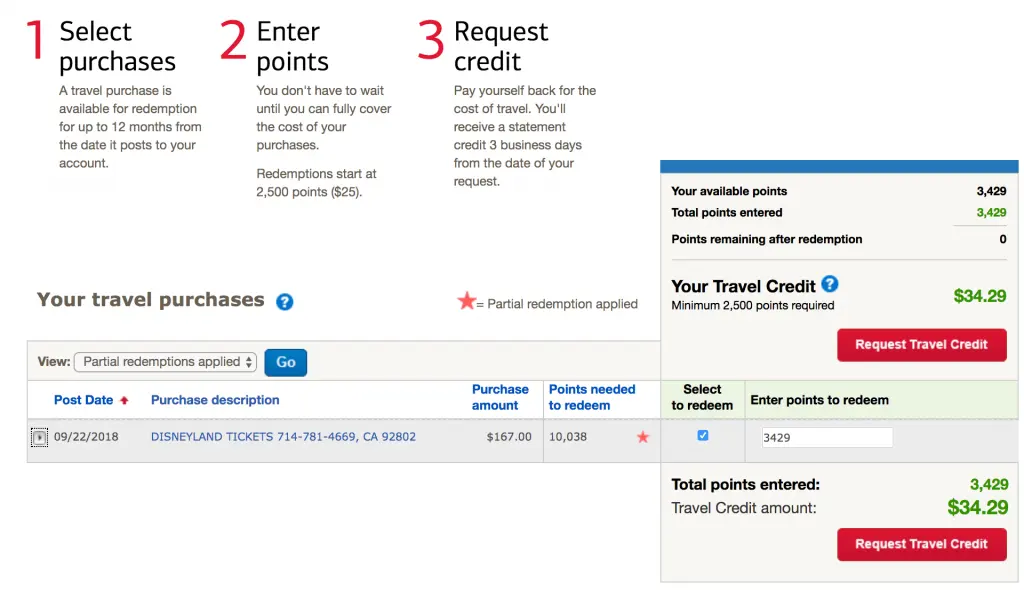 What does Bank of America consider as travel purchases?
Unlike other issuers that define travel purchases as a narrow category that includes airfare, hotel stays and car rentals, Bank of America includes a wider range of redemption options for your points. The following list is included in Bank of America's definition of travel purchases.
Airlines and air carriers
Cruise lines
Car rental
Travel agencies and tour operators
Taxi and limousines
Railways
Suburban and local commuter passenger, including ferries
and bus lines
Transportation services
Hotels, motels and resorts
Real estate rentals, timeshares, campgrounds and trailer parks
Motor home and recreational vehicle rental
Tourist attractions and exhibits
Art dealers and galleries
Amusement parks, carnivals, circuses and fortune tellers
Aquariums, dolphinariums, zoos and seaquariums
Boat leases and boat rentals
Recreation services
You also have the option to transfer rewards points to combine points from multiple Bank of America cards or share your points with a family member.
Compare Bank of America credit cards
How to best earn Bank of America rewards points
Like most rewards cards, you'll want to pay attention to a few factors to maximize your point earnings:
Earn your signup bonus. Bank of America rewards cards can offer sizable signup bonuses. If you're getting a Bank of America card with a signup bonus, make sure you can meet the spending requirements to take advantage of this value.
Spend within your categories. Several Bank of America rewards cards earn greater points in a given category, and the Bank of America® Cash Rewards credit card even lets you choose your highest-earning category. Plan out your spending and choose the card that best fits your spending needs.
Max out your caps. The Bank of America® Cash Rewards credit card earns up to 3% back on your chosen category and 2% back at US supermarkets and wholesale clubs for the first $2,500 in combined spending each quarter. You'll want to hit this cap regularly to maximize your value. After you reach it, you'll earn 1% on all purchases.
Take advantage of BankAmerideals. Bank of America's online shopping portal offers even greater points or cash back with participating retailers.
Sign up for the Preferred Rewards program. If you're a Bank of America banking customer, you can sign up for various levels of the Bank of America Preferred Rewards program. Depending on the amount of cash in your account, you can earn up to 75% bonus cash back on top of your regular cashback rate when using a Bank of America credit card.
How to maximize Bank of America rewards points
Generally, Bank of America rewards points are worth the same value no matter how you redeem them. This means you're free to focus on the earning strategies above without having to worry about "wasting" points once you have them.
Bottom line
If you're looking for a straightforward rewards program with solid earning potential — particularly when it comes to cash back — Bank of America is a great choice. Just make sure to choose the Bank of America credit card that strikes the best balance of earning and redemption options.
If you're looking for a rewards program with more flexibility, compare your rewards card options to find one that best suits your preferences.
Frequently asked questions