Finder is committed to editorial independence. While we receive compensation when you click links to partners, they do not influence our content.
Google Home Mini review
Good things come in small packages.
Pros and cons
Compact, stylish design
Able to answer a wide range of questions
IoT-compatible
Budget-friendly
Weak audio output
Unable to answer some questions
No audio line-in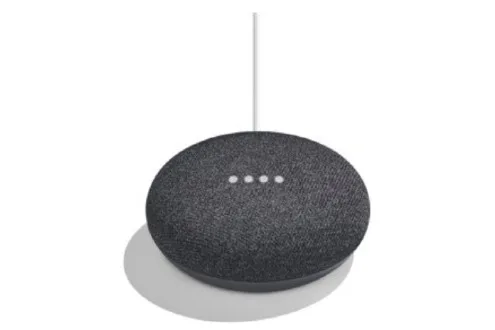 The battle for smart speaker supremacy is on, with entries from Amazon, Apple and Google all vying for not only your dollar but also control of your smart home ecosystem now and into the future.
Google Home Mini — Google's smaller smart speaker — has been available for some time now, and challengers from Amazon and Apple have joined the market as well. Against its heavyweight challengers, how does Google's smallest speaker compare?
Design
Google's full-sized Google Home speaker is a functional device with an equally functional design — but as far as aesthetics, it's not overly exciting.
Color. The Google Home Mini looks similar to the full Google Home, but a bit more playful with its shrunken design and choice of three color options. It comes in a standard chalk finish, charcoal and a brighter coral to match your home's style.
Size. At just under two inches high with a four-inch diameter, you can hide the Google Home Mini anywhere you want. And the included five-foot power cable gives you plenty of scope to stash it out of sight.
Hardware. Just one switch controls the onboard microphone — switch it off, and the Google Home Mini is just another small Bluetooth speaker.
Audio. Since there's no inline physical connection, Bluetooth is the only way you can send audio to the Google Home Mini. This does play into Google's strategy with the Pixel 2's lack of a headphone jack, but it still feels like an omission that could have given the Google Home Mini a little more flexibility.
Microphones and volume. Like the full-size Google Home, the Mini features far-field voice-activated microphones. Tapping the sides of the Google Home Mini will lower and raise the volume, although this can involve a little trial and error if you're not looking at the location of the power cable relative to where you're tapping.
Smart features. While the Home Mini can't match the audio output of its bigger brother, there are no limitations when it comes to Google Assistant. It's the same smart experience across all devices — although it doesn't always have the answers.
Google Home Mini: Audio performance
Apple's HomePod has set the bar high for audio performance in a smart speaker, and that's a chasm that the Google Home Mini doesn't come close to clearing. But that's to be expected with the Google Home Mini setting you back around $29, compared to $299 for the HomePod.
For $29, you do get 360-degree audio, but it's a bit flat and lifeless with very little bass to speak of. For simple podcast listening, the Google Home Mini is fine.
If you're happy with FM-radio-sounding quality, you might even use it as a desk speaker. But don't expect the Google Home Mini to get your party jumping on its own.
The obvious competitor is Amazon's low-cost Echo Dot device. The Echo Dot has the advantage of allowing direct cabled connection to a better external speaker, and that's a big plus for Amazon's cheap speaker because its audio is notably worse than that of the Google Home Mini.
The Google Home Mini can't manage cabled connections to other speakers, but recent software updates do allow you to pair a Home Mini with any other Bluetooth speaker. This could be a plus if better audio quality is a must for you.
Bottom line
As a straight-up Bluetooth speaker, the Google Home Mini is unremarkable. You can do worse at this price point in terms of overall audio quality, but you can also do a whole lot better for just a little more money.
Overall, the Google Home Mini is a good entry point into smart home integration and the use of Google's wider suite of voice-activated services. Naturally, you've got to be happy to be living within the Google ecosystem, but that's no different to living in an Apple or Amazon world.
Pricing and availability
The Google Home Mini currently sells in the US for $29 and comes in chalk, charcoal or coral finishes.
Alternatives
If you're after a smart home speaker with more oomph than the Google Home Mini can deliver, the most obvious option would be the full Google Home speaker. Google also sells a beefier and significantly more expensive model — the Google Home Max.
Or if you're already using an iPhone and want high-quality audio, try the Apple HomePod. But remember it's much pricier than the Google Home Mini.
The Amazon Echo Dot is comparable to the Google Home Mini. While Dot's audio quality is even worse than the Home Mini, you can always plug in a cabled speaker to it if you prefer Alexa as a home control assistant.
Google Home Mini: What the other reviewers say
| Site | Comment | Score |
| --- | --- | --- |
| TechRadar | "The Home Mini is the cheapest way of buying into the Assistant yet." | 4/5 |
| CNET | "The Google Home Mini is a great device, and a no-brainer for existing Google Home users — but it isn't the Echo Dot-killer Google probably needs it to be." | 8.2/10 |
| Trusted Reviews | "If you want to take your first step into the world of smart homes, and you want Google Assistant throughout your house, the Google Home Mini is an affordable way of making that happen." | 4/5 |
| Gizmodo | "The sleek, minimalist Google Home Mini feels like a revelation." | N/A |
Back to top
Google Home Mini Specifications
| | |
| --- | --- |
| Name | Google Home Mini |
| Assistant | Google Assistant |
| Wireless Network | 802.11b/g/n/ac (2.4GHz/5GHz) |
| Weight (grams) | 173 |
| Height (mm) | 42 |
| Width (mm) | 98 |
| Depth (mm) | 98 |
| Speaker Information | 40mm driver |
| Bluetooth | Yes |
| Audio Out | No |
| Water Rating | N/A |