Golden Eagle Coins review
This top-rated mom-and-pop shop offers a broad selection of bullion and collector coins.
Family-owned Golden Eagle Coins has plenty to offer, including a comprehensive selection of products with live pricing and an impressive online reputation. But watch for fees and shipping delays that depend on your method of payment.
Choose this provider if you're looking for an established and trusted seller.
Consider something else if you're buying a large order with a credit card or PayPal — the 4% fee for these payment methods can add up quickly.
What does Golden Eagle Coins sell?
Golden Eagle Coins sells bullion and numismatic coins for the investor and collector alike:
Gold. Includes American Eagles, Canadian Maple Leafs and European gold bullion, as well as gold bars from 5 to 100 ounces.
Silver. Includes silver coins, cryptocurrency silver rounds, silver bullets and silver bars from 1 to 1,000 ounces.
Platinum. Includes platinum bullion coins and platinum bars from 1 to 5 grams.
Palladium. Buy Palladium Eagles and bars.
Rhodium. Buy bars of this precious metal in 1 or 5 ounces.
Copper. Rounds and coins include Walking Liberty Rounds, Saint-Gaudens Rounds and Morgan Rounds.
US coins. Wide selection includes pre-1933 coins, half dollars, commemoratives, proof sets and mint sets.
Currency. Notes from $1 to $1,000 include Confederate notes, Colonial currency and fractional currency.
Foreign coins and notes. Selection includes currency from more than 100 countries.
Ancient coins. Classical and nonclassical gold and silver coins, including Arabic, Greek, Roman and medieval.
How does buying from Golden Eagle Coins work?
Golden Eagle Coins categorizes its products to the left of its homepage, displaying prices by payment method:
Find a product you're interested in, enter the quantity to purchase and click Add to Cart.
Click Checkout at the top of the page.
Select your payment method and click Begin Checkout.
Click Sign Up if you're a new customer. Otherwise, sign in to your online account.
Enter your name, email address, billing address and phone number. Review the site's User Agreement and create a password, then click Create Account.
Select a shipping method and enter your payment information. Click Continue Checkout.
Review your order summary and click Place Order.
Does Golden Eagle Coins accept returns?
Yes. Golden Eagle Coins accepts returns within seven days of purchase. Get a refund on your order or exchange the item for one of matching value based on what you indicate when initiating the return. The product must be mailed back to GEC in its original packaging.
GEC may ask you to cover the cost of market loss, depending on the product, and it reserves the right to market gains. All returned orders paid by credit card are subject to a 5% restocking fee.
What payment methods can I use?
While Golden Eagle Coins supports a variety of payment methods, be aware of a few limitations. Credit cards can't be used for orders of $5,000 or more, and there's a $2,500 minimum for wire transfers.
That said, there are still a number of ways to pay for your Golden Eagle Coins order, including the option to pay by cash for those who visit its Laurel, Maryland, storefront:
Bitcoin
Cash
Credit card
Money order
Paper check
PayPal
Wire transfer
Shipping information
Golden Eagle Coins packages, ships and insures deliveries for their full value through USPS. It provides tracking information for your package and requires a signature on delivery.
Shipping speed
Cost
USPS Standard
Free for orders of $99+
$9.95 for orders of up to $99
USPS Priority
$14.95
Express Mail
$24.95
Golden Eagle Coins doesn't ship your order until it receives your payment, affecting how quickly your order leaves the warehouse:
Wire transfer. Ships in 1 to 2 days.
Credit card. Ships in 1 to 5 days.
PayPal. Ships in 1 to 5 days.
Check. Ships 10 banking days from receipt of payment.
Money order. Ships 10 banking days from receipt of payment.
How does selling to Golden Eagle Coins work?
Here's what to expect when you sell to Golden Eagle Coins:
Call 800-735-1311 weekdays from 10 a.m. to 5 p.m. ET for up-to-date prices.
You receive a confirmation number if you agree to sell.
Ship your package — along with a detailed packing slip and your confirmation number — to:
GECE
3386 Fort Meade Road
Laurel, MD 20724
GEC sends payment by check by USPS First-Class Mail within three to five business days after receiving your package.
How do Golden Eagle Coins' prices compare to competitors?
Prices advertised on the Golden Eagle Coins website appear to be on par with competitors, according to our research.
Buy prices
When we checked on March 26, 2020, Golden Eagle Coins advertised one-ounce uncirculated random year American Gold Eagle coins for $1,810.02 — which was lower than the price on Money Metals Exchange but higher than the price on JM Bullion. Compared to a spot price of about $1,650, it represents a markup and premium of almost 10%.
Golden Eagle Coins doesn't charge commission fees, though credit card and PayPal orders are subject to a 4% fee.
Sell prices
On March 26, 2020, Golden Eagle Coins advertised purchase prices on a one-ounce uncirculated American Gold Eagle coin at $1,694.64 — more than JM Bullion's buy-back price of $1,683.84 but below Money Metals Exchange's price of $1,740.00. That price represented a premium of slightly less than 3% over the spot price of gold.
Is Golden Eagle Coins safe?
Golden Eagle Coins is a family-owned and -operated business that first opened its doors in Laurel, Maryland, in 1974. It's an accredited business with the Better Business Bureau (BBB), earning an A+ rating based on the BBB's internal criteria that includes response to customer complaints and years in business. And there are no complaints about Golden Eagle Coins registered in the Consumer Financial Protection Bureau's database.
The company itself has established a presence across Reddit and other investing forums, interacting with customers under the handle Goldeneaglecoin.com.
How does Golden Eagle Coins keep my money safe?
Golden Eagle Coins states on its website that it complies with federal government regulations surrounding anti-money laundering laws. It implements SSL security standards on its account pages, shopping cart pages and login pages to protect your personally identifiable information and financial details across your order. Orders are insured for their full value, and USPS tracking information is provided for all packages.
Golden Eagle Coins reviews and complaints
Golden Eagle Coins earns an excellent reputation from customers online. It's an accredited business with the Better Business Bureau with an A+ rating and just three BBB complaints. On Trustpilot, GEC boasts an outstanding TrustScore of 4.7 out of 5 based on 5,192 reviews, as of October 2020. Customers rave about GEC's trustworthy service and high-quality products. The most common complaint? Slow and expensive shipping.
Sentiment on forums is similarly positive. Collectors and investors in the r/Silverbugs and other collecting subreddits credit Golden Eagle Coins with safe, reputable repeat purchases, recommending the company as a place to buy specific coins of value to fellow collectors. At least one customer claims they were shorted a few dollars' value, possibly mistakenly, but it's among the few complaints you'll find online.
Pros and cons
Pros
Live pricing. Market prices are updated in real time on GEC's homepage.
Positive reputation. This family-owned establishment has few BBB complaints, an exceptional Trustpilot reputation and a number of 5-star reviews on Google.
Wide selection of products. An impressive selection includes many standard gold and silver bullion products as well as rare and collectible coins from around the world.
Multiple payment methods. You can pay for your order with checks, credit cards, Bitcoin, PayPal and more.
Cons
Shipping delays. Some customers report wait times of up to three weeks.
Limited support. Customer help is available weekdays only during business hours.
Potential fees. If you pay for your order by credit card or PayPal, your order is subject to a 4% fee. And canceled orders are subject to a $35 fee.
How do I contact Golden Eagle Coins support?
Reach a representative in two ways:
Phone. Call 800-735-1311 weekdays from 10 a.m. to 5 p.m. ET.
Email. Send a note to sales@goldeneaglecoin.com.
Bottom line
Golden Eagle Coins offers a variety of products, including coins and bars across a spectrum of precious metals and rare coins from around the world and throughout history. It's established a presence among investors and collectors on Reddit and other forums, which helps with legitimacy. But watch for a lengthy shipping process that depends on your method of payment, as well as additional fees when you pay by credit card or PayPal.
If you're looking to expand your portfolio with precious metals and other commodities, compare your options to build a diverse portfolio and find a trading platform that fits your budget and financial goals.
Compare Golden Eagle to other platforms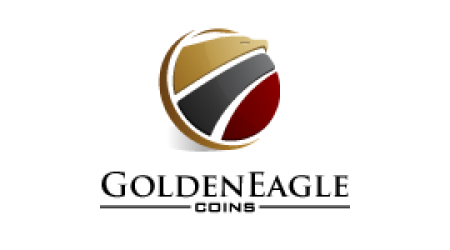 Golden Eagle Coins
Silver Gold Bull
Goldco
Frequently asked questions
Golden Eagle Coins is not currently available on Finder
Have you considered Silver Gold Bull?
Invest in gold, silver, platinum and copper
Choose from bars, coins, jewelry or collectibles
Free storage for first 3 months