Finder is committed to editorial independence. While we receive compensation when you click links to partners, they do not influence our content.
Glossybox promo codes
Best deal: First Box for $16
Glossybox provides you with full-size makeup products from the brands you already love and helps you discover new ones, all for one low monthly price.
How do I use my coupon code?
To use your Glossybox coupon code, follow these steps.
Visit the Glossybox website.
Click on Subscribe in the upper left corner.
Choose the type of subscription you'd like to start, then click Get Your Box to continue.
A box will pop up on your screen. Confirm that you've selected the correct type of subscription and click Buy Now to continue.
Click View Cart to continue.
Enter your code in the discount box, then click Add to apply it. Make sure your total is properly adjusted before you finish checking out.
Why is my code not working?
If the site doesn't accept your discount, your promo code could be expired, not available in your country or case-sensitive. If you continue to have issues, contact Glossybox customer service.
What is Glossybox?
Founded in 2011 in Berlin, Glossybox is a global cultivator of luxury makeup and beauty products that provides top beauty pics to people around the world.
With its signature posh pink boxes, Glossybox strives to give every Glossybox subscriber a few minutes of luxury each month by filling its fun packaging with beautiful new makeup items. If you'd like to try several new full-sized makeup products each month, you'll love Glossybox.
How does Glossybox work?
You'll start by filling out your personal beauty profile.This short but comprehensive quiz will help Glossybox figure out what the best products for you are and will better meet your specific needs and preferences.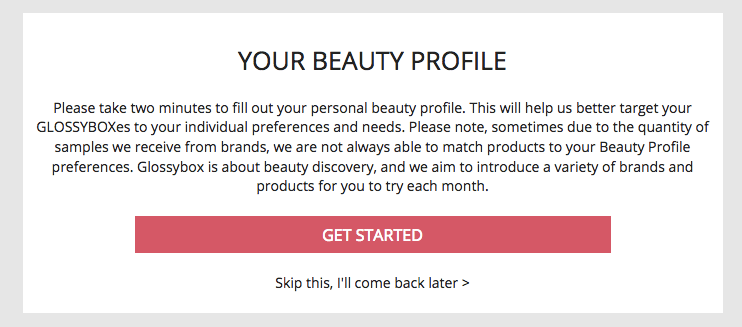 While you're building your beauty profile, Glossybox wants to know about your everyday look, your makeup style, your favorite makeup items, your nail polish preferences, your hair color, whether your hair is dyed, your hair type and your hair styling preferences. The quiz will also ask about your skin type and color, any skin concerns you might have, your preferred bathroom products, your age and how much you typically spend on beauty products each month. All this information helps the Glossybox team compile your unique beauty profile.After you've completed your beauty profile, Glossybox will be able to create a customized box for you. For the price of $21 per month, you'll receive a box of mostly full-size luxury beauty products delivered right to your door.
The first box you receive will be the box for the month you start your subscription. So, if you subscribe on January 23rd, you'll get the January box, not the February box.
You can also earn points by completing surveys on the Glossybox website and referring friends. These can be used as credit towards future beauty purchases. You'll earn your first credits just for completing your beauty profile quiz!
Delivery and shipping
Shipping
As long as you live in the US, shipping is included in your Glossybox subscription fee.
If you're a Canadian subscriber, shipping costs an extra $5 a month. Unfortunately, promo codes won't apply to this shipping fee.
Payment
Glossybox accepts PayPal, Visa, MasterCard, Maestro or American Express on its secure site.
Returns and refunds
Unfortunately, no returns can be accepted for sanitary reasons.
If you'd like to cancel your subscription, you can do so until the 14th of the month.
When's the next sale?
Stay up-to-date on sales and deals by signing up for Glossybox's email list. And make sure you check out its Instagram page for flash sales and to see the latest products.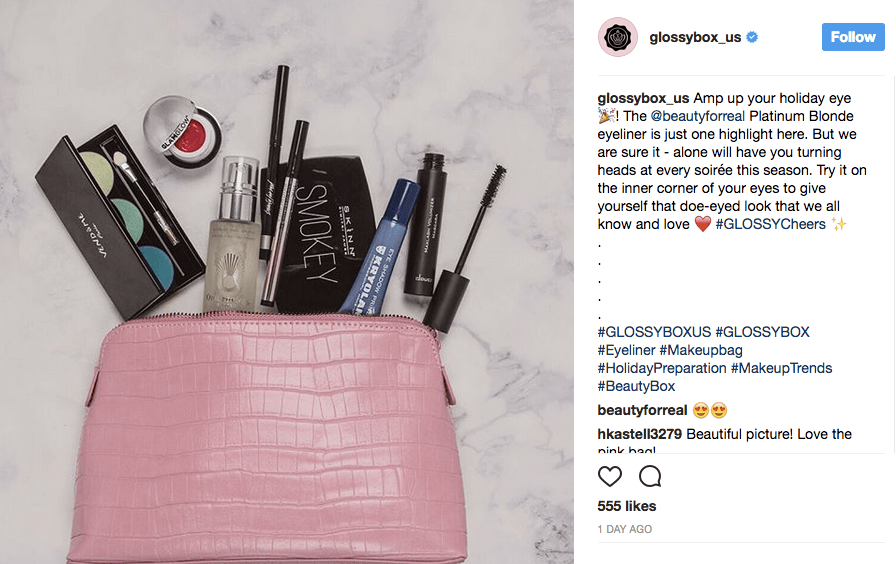 What sets this brand apart?
Glossybox offers a luxury beauty and makeup surprise that's sure to meet your expectations every month. We also love its unique and adorable pink packaging. Little details like these set Glossybox apart from the competition.
Pros and cons
Pros
Personalized beauty boxes. Try something new for a small monthly fee.
Free shipping. Shipping is included in the subscription fee for US customers.
Earn credit by taking surveys. If you have some free time, you can save money on your subscription box.
Cons
No rush shipping. You'll have to wait patiently.
No returns. If you don't like a product or a box, you can't send it back.
No guarantees. Glossybox doesn't guarantee you'll like the products it sends.
Bottom line
Glossybox is the perfect place to discover new luxury makeup products and to give yourself a monthly treat. The element of surprise and the sweet packaging are enough to perk you up every month!
Frequently asked questions
I love a product in my Glossybox! Where can I order it?
You'll find links for ordering more of a product in your order history on the Glossybox website.
Can I find out what products are in my Glossybox in advance?
No, actually, you can't! Part of the fun of Glossybox is the element of surprise.
Can I give Glossybox as a gift?
Absolutely! You can buy your friend, family member or glamorous boss a 1-month, 3-month, 6-month or 12-month subscription.
More guides on Finder