Finder is committed to editorial independence. While we receive compensation when you click links to partners, they do not influence our opinions or reviews. Learn how we make money.
Getting around India
Hold tight on an auto rickshaw ride or traverse via plane.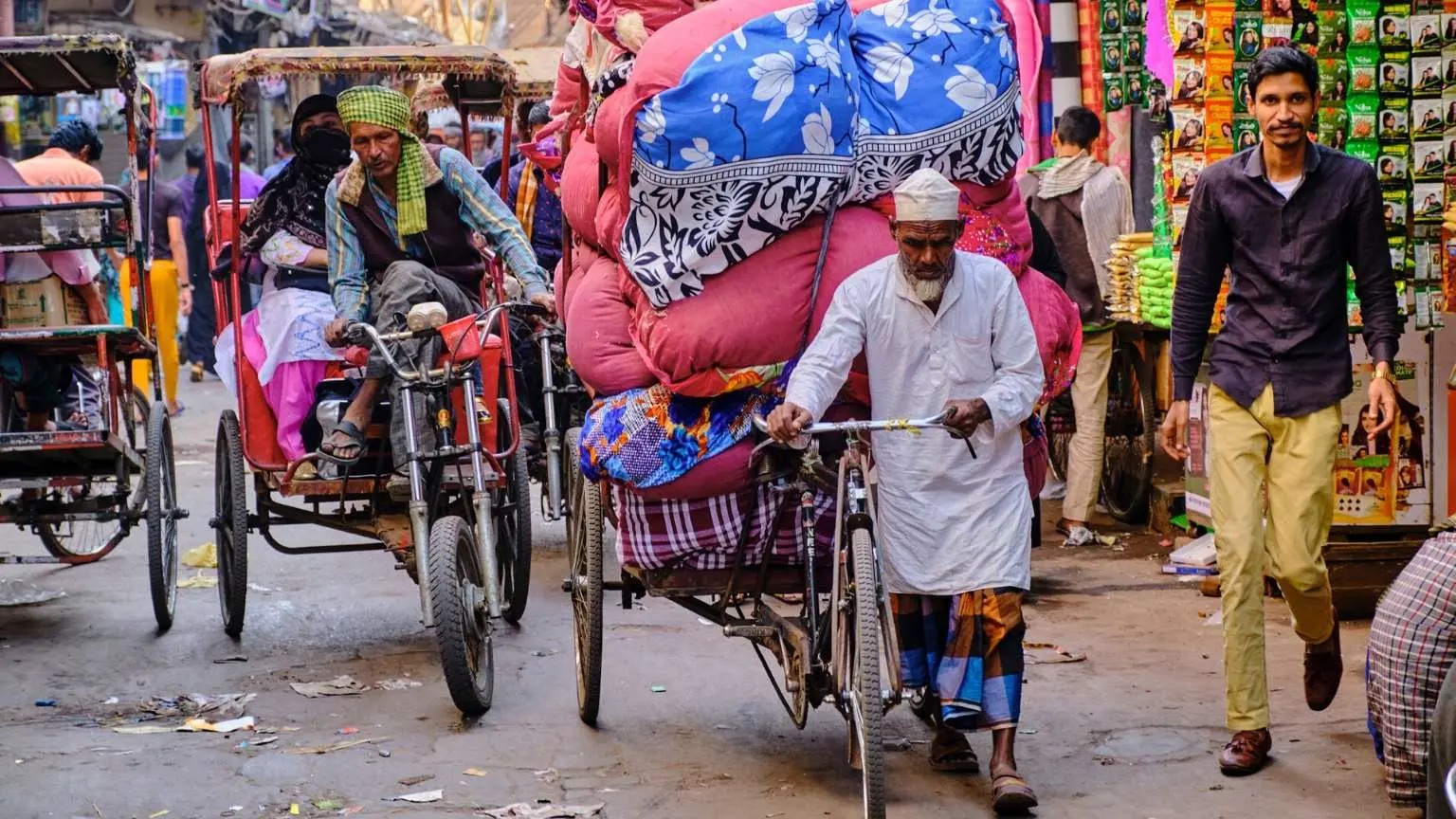 First things first: India is immense. More than a country, it's considered a subcontinent — it even rests on its own tectonic plate.
With major cities like Delhi, Mumbai, Kolkata, Chennai and Bangalore situated as far as 310 to 1,243 miles from each other, moving within such a large country can be a challenge for travelers.
The key is to embrace trains and cheap domestic flights, buying tickets in advance if you can. Within cities, the options get more creative. But be sure to keep rupees on hand, as cash is the predominant payment method for private transportation within India.
---
Traveling from city to city in India
India hosts six major climates within its 1.269 million square miles. Here's how to experience the delicious diversity of different regions:
Internal flights
In a country as large as India, air transport is a good option for covering long distances over short periods.
Air India has a large number of domestic routes, connecting about 70 cities.
Other internal carriers include:
Major airports are scattered around the nation, in cities like:
Depending on the length of your journey, expect economy class fares to range from $40 to $200.
Browse India flight options
Buses
For short and medium journeys in India, buses offer great flexibility. You can almost always find a seat when booking a day in advance. But longer journeys on bumpy roads can be fairly uncomfortable.
For the most part, there are two types of buses in India: cheap, standard ones and costlier, air-conditioned tourist buses. These are operated by numerous bus companies.
A good place to start searching for your bus options online is Bus India.
Trains
India has one of the largest rail networks on earth. Trains cover long distances and are a reliable, comfortable method of ground transport in India. Traveling in air-conditioned coaches is highly recommended, as these cars tend to be less crowded, with better comfort and more safety overall.
There are three ways to book train tickets in India:
At the stations. You can buy tickets by filling in a pink slip of paper with your personal information and the train you want to take. It's possible to make advance bookings and same-day bookings at the station. However, be advised that lines for same-day tickets can get rather long.
Booking online. Reserve tickets online through the Indian Railways' official website. Booking online means you'll have a shorter wait at the station.
Booking through a travel agent. If you want to avoid the hassle of figuring out India's rail system yourself, you can book your tickets through a travel agent. This will likely cost you an extra $5 to $10. But it's recommended that you double-check the fare yourself to avoid overpaying.
On Indian Railways, there are three types of reservations:
Standard reservation. This is the most common way to book a journey. Be aware that seats allocated for standard reservations get filled very fast. You must book tickets at least 40 to 50 days in advance if you are traveling between major cities.
Reservation against cancellation (RAC). When seats allocated for standard reservations have been filled, you have the option to make a RAC. This gives you next-in-line priority in case of cancellations or unsold quotas. Note that you have to share the berth with another person in RAC seats.
Tatkal. Tatkal reservations allow you to book your tickets the day before your trip, but competition for these is fierce. You can book tatkal tickets both online and at stations — though lines are long, and seats for busy routes tend to fill up within five minutes of the booking window opening online.
Indrail Pass
If you plan to travel extensively through Indian Railways, you can buy an Indrail Pass, which offers international tourists the flexibility of unlimited travel on any route. This pass doesn't guarantee you a seat and you still have to make an advance booking. But it might save you money if your route is long enough.
---
Intra-city public transportation in India
Whether you're exploring the beach vibes of Mumbai or navigating the capital of Delhi, here's how to get around within Indian cities:
Types of public transportation
City buses. Almost every city in India is serviced by city buses, which run frequently. However, it's tough to get a seat, and it's possible your personal space will be encroached upon. City buses in most Indian cities don't follow a set schedule. They are most commonly used by locals who know their routes and stops.
Local trains. These are more accessible than buses in cities like Mumbai, but are no less crowded. Trains are cheap and are mainly used by locals for their daily commute.
Subway. Only Delhi Metro has an extensive subway network. Other major Indian cities also have metros, but they only operate on limited routes.
Paying for transport
Individual train and bus tickets must be purchased using cash. For intra-city travel, all cities with metro and local trains have their own passes.
Getting to and from the airport
In every major Indian city, buses connect the city center with the airport. Other typical options include:
Private transfers
Airport shuttles
Taxis
Best app for getting around in India
The official Indian Railways app IRCTC Connect lets you book and cancel tickets, check your ticket status and get live location updates.
---
Private transportation in India
Taxi
Taxis are available for private transportation in most cities. In some places, like railway stations and airports, there are prepayment booths to ensure you'll only be charged the stipulated fare. If you hail a taxi from the street, insist the driver restarts the meter. Otherwise, it's best to negotiate and agree to the fare for the trip in advance.
Auto rickshaw
The auto rickshaw, also known as tuk-tuk or simply auto, is a cheaper alternative to taxis and ideal for connectivity in urban areas. Auto rickshaws are three-wheeled vehicles the size of a golf cart — but with the hustle of a taxi. Just beware of auto drivers persuading you to book a hotel or buy goods from a specific shop.
Cycle and hand-pulled rickshaws
These are becoming rarer and rarer in India, though some cities like Kolkata still rely on cycle rickshaws as part of intra-city transportation.
Uber
Uber is available in most major cities within India. But don't count on it unless you've double-checked in advance — for instance, Uber's not available in the coastal city of Goa.
In India, you can pay for an Uber with cash (rupees) or card.
---
India car hire rental companies
It's unlikely you'd want to drive in India's chaotic traffic. Also note that India's roads have some of the worst fatality statistics in the world.
However, if you're so inclined, car rental desks for major car hire services like Avis, Budget, Hertz, Sixt and Thrifty are available at the major airports in India.
India car hire deals
Airport transfers
You can book a private transfer in all major Indian cities for hassle-free transfer from the airport to your location.
---
Bottom line
The safest way to navigate cross-country in India is likely plane or train, while intercity options like auto rickshaws hold the thrill of a new experience. After plotting your passage around the nation, read our guide to must-try Indian foods so you can stay sated along the way.
Frequently asked questions
More guides on finder