Finder is committed to editorial independence. While we receive compensation when you click links to partners, they do not influence our opinions or reviews. Learn how we make money.
Geico life insurance review 2020
Access up to 50 providers and up to $25 million in coverage with this broker.
finder.com's rating: 3.5 / 5
★★★★★
Get a quote if… You're a young, healthy applicant looking for a basic policy.
Choose a different provider if… You're leaning towards a permanent policy or you have complex life insurance needs.
$5,000 to $25,000,000
Coverage
Depends on policy
Medical Exam Required
Details
| | |
| --- | --- |
| Free quote | Online, Phone |
| Available states | All 50 states |
| Policy options | Term, Permanent, Universal |
| Term lengths | 5, 10, 20, and 30 |
| Issue age | 18 to 80 |
| Coverage | $5,000 to $25,000,000 |
| Medical exam required | Depends on policy |
| Monthly cost | Not listed |
| Claim methods | Phone, Online |
| Customer support | Online, Phone, Email |
| Riders | No info available |
Expert review
Review by
katia.iervasi@finder.com
---
Katia Iervasi is a staff writer who hails from Australia and now calls New York home. Her writing and analysis has been featured on sites like Forbes, Best Company and Financial Advisor around the world. Armed with a BA in Communication and a journalistic eye for detail, she navigates insurance and finance topics for Finder, so you can splash your cash smartly (and be a pro when the subject pops up at dinner parties).
Expert review
Geico is one of the most well-known names in insurance, but it turns to a third party to handle life insurance. And while the coverage on offer is impressive, you'll miss out on the fringe benefits of choosing specialized insurer, such as financial and retirement planning.
Geico doesn't offer life insurance directly. Rather, it partners with Life Quotes, a broker that can connect you with up to 50 carriers. It offers coverage up to $25 million and only works with companies in excellent financial positions — but it can't help your beneficiaries with financial or retirement planning.
What types of life insurance coverage does Geico offer?
Geico's partner, Life Quotes, compares term and permanent policies from 50 carriers. According to the site, it's only affiliated with providers that have an A.M. Best rating of A (Excellent) or higher. This includes big-name brands like AIG, Brighthouse Financial, Lincoln Financial Group, Pacific Life, Protective Life and Penn Mutual.
Life Quotes operates nationwide and caters to people of all ages and health histories, as well as those who don't want to take a medical exam.
Term life insurance
It focuses on term life insurance for 10-, 20-, 30- and 35-year policies. This is considered an affordable type of coverage and payments can be made monthly, quarterly or annually. Along with standard terms, it also collects quotes for no-exam, living benefit, return of premium, guaranteed issue and accidental death policies.
You can purchase a policy with a face value between $5,000 and $25 million and the premium stays the same for the life of the policy. At the end of the term, you can renew your coverage, let it lapse, or convert to a permanent policy.
Permanent life insurance
While Geico says it only offers term life insurance, Life Quotes' algorithm also shows the more pricier permanent policies, though these are limited. This protection lasts a lifetime and has an added cash value component.
When you pass away, your beneficiaries will receive a guaranteed death benefit and a cash value benefit.
What riders can I add to my life insurance policy?
Check with your insurance provider, but you may be able to able to customize your coverage with these riders:
Accelerated death benefit rider
Accidental death benefit rider
Child rider
Disability income benefit rider
Spouse rider
Waiver-of-premium rider
How much does Geico life insurance cost?
Since Geico isn't an insurance carrier, the cost comes down to the provider and type of policy you choose. When you get a quote, the site lists the prices of each policy in ascending order and highlights which policies are exclusive to Geico.
You can then tweak your term to compare rates by choosing your coverage amount and if you'll make monthly or annual payments.
How can I get a low rate?
Life insurance is all about calculated risk. Insurers look at your health and lifestyle and offer a rate that reflects your risk profile, as well as the length and amount of coverage you want. To protect their bottom lines, providers reserve the best rates for the safest applicants.
Each one of Life Quotes' 50 carriers has its own set of underwriting guidelines that may consider the following factors:
Tobacco use. To get the cheapest rates, you often have to prove you haven't smoked tobacco or used nicotine in the past five years. Many insurers allow a celebratory cigar once a month.
Age. Young, healthy applicants are charged lower premiums.
Driving record. Is your recent record free from major traffic violations and DUIs? You'll most likely earn a lower rate.
Criminal history. If you've broken the law or been charged with a crime in recent years, you may be rejected for coverage or forced to pay a higher rate.
Health. Insurers assess your cholesterol, blood pressure, BMI and family medical history, and raise the rates for those with a history of cardiovascular disease, cancer, melanoma, strokes or diabetes.
Occupation. Firemen, war journalists, police officers and other people with dangerous jobs pay higher premiums to compensate for that risk.
Travel. Life Quotes' questionnaire asks if you intend to travel to any country rated 3 or 4 on the U.S.
State Department's Travel Advisory List. This implies that if you plan to go to dangerous or war-torn countries, insurers will bump up your rate.
Hazardous hobbies. If you count car racing, scuba diving, skydiving, bungee jumping or rock climbing among your hobbies, you'll probably be hit with a higher premium.
Alcohol and drugs. To reach the highest rate class, you must not have a history of drug or alcohol addiction.
Pros and cons of Geico life insurance
Pros
Access to 50 providers. Life Quotes cuts down on your research by pulling together quotes from top carriers.
Stringent standards. Every provider in Life Quotes' system has an A (Excellent) or higher rating with A.M Best, which means they have the cash reserves to pay out claims.
Wide range of coverage. You can purchase a policy worth $5,000 to $25 million, and for a period of 10 years to a lifetime.
Instant quotes. Once you fill out the online questionnaire, Life Quotes' algorithm spits out quotes in seconds.
Customer service hours. Geico's life insurance team is available by phone seven days a week, from 7 a.m. to midnight ET, and live chat during business hours.
Backed by Geico. Life Quotes has Geico's stamp of approval, which carries weight in the insurance industry.
Cons
Less personalized approach. Life Quotes operates like a call center and according to the site, works on a "goal-oriented basis." It may not be ideal for those with complicated needs and health histories.
Lack of further financial services. Neither Geico or Life Quotes can offer assistance with retirement plans, wills or claiming government benefits. They also can't help with advanced healthcare directives, when most major insurers will.
Prefers term life. There's a bias toward term life insurance. When we submitted a quote, only three permanent policies popped up and they were all for universal life.
Phone interview required. Ultimately, Life Quotes will call you to finish processing your application request. This is unusual for a company that's run almost entirely online.
Compare other life insurance companies
Geico reviews and complaints
Thanks to its clever advertising, Geico is a company many consumers will recognize. It's been in business for 80 years, but it isn't accredited with the Better Business Bureau (BBB). It holds a B+ rating with the BBB for its failure to respond to one complaint filed against the business.
The BBB has recorded 3,129 complaints in the last three years, most of which were addressed and closed by Geico. On TrustPilot, Geico earned one star from 28 reviewers. Customers praised the low prices, but many were not impressed with customer service.
For life insurance particularly, it's worth looking at Life Quotes, Geico's partner.
This company holds an A+ rating on BBB and has been accredited since 1997. The BBB has recorded just two complaints in the last three years.
While it has a solid reputation, Geico's offering isn't for everyone. To find the best policy for you and your family, compare life insurance providers.
How does Geico protect my data?
Life Quotes deals with your data, so we'll explore their privacy policies.
When you submit an application, you're agreeing to Life Quotes sharing your nonpublic personal information (NPI) to any parties involved in the underwriting process — such as paramedical firms and independent insurance agents. They restrict access to your NPI to employees who need it to do their jobs and only reveal your NPI when it's required by the law.
Your NPI is also protected by "physical, electronic and procedural safeguards," but these aren't specified.
How do I sign up?
When you're ready to compare quotes, you can either call Geico at 888-532-5433 or fill out a questionnaire online.
These are the steps:
Head to the Geico website. In the top left-hand corner, hover over Insurance. Click Additional Insurance, then Life.
Enter your ZIP code and click Start Quote.
This launches the online form. Select your coverage amount, describe your nicotine use and fill out the fields for your height, weight, date of birth, employment and citizenship status.
Answer Yes or No to a list of questions about your health and lifestyle. Tap View Quotes.
A list of policies from various providers will populate. You can adjust your coverage amount and term length, and narrow your search to no-exam policies. When you find a policy you like, click Continue.
Type in your name and contact info to request an application. Click Continue. You'll receive a customer number and confirmation.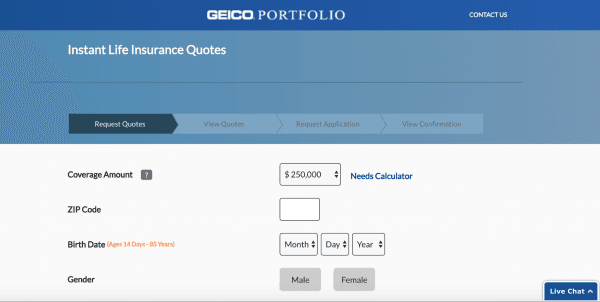 I've signed up. What happens next?
Once you've submitted an application, Life Quote takes over. They'll call you to finish processing your application and then pass it onto the provider. The insurer then assesses it and lets you know whether you need to submit more information or take a medical exam.
Turnaround times vary between providers. Typically, no medical exam policies under $500,000 are approved immediately, and policies that require a physical can take up to 30 days.
Frequently asked questions
Life insurance ratings
★★★★★ — Excellent
★★★★★ — Good
★★★★★ — Average
★★★★★ — Subpar
★★★★★ — Poor
Our experts analyze life insurance companies to help you to find the strongest possible policy and premium for your family's needs. We assess their financial strength, customer satisfaction, policy features and riders. We then give each insurer a score between one and five stars that reflects their offering and reputation in the industry.