Finder makes money from featured partners, but editorial opinions are our own.

Advertiser disclosure
Winter is here. And so is piracy.
Over 10 million Americans plan to watch Game of Thrones Season 7 illegally.
If you know something, unlike Jon Snow, you'll know that the world is on the edge of its seat for the heavily anticipated release of Game of Thrones Season 7, premiering on July 16, 2017. Despite consisting of only 7 episodes this season, compared to its regular set of 10, Winter has arrived, and so has our need to tune in.
The popularity of HBO's hit has spread like wildfire, with illegal downloading and streaming a popular option for viewers looking to follow the Starks in real-time. We recently conducted a survey of 2,245 American adults, revealing that 5.36% of viewers will be filling the GoT hole in their life illegally. That's about 10.5 million Americans either downloading or streaming illegally, or getting an illegally downloaded copy from a friend (cue: bell-ringing and the chanting of 'shame').
Torrent sites like Kickass Torrents and The Pirate Bay are still popular places people have downloaded from in the past. However, the many streaming sites that keep popping up and being taken down are picking up steam, like those found on the subreddit GoTLinks site. Some watchers seek to protect this shame (and hide from getting caught) by utilizing a VPN, which is a software that hides your internet location.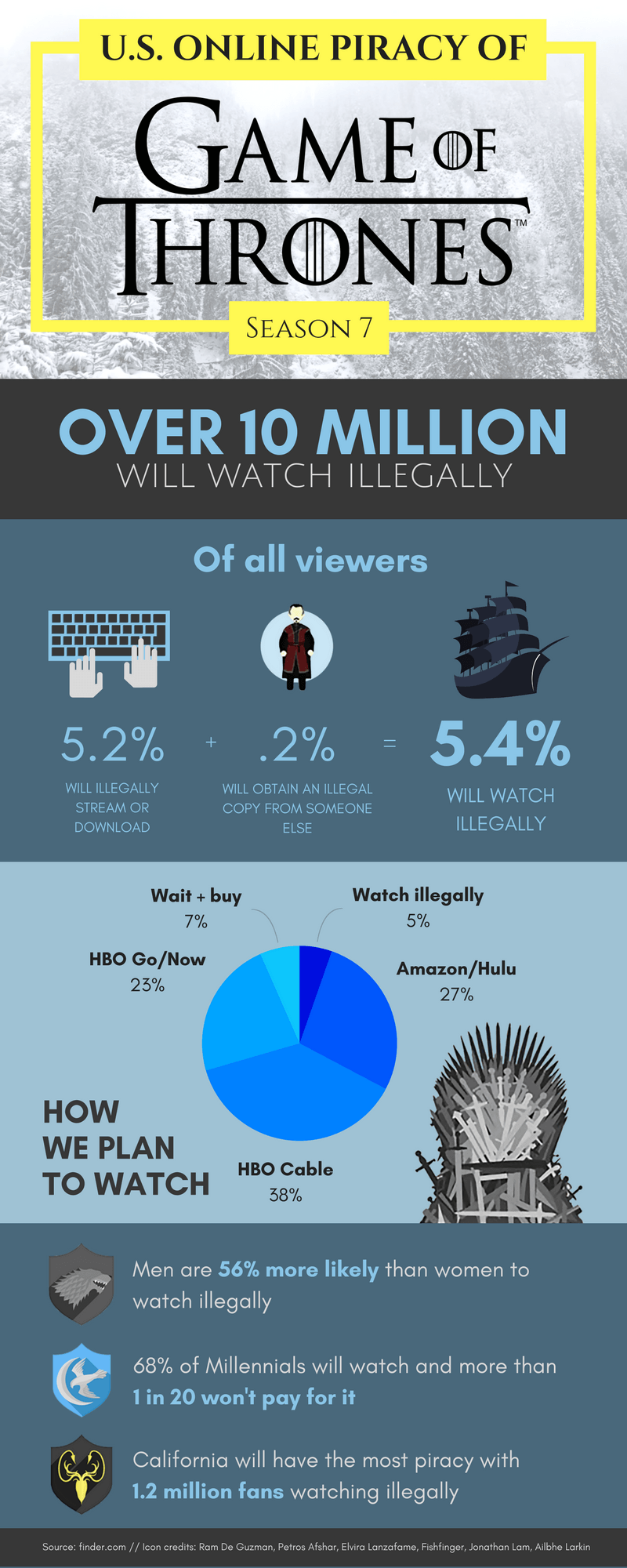 Share this infographic with your friends and followers
The majority of fans (94.7%) will be respecting the Iron Throne and tuning in legally, either by watching it live on the HBO cable channel (37.8%), streaming it after on HBO Now or HBO Go (22.9%), or watching it via an Amazon or Hulu subscription (27.4%).
For those trying their luck and hoping to avoid spoilers, 6.6% of fans won't be watching it live, but instead will purchase it for later viewing (and bingeing, no doubt!). For those taking this route, you have been warned, for the internet is dark and full of spoilers.
Let's take a closer look
When it comes to gender, males are ruling with an iron fist. 66.4% of men will be tuning in this season, compared to 58.3% of women. To break it down further, men are the most likely to watch the show illegally, coming in at 7.0% compared to 4.5% of women.
Unsurprisingly, Millennials (aged 18-34) follow this series more closely than any other generation. Our research found that 67.8% of Millennials watch GoT, and of these viewers, 6.0% of them will watch it illegally.
They are closely followed by Generation X (aged 35-54), where 60.0% will be tuning in, and 5.7% of them will watch it illegally. 37.8% of Baby Boomers (aged 55+) will watch GoT and, showing honor to the Iron Throne, no Boomers plan to watch it illegally.
Of the 17 states we analyzed, Californians (66.9%) are the most likely to tune in this season, followed by people in Florida (63.0%), and Texans (59.7%). Californians are also home to more GoT pirates than other states, with over 1.2 million adults, followed by New York (over 1 million), and Texas (719,969).
How can I watch Game of Thrones Season 7 legally, and how much should I expect to pay?
While signing up to services like HBO Now, Amazon Prime or Hulu Plus to watch Game of Thrones might seem expensive, don't forget that you'll also have access to the library of content provided by the service for as long as you're subscribed. There is an abundance of services that you can compare, varying in content and viewing methods, to see which fares best for you.
| Service | Cost to watch Game of Thrones |
| --- | --- |
| HBO Cable Channel | Monthly rate for HBO and cable varies by provider, plan, and location. |
| HBO Go | Stream anywhere free with your HBO cable subscription |
| HBO Now | Stream anywhere for $14.99 per month without cable subscription |
| Amazon Prime | $14.99/month to add HBO (plus $10.99/month for required Amazon Prime access) |
| Hulu | $14.99/month for HBO on Hulu (plus $5.99/month for required Hulu access) |
What time is GoT airing live in my area?
| Timezone | Abbreviation | GoT Time |
| --- | --- | --- |
| Eastern Standard Time | EST | 9:00 PM |
| Central Standard Time | CST | 8:00 PM |
| Mountain Standard Time | MST | 7:00 PM |
| Pacific Standard Time | PST | 6:00 PM |
| Alaska Time | AST | 4:00 PM |
| Hawaii Standard Time | HST | 3:00 PM |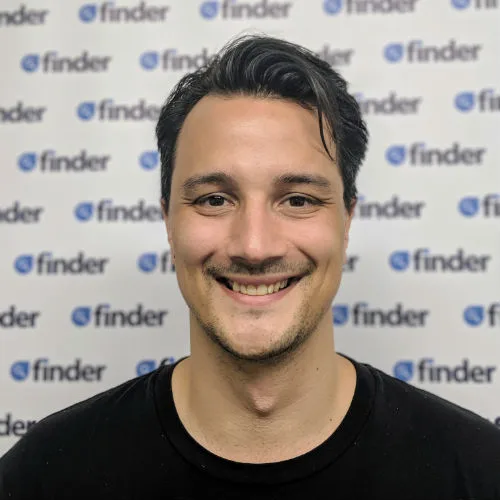 For all media inquiries, please contact:
Richard Laycock, Senior content manager & insights editor
More guides on Finder
Streaming services wars

Finder compared seven streaming platforms, unearthing those offering the most value for its features.

Superhero statistics

Our summary of the past half a century of superhero shows. While DC's heroes have made the most appearances, Marvel seems to be winning the hearts of the masses.

Star Wars and the piracy problem

More than 4.7 million Americans plan to watch the latest Star Wars movie illegally, with over 1 in 3 of us gearing up to watch it.