Finder is committed to editorial independence. While we receive compensation when you click links to partners, they do not influence our content.
Hilarious wedding gifts that are sure to crack up the newlyweds
Are you looking for a gift for the soon-to-be-married couple that is unique and out-of-the-box? Let us point you in the right direction.
Wedding gifts are all about your connection with the bride and groom, so you should give them something useful and memorable to start their life together.
Of course, it really doesn't have to be useful — it can just be funny. So long as it's tasteful and suits the couple's personalities, then you're good to go for giving them a funny gift they'll appreciate for a lifetime.
Ten amusing gift ideas to get you started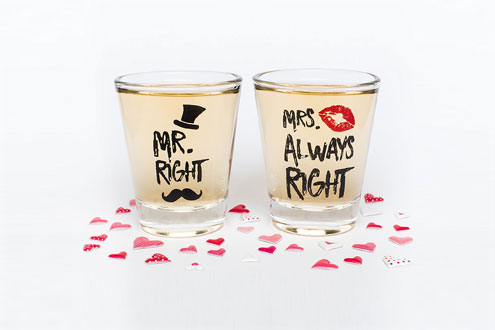 Novelty glasses.
These two people are going to be sharing a lot of drinks together, so why not get them a sweet set of glasses? These ones from Amazon are pretty hilarious, with one for him that reads "Mr. Right" and one for her that reads "Mrs. Always Right." You can add a bottle of alcohol for an extra special touch that's sure to be appreciated.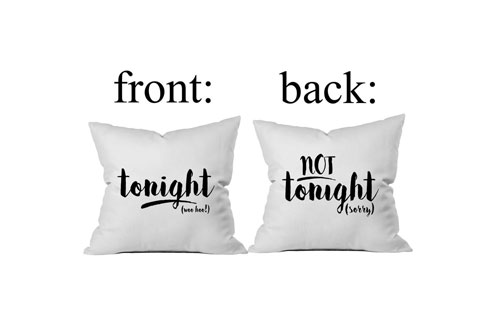 Fun throw pillow.
Something humorous to decorate the couple's home is always appreciated. This playful pillow is the perfect way to help the newlyweds express their moods to each other as they transition into married life.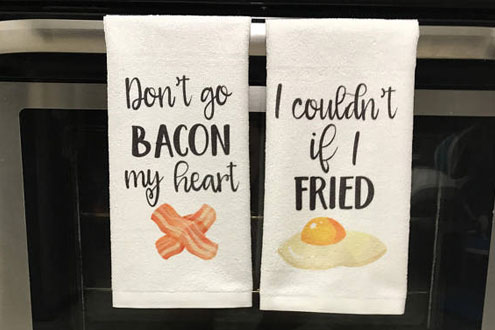 Dish towels with puns.
Life gets messy. You need something to wipe it up. Enter dish towels. This adorable pair from Etsy is the perfect humorous wedding gift for any breakfast-loving couple. Add a gift certificate to a favorite local brunch shop and voilà, you have a great gift.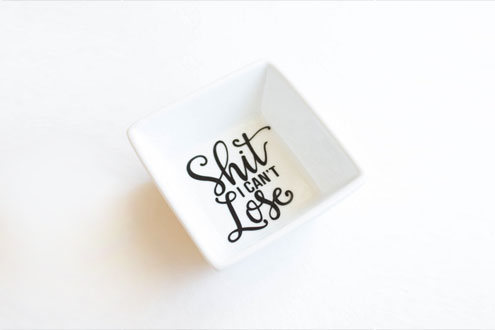 Ring dish.
Getting married usually involves rings, two of them. Provide the newlyweds with a place to safely store these new reminders of their love by buying them this hilarious ring dish. They'll never have to worry about where they left those shiny new bands again.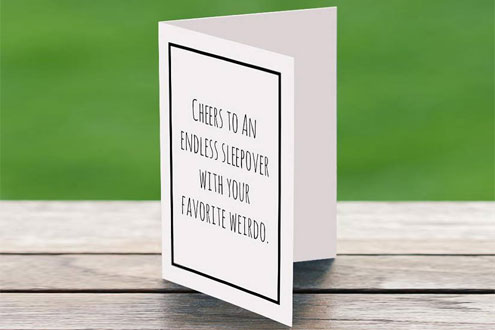 A clever card.
Maybe you already have a great gift but want to add a touch of flair. A fun card like this one is the perfect way to add a personal touch to a cash gift or a gift chosen from the couple's registry.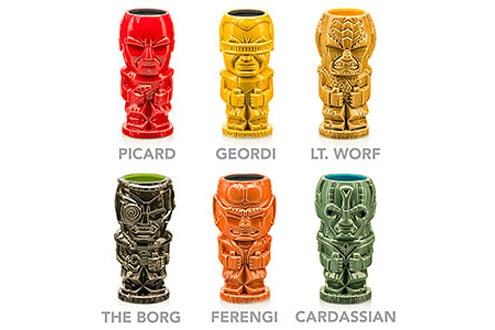 Nerdy shot glasses.
If you know about the couple's secret geeky side, you should check out Geeki Tiki shot glasses. With glasses available for series like Star Wars, Star Trek, Marvel and more, you're sure to find the couple's favorite. A bottle of liquor is the perfect way to finish this gift.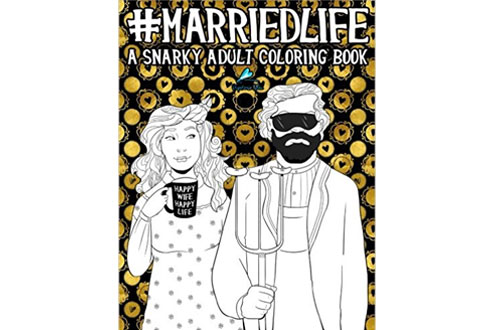 Adult coloring book.
If you haven't noticed, adults color too these days. With colored pencil sets and complicated pattern coloring books flooding the market, it's possible that at least one half of the new couple already loves coloring. This adult coloring book is designed specifically to help married couples destress and unwind. It's sure to be a gift the couple will remember.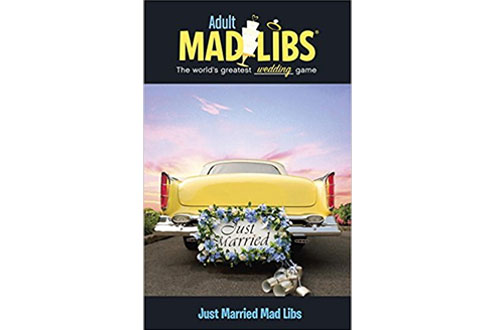 Adult Mad Libs.
Although not quite as popular as adult coloring, Adult Mad Libs is another present that is sure to be a hit with the bride and groom. It's a great way to ensure the couple gets some laughs after their big day. This book is designed specifically for just married couples and it makes a great and inexpensive gift.
Moon dust.
For a couple that's a little on the eccentric side, try buying Moon Dust. With benefits for sex, brainpower and more, these magical dusts are sure to keep the new couple's life interesting. Not recommended for more traditional couples, but we all have friends that are a little out there, right?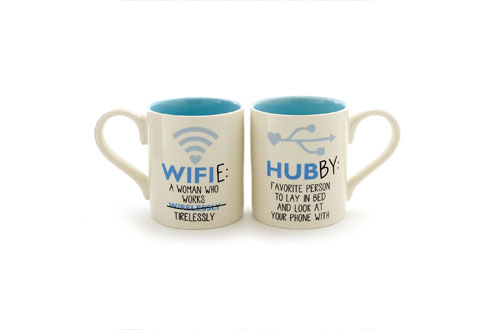 Geeky coffee cups.
For the techie couple in your life, these WiFi and USB hub cups are the perfect gift. They're funny, clever and perfect for a cup of joe in the morning. Add a bag of good coffee beans to add a pep to the newlyweds' steps.
Hot items for funny wedding gifts
The most bizarre gift can also be the most memorable at the wedding. Something different can ensure that the couple will have a lot of fun with it in their first year of marriage. Here are a few unique wedding gifts for newlyweds.
The rules to wedding gift giving
The number one rule is that you should give a wedding gift — no exceptions. The gift you choose for the couple getting married should help them start life together on a good note. Remember that different couples will appreciate different things, so think of their interests and hobbies to ensure that the appropriate gift is given.
Funny wedding gift ideas
Getting a funny and unique gift for a couple who's tying the knot can be a great way to celebrate their wedding and add to the excitement and joy of their big day. Here are a few funny wedding gift ideas that can end up being the talk of the day:
Personalized art. Making or purchasing a hilarious piece of art that reflects the personalities or dynamics of the couple is a great way to remind the couple what you adore about each of them.
Anything alcoholic. While alcohol isn't the funniest thing, it can be riddled with heaps of innuendo and definitely lead to "funny" if not memorable moments.
Board games and childhood toys. Creativity is the key to choosing a funny gift. Getting a couple some board games and a deck of cards can be a fun experience that the couple can share alone or with friends.
Tips for choosing funny wedding gifts
Choosing a great wedding gift is never easy — especially if you're looking for something that is one-of-a-kind. The following suggestions will point you in the right direction:
Check the gift registry. The couple's gift registry can be the best place to start looking for the gift that the couple might appreciate. This will also help you form a basis on what kind of gifts to avoid and what might be more acceptable.
Personal relationship with the couple. This will help you know if your gift will be appreciated or perhaps misunderstood. For instance, knowing if the bride or groom is adventurous or more laid back helps you know what to go for.
Consider the needs and interests of the couple. This will set you down the right path and help narrow down your options. More so, there is no need to spend so much on something that the couple won't like or ever use.
Age of the couple. The age of the soon-to-be married couple is a good place to start when shopping for your funny wedding gift. Whether it's a first or second marriage can also help you know how to go about choosing a gift.
Consult a close friend or family member. If you're still unsure as to what to get, try talking to the couple's close friends and family to get a picture of what they might be interested in.
Bottom line
Just because you're on a tight budget doesn't have to limit your choice of gift. With our special deals, discounts and promo codes, you can get the ideal gift at an affordable price. After choosing your gift, our online retailers will make quick deliveries right to your door — you may even benefit from free shipping on some products.
Latest deals & offers:
More guides on Finder