Finder is committed to editorial independence. While we receive compensation when you click links to partners, they do not influence our opinions or reviews. Learn how we make money.
Fundation business loans review
Get a working capital loan of up to $500,000 with this award-winning online lender.
finder.com's rating: 3.75 / 5.0
★★★★★
Looking to access a substantial amount of cash for your small business quickly — but don't want to sacrifice a personal touch? Fundation could be the answer.
You won't spend much time digging around to find out what you're getting into. Once you're preapproved, you have the option of chatting with your underwriter to get to the core of who you are and what your business needs.
Details
| | |
| --- | --- |
| Product Name | Fundation business loans |
| Min. Amount | $20,000 |
| Max. Amount | $500,000 |
| Loan Term | 12 to 48 months |
| Min. Credit Score | 600 |
| APR | 7.99% to 29.99% |
| Requirements | 12+ months in business, 3+ employees, $100,000+ annual revenue |
Do I qualify?
To meet Fundation's minimum eligibility:
Your business must be up and running for at least one year.
You must have at least three employees.
Your business's annual revenue must be at least $100,000.
You must have a personal credit score of at least 600.
You cannot live or operate your business in Nevada.
What is Fundation — and what types of loans does it offer?
Fundation is a direct online lender that provides business term loans and lines of credit. It's recognized for its working capital financing — or funding meant to cover day-to-day expenses, rather than the cost of large projects — usually in the form of a line of credit. Term loans are available in amounts up to $500,000. Fundation lines of credit provide ongoing access to a credit limit of up to $100,000.
Need help covering the cost of supplies or staff during seasonal fluctuations or temporary lulls in cash flow? This lender could be ideal.
Small businesses that have been around the block a couple times might also benefit from lower interest rates than what newer businesses are typically offered — many things Fundation considers when determining your interest rate can be improved with time.
What makes Fundation business loans unique?
Fundation loans come with the speed of an online lender but the personal touch of a bank. You can get your funds in as little as one business day without sacrificing an opportunity to make a case for yourself to your underwriter. This is particularly valuable for businesses with marks in their financial histories that can look bad on paper but are easily explained.
And Fundation is one of a few lenders that delivers on a promise of transparency. Most everything you could ever want to know about your loan — terms, fees, rates, collateral and more — is readily available online. You won't spend too much time deciding if it can offer a loan that's right for you.
What are the benefits of Fundation business loans?
Underwriting Isn't just about algorithms. Unlike with many online lenders, you can discuss with your underwriter your business, financial needs and credit history.
Award-winning service. Fundation is a three-time winner of Business News Daily's Best Alternative Lender for Working Capital Loans.
Highly transparent site. Easily find what you need to know with just a few clicks — potential APR rates, collateral, eligibility and more.
Quick access to funding. Get your funds as soon as one business day after submitting your online application with Fundation.
What to watch out for
Not ideal for the smallest businesses. You can include yourself in the employee count. But if it's just you running the show, you won't qualify — even if you make millions each year.
Payments are twice monthly. Fundation term loans come with bimonthly payments. Keep this in mind when calculating how much you can afford.
Fees. Term loans come with an origination fee of up to 5% of your loan's value, and it's deducted from your funds before they're disbursed. With lines of credit, you'll pay a $500 closing fee and a 2% fee each time you take out money.
Startups aren't eligible. Businesses younger than a year old should look else where for startup financing.
Compare Fundation to other online business loan providers
Fundation reviews and complaints
| | |
| --- | --- |
| BBB accredited | Yes |
| BBB rating | A+ |
| BBB customer reviews | 1 out of 5 stars, based on 1 customer reviews |
| BBB customer complaints | 4 customer complaints |
| Trustpilot Score | 3.8 out of 5 stars, based on 2 customer reviews |
| Customer reviews verified as of | 15 October 2020 |
Fundation's recent reviews on its BBB page are negative — and complaints highlight high rates and inability to access funds. But beyond this, there isn't much out there for Fundation. Even on Reddit, there's only one mention of Fundation. This Redditor said the process was quick and easy, but they regretted not doing more research to find a better lender. It's not clear what the problem was.
Am I eligible?
Fundera has relatively standard eligibility requirements for an online lender. To qualify for a business loan, you must at least:
Have a business that's at least one year old. Fundation does not provide funding to young startups.
Employ at least three people. You can include yourself, but you'll need a business partner or two.
Generate at least $100,000 annually. This breaks down to some $8,300 a month.
Have a personal credit score of 600 or higher. You most likely won't get the best rates if you just meet the credit score cutoff, however.
Live and run your business in an eligible state. Fundation does not offer loans in North Dakota, South Dakota or Nevada. You also can't get a Fundation business loan outside of the US.
When determining your interest rate, Fundation considers how long you've been in business, how many customers you have, your profitability and growth, your personal and business public records and any debts, among other factors.
How do I apply?
Once you're certain you meet basic eligibility requirements and have narrowed down exactly how much you need to borrow, you're ready to apply.
Go to Fundation's website and click Apply Now.

2. Complete your personal and business info and click Get Started.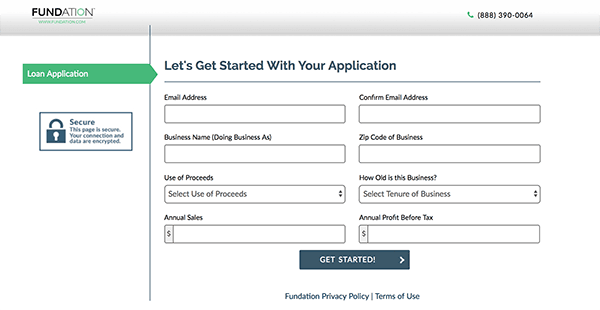 3. Enter more information about your industry, and then read and agree to Fundation's "honor code" to confirm that your information is accurate.
4. You'll read Fundation's analysis of your business, detailing its value and potential risks. If your business appears to be too risky, Fundation will tell you that you aren't a good match.
5. If you're a match, continue Fundation's application by entering details about your loan request and more detailed personal and business financial information. Fundation will ask your permission to perform a hard credit check — one that will temporarily lower your credit score.
6. Submit your application, and Fundation will contact you with feedback and potential loan offers.
What documents do I need to apply?
Fundation strives to assess your business using as little documentation as possible. The majority of borrowers are required to submit three months of business bank statements.
What happens after I apply?
If approved, you'll have a chance to review the interest rates and terms of your offers and submit your documents — usually three months of bank statements are required.
Once you submit your documentation, a customer relationship manager will call to guide you through the rest of the application process. They determine whether you could benefit from speaking with the underwriter to explain any negative points in your financial past.
The whole process can take from one to three days, though it all depends on how quickly you submit your documents. Carefully read your loan contract and ask any questions before signing it.
I got a Fundation business loan. Now what?
You've got your loan, now it's time to start paying it back. To streamline your repayments, consider setting up autopay from your bank account.
Keep in mind that term loans come with payments twice a month, while lines of credit require monthly payments. Time large purchases to avoid having a temporarily short account when your repayment is due.
If you run into any unexpected financial problems, reach out to your contact at Fundation immediately. You might be able to reconfigure your loan to new terms that fit your situation or get you back on your feet.
Bottom line
Small businesses that have been around for a few years and want funding for day-to-day expenses could benefit from financing with Fundation.
But owners of small businesses with less than three employees should find more fitting financing elsewhere. With so many options, be sure to shop around and compare different lenders before settling on a loan.
Frequently asked questions
Business loan ratings
★★★★★ — Excellent
★★★★★ — Good
★★★★★ — Average
★★★★★ — Subpar
★★★★★ — Poor
We rate business loan providers on a scale of 1 to 5 stars based on factors like transparency, costs and customer experience. We don't take into account elements like eligibility criteria, state availability or payment frequency — we save that for our reviews.
Read the full methodology of how we rate business loan providers to get a better picture of what goes into each star rating.