Finder is committed to editorial independence. While we receive compensation when you click links to partners, they do not influence our content.
Cryptocurrency Exchange Finder
Where to buy, sell and exchange bitcoin and cryptocurrency to get the best rates.
About our promoted picks
The platforms shown above are promoted picks, which means they've been chosen from among the partners we work with and are based on factors that include special features or offers and the commission we receive. Keep in mind that we do not compare all products in the market and our promoted picks may not always be the best fit for you – it's important to compare for yourself and find a platform that works for you.
Exchanges are where you buy and sell cryptocurrencies, so they're an integral part of the market. But no two are alike and it's worth doing your research before picking one.
Learn more about the differences between exchanges and how to choose, or compare exchanges to see what's out there.
Disclaimer: This information should not be interpreted as an endorsement of cryptocurrency or any specific provider, service or offering. It is not a recommendation to trade.
Compare cryptocurrency exchanges available in France
What is an exchange?
Online exchanges are much like their brick-and-mortar counterparts. They let you convert one currency to another. In the case of cryptocurrencies this might be converting fiat currency (USD, EUR, etc.) to a cryptocurrency, or trading one cryptocurrency for another.
To use an exchange, you usually need to do the following:
Create an account. In many cases you'll also need to verify your identity by providing a copy of your driver's licence or other proof.
Deposit funds into your account. You usually need to have funds in your account to start trading.
Withdraw your funds when ready. For security reasons, it's standard practice to withdraw and hold funds yourself, instead of keeping it in your account on the exchange.
Exchanges will differ in the following ways:
The coins they carry. Some exchanges only sell bitcoin, while others might let you trade dozens of different cryptocurrencies. Sometimes a coin will only be available on one or two exchanges.
Whether they support fiat currency. Some of the largest exchanges only deal with cryptocurrencies and don't let you deposit or withdraw fiat currencies.
The fees they charge. The two main types of fees are those charged for trading and for making deposits or withdrawals from your account. The best value for money option will depend on your specific plans. For example, you might find different withdrawal fees for different coins or trading fees that change vary by volume.
What type of exchange they are. There are three main types of exchange, and each is quite different. Knowing these can make it easier to compare exchanges at a glance and rule out the ones you're not interested in.
The three different types of exchanges
While each has its own method of doing things, exchanges generally fall into one of three different categories:
Brokers
Trading platforms
Direct P2P
Brokers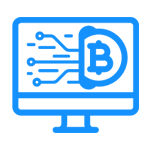 A broker is the most similar to a regular brick-and-mortar store. It's just like buying cryptocurrency from a cryptocurrency shop. Brokers purchase coins "wholesale" from exchanges, put a price tag on it and then sell it on to their own customers.
Brokers can be a quick and simple option, but they also tend to be one of the more expensive ones.
Trading platforms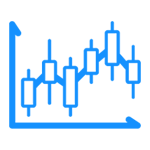 This is the most widely used option, and what most people refer to when they talk about an exchange.
These let users buy and sell currencies with each other, and will also frequently have charting software and advanced trade functions such as order limits.
By definition, you always pay market rates at an exchange because the market rate is however much you're paying. The "official" value of a coin is based on an average of the most recent buying and selling prices at dozens of the world's largest trading platforms.
Direct P2P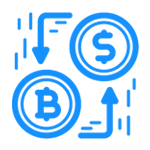 These P2P (peer to peer) exchanges are like middlemen, connecting buyers and sellers to let people trade however they want. It's basically a place for people to advertise the coins they're selling to anyone who wants to buy.
The main advantage is that these let you quickly and anonymously buy or sell coins with almost any kind of trade or payment method you want. The downside is that you'll often pay above market prices, and it can also be riskier than other options.
To help offset the risks, some will have built-in escrow features and reputation systems to identify reliable and legitimate buyers and sellers.
Exchange fees
There are three main types of fees that might be incurred on an exchange.
Deposit fees. Fees for depositing funds into your account. These are usually not charged by the exchange itself, but rather your bank, credit card, money transfer or wallet provider as the cost of a transfer. If you'll be converting currencies too, such as from EUR to USD, this will also usually cost more.
Trading fees. The fee for making a trade itself, usually charged as a percentage of the total trade volume. You'll often get charged around 3% commission by brokers or might pay 0.1% to 0.5% in fees per trade on other exchanges.
Withdrawal fees. These are fees for withdrawing funds from the exchange to your own wallet or bank account. They usually depend on the type of currency being withdrawn and are charged as a flat amount to help cover the exchange's transfer costs for sending you the money.
The best value for money exchange will depend on the currencies you're trading, your planned trade volume, how frequently you'll be making withdrawals and the coin prices themselves. For example, you might end up with better value for money at a seemingly expensive exchange that accepts EUR simply because it lets you avoid currency conversion costs.

Step-by-step guide: How do I exchange fiat for crypto?
Exchanges typically have their own specific process of converting fiat currency to cryptocurrency and back, but the general process remains the same. We'll use a fictitious exchange called LiteExch as an example.
Let's say you have EUR100 to purchase Litecoin. You've shopped around and chose LiteExch for your exchange. You like their interface, they carry Litecoin (LTC), they have low fees and a lot of good reviews.
After creating an account with LiteExch you are asked to upload a photo of your passport or driving licence for verification. You go through the process and get verified. Now you're ready to buy some Litecoin.
You find the Buy/Sell section on LiteExch's website and you select "Buy" (because you're buying Litecoin), choosing USD as your source currency and LTC for the currency being purchased.
Next you enter EUR100 into the amount input field, enter your credit card details and click the "Next" button.
LiteExch now shows you the fees. LiteExch charges 1%, with a EUR1.50 minimum. Because you're only buying EUR100 worth of LTC, 1% would come out to EUR1.00, so you will be charged the minimum of EUR1.50 instead.
The amount of LTC which you will be buying is now shown on your screen. While LTC is trading at EUR62.50/LTC, you will not be buying 1.600 LTC. Instead you will be getting 1.576 LTC because the exchange will keep EUR1.50 of your initial EUR100.
After proceeding with the payment, you now have 1.576 LTC in your exchange wallet.
Exchanging cryptocurrency back to fiat is precisely the same as the above process, but with the currencies reversed.
Choosing an exchange and what to look for
Exchanges come in various shapes and sizes, from those that offer multiple levels of security to exchanges that don't even ask you to create an account. So when you're about to choose an exchange, it's best to look at its features and go from there.
Fees vary widely from exchange to exchange and can pile up if you're not careful. To find out how much you'll actually be paying, consider running the numbers on a hypothetical trade before the real thing, with the same payment method, volume, coins and withdrawal.
If an exchange does not publicly post its fees, steer away.
Exchanges accept all sorts of payment methods, from credit and debit cards to bank transfers, but not all exchanges accept all the various payment options. Also note that some exchanges might accept one payment method for withdrawal, but not for deposits.
Make sure your exchange has deposit and withdrawal options that work for you, and make sure to check the fees associated with different methods.
Exchanges may have limits on how much or how little you can deposit, buy and withdraw at a time. These limits will often vary depending on the transaction method as well as your verification level. For example, someone who's provided notarised proof of identity, address and source of their funds might get unlimited transactions, while someone who's only shown their driver's licence might be restricted to EUR1,000 a week.
See whether the limits work for your plans.
A large exchange might be holding hundreds of millions of dollars worth of cryptocurrency. It's typical for around 99% of it to be held in offline at any given time, but a successful hacker can still become a multi-millionaire by getting that remaining 1%.
Large exchanges tend to be under almost constant attack, and those without effective digital security don't last long. You can assume that prominent exchanges have decent electronic security, but you should still read reviews and make sure an exchange is legitimate.
It's also worth remembering that an exchange which has been hacked in the past isn't necessarily any less secure today. Instead consider how it responded to the hack, and whether all affected users were fairly compensated for any losses.
Naturally you'll also want to make sure your preferred coins are available. There's not much point in signing up for an exchange that doesn't have what you want.
What's next?
There's no one best exchange. It all depends on what your plans are.
But once you know what you want, you can work out what you need and can start comparing exchanges that work for you.
Frequently asked questions
Image sources: Shutterstock
Disclaimer: Cryptocurrencies are speculative, complex and involve significant risks – they are highly volatile and sensitive to secondary activity. Performance is unpredictable and past performance is no guarantee of future performance. Consider your own circumstances, and obtain your own advice, before relying on this information. You should also verify the nature of any product or service (including its legal status and relevant regulatory requirements) and consult the relevant Regulators' websites before making any decision. Finder, or the author, may have holdings in the cryptocurrencies discussed.