The Forever Rose offers handcrafted and meticulously fashioned roses dipped or trimmed in 24k gold, silver or and platinum. The company also supplies specialty items like dipped and trimmed orchids, jewelry, ornaments, displays, playable 24k golf ball, tees with free engraving and gift wrapping.
It looks like we don't have any coupons at the moment.
What can I buy at The Forever Rose?
The Forever Rose offers a beautiful selection of hand selected roses dipped in silver, gold or platinum. It also offers gold dipped orchids and vases. Browse the full selection of rare metal plated items on its website to find the perfect romantic gift.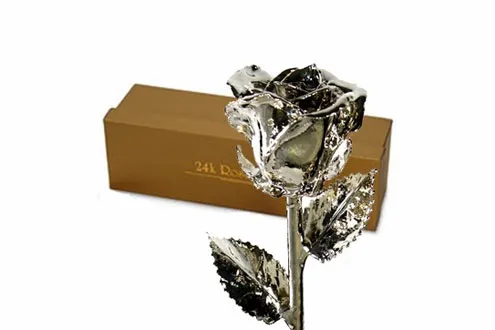 Shipping, delivery and payments
Can I get free delivery?
Yes, you can get free shipping! The Forever Rose ships via UPS and USPS. It offers free shipping for orders over $100.
Shipping costs
The Forever Rose tries to ship orders within 1 or 2 business days from the time an order is made. Shipping charges vary depending on your order and location. Overnight and two day shipping are available for an additional charge. Saturday delivery incurs an additional delivery charge of $15–$20.
How can I track my order?
Check your email in the days after you place your order for a confirmation. When you receive a shipping confirmation, the tracking link will be included. Click to link to see exactly where your order is. You can also use the order status section of The Forever Rose site to check on your order.
Payment options
It's easy to safely pay for your order on The Forever Rose site. You can use any major credit card to pay and the site is secured by Geotrust. You can order through PayPal as well for extra peace of mind.
What is the return policy for The Forever Rose?
The Forever Rose guarantees that their products are without defects and are of high quality. If in the event that you are unsatisfied with your purchase, a return notice must be made within 10 days. To qualify for a full refund, the product must be returned in its original packaging and should be insured as products damaged during return will not be refunded. Refund and return of engraved products is not available.
Shipping fees are not subject to refund. For orders with free shipping, the charges deducted from your refund will be the actual shipping fees. Refunds are credited back to the card used for the transaction.
Are The Forever Rose returns free?
No, unfortunately not. You'll have to pay for return shipping. If you received free shipping with your order, you'll have the cost of the free shipping deducted from your refund as well. No original shipping charges will be refunded.
How do I return items to The Forever Rose?
Contact The Forever Rose customer service to let them know you're not satisfied with your item. They'll get you started on securing a refund. Call 570-798-7095 when you're ready to get started.
When's the next sale?
You should like The Forever Rose on Facebook to keep up with all the latest sales. You can also check the specials and promotions tab for a variety of discounted items. Choices include savings on specific colors or roses or multi-rose discounts, so you can make a whole bouquet.
What sets this brand apart?
The Forever Rose offers a unique service with its dipped flowers by creating a gift that will last forever.
What do people really say about this brand?
Online reviews about The Forever Rose comment on the company's strong attention to detail and commitment to customer service. Its customers are largely very satisfied. Almost all of The Forever Rose's customers are happy with the beautiful gift they've purchased and comment on how much the recipient enjoyed it.
What is The Forever Rose's history?
The Forever Rose has been operating for over 10 years now. Their artisans have mastered the art of preserving the beauty of roses in pure precious metals such as gold, silver, and platinum, and these works of arts have been lighting up faces and warming hearts all over the world.
From the day it was founded, The Forever Rose has been producing elegantly beautiful and detailed masterpieces. From their gold, silver and platinum dipped and trimmed roses, they have expanded the range of their products to dipped and trimmed orchids, jewelry and their new 24K golf balls and tees.
What about social media?
Want to get connected with The Forever Rose? You can follow the company on Twitter or Instagram or like their page on Facebook. They like to celebrate holidays and post lots of cute and wholesome content.
How can I contact customer support?
Don't worry, it's easy to contact customer service at The Forever Rose, and they're very willing to help. Use the email form on The Forever Rose site under contact. You can also call The Forever Rose at 570-798-7095. Their office is open Monday through Thursday from 10:00 AM to 3:00 PM, but they answer emails outside of those hours.
Why should I shop at The Forever Rose?
Pros
Timeless gifts. Unlike traditional flowers, these roses will last instead of wilting.
Money back guarantee. If you are not satisfied with the items you bought, The Forever Rose assures customers with an unconditional money back guarantee.
Secure shopping. The Forever Rose respects your security and privacy and has a website that is protected with the latest SSL secure encryption technology so you can be sure your customer information is kept strictly confidential.
Cons
Deliveries on weekends and holidays are not available. Saturday delivery via UPS will incur an additional charge of $15 to $20.
Bottom line
If you're sick of buying flowers that just die over and over again, invest in a timeless bouquet that's even more beautiful with these precious metal dipped roses. We're sure the recipient will be happy not to have to throw their gorgeous rose in the trash a week after receiving it. There's truly something to be said for a gift that's classically beautiful and lasts forever.
Frequently asked questions