Flights pose low risk of catching or spreading COVID-19, study says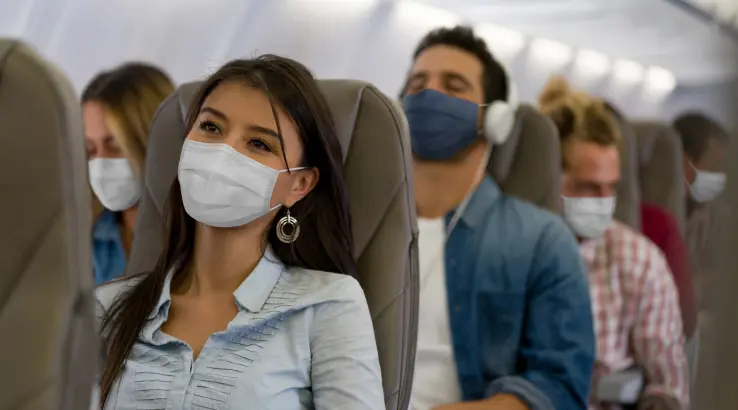 Air travel can be safer than grocery shopping or eating out. Here's what that means for you.
An independent study released earlier this week by scientists at Harvard's T.H. Chan School of Public Health concluded that the risk of virus transmission on flights is actually lower than activities you might engage in on a day-to-day basis, like running errands. This is due to the multilayered approach that domestic airlines are taking in response to COVID-19, including:
Advanced HEPA filtration and ventilation systems
Requiring that passengers confirm they don't have COVID-19 symptoms before boarding
Thorough cleaning and sanitation protocols
Mandatory face masks
The scientists confirmed that HEPA filters remove over 99% of particles containing the COVID-19 particle from the air. The research concludes that aircraft ventilation "reduces the possibility of exposure to COVID-19, lower than other common settings, such as a grocery store or indoor restaurant," adding that the advanced filtration systems used by US airlines actually help counteract the close proximity to other people.
Additionally, the CDC has not tracked transmission of a single COVID-19 case back to a US flight.
Want to see the data for yourself? Read the summary or the full report for more detailed information about the chances of catching or transmitting COVID-19 on an airplane.
Who sponsored the research?
It's important to note that the study was sponsored by "a consortium of aviation industry airline operators, manufacturers and airport operators," according to the Aviation Public Health Initiative (APHI), which spearheaded the project. Still, Dr. Leonard Marcus, PhD and director of the project, said in an interview that "We at Harvard university made an agreement with the aviation industry that we would go forward with this research on the condition that it would be independent. They maintained that independence for us throughout the research."
Simply put, groups that financially benefit from airline travel sponsored the study. But that doesn't mean the findings aren't accurate.
How can I make sure I'm traveling as safely as possible?
The study found that wearing masks is one of the most important factors in low transmission of COVID-19 on airplanes, so the best thing you can do is stock up on PPE before your journey. You can also pack yourself a coronavirus travel kit, which should include hand sanitizer, extra masks, disposable gloves and more.
Flying with an airline that's committed to keeping middle seats empty can also help reduce potential exposure to the virus. Here's a roundup of airlines that aren't selling the middle seat, according to their official statements:
Alaska Airlines
Delta — through January 2021
Hawaiian Airlines
Southwest Airlines — through November 2020
United Airlines
Where can I actually go right now?
While destinations around the country are beginning to ease COVID-19 restrictions, some states are still requiring a mandatory quarantine period for out-of-towners or evidence of a negative COVID-19 test.
That said, these states are allowing entry without any statewide restrictions:
Alabama
Arizona
Arkansas
California
Colorado
Delaware
Florida
Georgia
Idaho
Indiana
Iowa
Louisiana
Maryland
Michigan
Minnesota
Mississippi
Missouri
Montana
Nebraska
Nevada
North Carolina
North Dakota
Oklahoma
Oregon
South Carolina
South Dakota
Tennessee
Texas
Utah
Virginia
Washington
West Virginia
Wisconsin
Wyoming
Bear in mind that even though these states don't have universal restrictions, specific counties and cities may institute their own. For example, in Boise, Idaho, out-of-state travelers are encouraged to quarantine for 14 days after arrival — though this isn't currently being enforced.
Do your research about each state's policies before booking your flight, as regulations vary quite a bit from place to place. For example, indoor dining isn't allowed in Los Angeles, though it is in Dallas.
What about international destinations?
Many countries around the world, including those in the EU, are not allowing US tourists to enter right now. So before planning your trip, be sure to read up on where you can go.
Of the countries that are allowing US visitors, a majority have restrictions in place to slow the spread of COVID-19, like mandatory face masks in public places and airport screenings to make sure you're not bringing the virus with you — yet another reason to pack a coronavirus travel kit. And after touching down, you can expect businesses in the private sector, such as hotels and restaurants, to have their own policies in place. Generally, you can confirm the exact precautions on each company's website.
What does this mean for holiday travel?
Whether or not the results of this study affect your personal travel habits is up to you and the level of risk you're willing to assume. While some families may feel more comfortable flying knowing that the risk of transmission on airplanes is very low, others may abstain out of an abundance of caution.
If you're worried about visiting family and friends because you don't want to bring the virus with you, taking a COVID-19 test prior to departure or after arrival is one option. Some airports, such as Tampa International in Florida, are offering COVID-19 tests at the airport. A rapid response test, while less accurate, costs $57 and provides results within 15 minutes. The more accurate PCR tests cost $125 and provide results within 48 hours.
You can also take COVID-19 tests at private testing facilities upon arrival. These usually provide responses within 48 hours and can be a good way to confirm that your risk of spreading the disease are low — though health officials warn that rapid tests have a lower sensitivity and can be inaccurate.
The bottom line? Talk to your doctor before traveling if you're concerned about how your health might be affected by traveling on a plane. When considering the risk, the APHI's study should provide some peace of mind that traveling on a plane is safer than perhaps previously thought.
More to come in phase two of the study
These findings constitute phase one of the APHI's study, which researched gate-to-gate transmission. Phase two will be about curb-to-curb transmission, including time spent in the airport itself, along with preflight testing protocols.
Photo: Getty Images