Finder is committed to editorial independence. While we receive compensation when you click links to partners, they do not influence our content.
Flex cup review
A total beginner, I tried the Flex menstrual cup and loved it! Here's why.
I'd never used a menstrual cup in my life before trying the Flex cup, and was skeptical at best and prepared to have a traumatic experience at worst. Wow, was I wrong! I was pleasantly surprised at how easy the Flex cup was to use and how utterly uneventful the whole ordeal was.
I chose the Flex cup because of its unique pull tab for easy removal, a feature that no other brand currently has. After using a menstrual cup with this feature, I wouldn't want to switch to one without – it's a game-changer.
I ordered and paid for the Flex cup myself and have not been compensated for this review in any way. These are my honest, unbiased opinions after using the product for one cycle.
Quick take

Pros
Unique pull tab for easy removal
Comes in two sizes
Perfect for beginners
Made of soft, medical-grade silicone
Free of toxins and chemical bleaches
Cons
There is a slight learning curve for beginners
Flex cup unboxing
My Flex cup arrived within a few days after ordering online and came with one reusable menstrual cup, two free period discs and a detailed instruction booklet. I also ordered a bottle of Flex's foaming cup wash for $9.99.
I chose the slim fit cup, which is slightly smaller and probably easier to insert than the full size. According to Flex's website, the slim fit cup is best for light to medium flows and can hold the equivalent of two super-absorbency tampons. The full fit cup is recommended for heavier flows, holding the equivalent of three super tampons. However, Flex recommends the slim fit for all new cup users, regardless of flow.
I typically have a heavy flow for one to two days, followed by a medium to light flow for another two to three days. Although I usually go through more than two super tampons per day, I didn't have any issues with leaks using the slim fit Flex cup for the recommended 12-hour timeframe.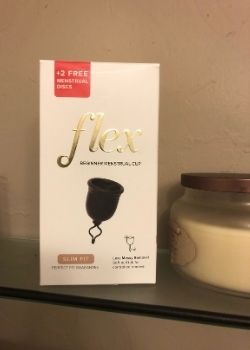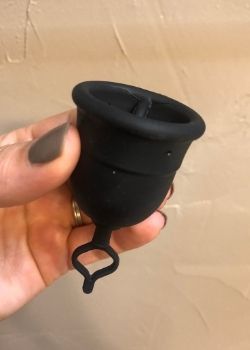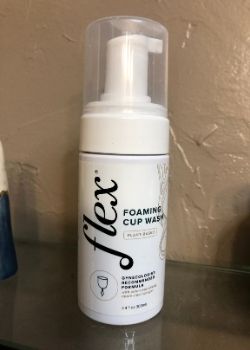 My first impression using Flex cup
I was a little nervous to try the Flex cup at first, having flashbacks of 12-year-old me facing an existential crisis over using tampons for the first time. But to my complete surprise, all my worries were unfounded. The slim fit Flex is unintimidating and was smooth and easy to insert on the first try. I used a panty liner just in case, but aside from a spot here and there, leaks weren't much of an issue.
One of the perks of menstrual cups versus tampons is that you only have to remove menstrual cups once or twice per day, compared to going through several tampons per day. I kid you not when I say that removal was a breeze. The pull tab makes you feel like you're simply removing a tampon, and there were no splatters or murder scenes whatsoever. In fact, I was astounded at how little was contained in the cup after a day of use.
A month in
So far, I've only used Flex for one cycle, but I'm a total convert already. I avoided the bothersome side effects like dryness and irritation that often follow a week's worth of tampon use, and feel comfortable and confident inserting and removing the Flex cup after only a few days of use.
While some Flex cup reviews have said that cramps aren't as bad when using the cup instead of tampons, I haven't used it long enough to weigh in on that. But my period was much less of a headache without worrying about overnight leaks or having a spare tampon or two in my purse at all times.
Tips for using Flex cup
I recommend buying the cup wash. For 10 bucks, the wash makes cleanup so easy. Plus, you'll have the peace of mind knowing you're using a gentle, gynecologist-recommended product rather than hand soap that likely contains fragrances and other irritants.
If you're a beginner, use your Flex cup on a day when you plan to hang out at home – not the week of your beach vacation. It can take a few tries to eliminate leaks, and you'll want to have a comfortable spot and free time so you're not feeling rushed on your first try.
The "triangle" fold was much easier for me than the "U" fold. The Flex cup comes with detailed instructions and illustrations showing you how to do each fold. If one isn't working well for you, move onto the next technique.
Who shouldn't use a Flex cup
The instruction booklet that came with my Flex cup mentions that some women should consult their doctor before using any menstrual cup. Flex cup might not be right for you if:
You have an intrauterine device (IUD)
You've ever had toxic shock syndrome (TSS)
You've recently given birth, had gynecological surgery, a miscarriage or termination of pregnancy
You currently have a yeast or bacterial infection
Flex vs. other menstrual cups
Full disclosure, Flex is the first and only menstrual cup I've used, so I can't speak directly to how it stacks up against competitors. But I will say that I would have been much more anxious about the removal process without the pull tab that only Flex has. So if you're a newbie like me and are looking for something small and straightforward to use, start with Flex.
Bottom line
I would absolutely recommend the Flex cup to anyone who wants to try a menstrual cup but might be nervous about learning to use one. I haven't had any major hiccups at all, and it only took a day or so of using the Flex cup to get the hang of it. I already feel like a pro!
More guides on Finder
Business loan insurance

Pay off your business' loan balance if a key person dies prematurely or becomes disabled, though don't expect to use it if your business fails for other reasons.

9 sites for sexy plus-size corsets

Shop our favorite leather, lace and satin plus-size corsets that'll help you get that hourglass shape. Or pick up a strapless bustier for under a dress.

Coinbase vs Robinhood

Discover which exchange is better suited to cryptocurrency trading after comparing things like fees, security and features.

Bitcoin statistics

Find price, daily volume, total market cap + performance stats for the No. 1 cryptocurrency on the market.

Cryptocurrency statistics

The one, two, threes that anyone looking into cryptocurrency needs to know before you start buying.