Finder is committed to editorial independence. While we receive compensation when you click links to partners, they do not influence our content.
Fleur & Bee skincare review
I tried 4 products from this vegan brand. Here's my verdict.
Fleur & Bee is a newcomer to the vegan skincare space, offering a line of five cruelty-, gluten-, sulfate- and paraben-free products available at drugstores like Rite Aid. I tried sample sizes of four of these products to see if they live up to the hype.
I'll preface this review by disclosing that my skin is dry, sensitive and generally gets pretty angry when I apply a lot of trendy ingredients. So if your skin type is on the opposite spectrum, you might have a different experience with some of these products.
Fleur & Bee sent me a free sample pack containing these four products, but I haven't been otherwise compensated for my review. These are my honest, unbiased opinions after giving the samples a try.
Crème de la Cream

My initial thought when applying this moisturizer was that it's a bit thicker and richer than I prefer to use on my face — at least for daytime. But it was perfect for my dry hands and would probably make a good overnight facial moisturizer. The sample size of this product was just enough for a single use, though, so I wasn't able to try it overnight.
That said, I love the ingredients in this moisturizer and would use it again for that reason. As someone with dry, sensitive skin that's prone to breakouts and stinging, I'm very particular about which skincare ingredients I use. This moisturizer did not cause any stinging, burning, or redness whatsoever, and it felt smooth and rich when applied.
The one drawback I noticed is that it has a strong earthy smell to it that lingers well after it's been applied.Shop Fleur & Bee on Amazon
Eyes Eyes Baby

I honestly wasn't in love with this eye cream with a single use and, unfortunately, can't speak to long-term results with only a sample to try. Eyes Eyes Baby is essentially the same base as the Crème de la Cream moisturizer with a few extra ingredients, including lavender essential oil, caffeine and algae extract.
While the lavender oil does help to mask that earthy odor I mentioned, it doesn't remove it entirely. Additionally, sensitive skin types like mine can sometimes have trouble with essential oils causing irritation or stinging. That was the case when I applied this cream to the delicate skin under my eyes.
Perhaps more resistant skin types could benefit from giving this eye cream a shot over the course of several weeks to see if it yields results. But if your skin is very sensitive like mine, you might want to skip this one — or at least dab on a small amount to see if your skin reacts before applying the rest.Shop Fleur & Bee on Amazon
Rose and Shine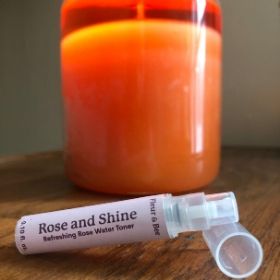 I was pleasantly surprised by how light and refreshing this toner was. Instead of stronger astringent ingredients that many traditional toners rely on, Rose and Shine uses rose flower oil, which imparts a very light scent and has anti-inflammatory benefits.
I never use toners on my dry, sensitive skin. But this product is light and gentle enough that I feel it's a good match for both dry and oily skin.
I tried spritzing this under my moisturizer in the morning, and it felt light and refreshing and enhanced the hydrating effects of my moisturizer. I would recommend trying this product if you're looking for extra hydration, plus anti-inflammatory and antioxidant benefits. Another great thing about this product is that a little goes a long way — so the sample size is plenty for several uses.Shop Fleur & Bee on Amazon
Nectar of the C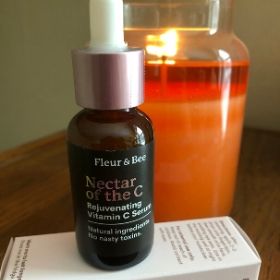 This product has a subtle, light scent. I get just a bit of stinging when I first apply it, but not nearly as much as I've experienced with other vitamin C serums — that's the reason I typically stay away from topical vitamin C. So it is encouraging to see that this one is gentler on my skin. Upon further inspection of the ingredient list, I realized that this might be because Nectar of the C contains a vitamin C formulation called sodium ascorbyl phosphate, rather than straight ascorbic acid. This formulation is known to be gentler on the skin and more stable — meaning it might last longer on your shelf, too.
This is another instance where the sample size is enough for multiple uses, so I'm going to continue using it and am excited to see the results!Shop Fleur & Bee on Amazon
Fleur & Bee alternatives
It looks like we don't have any coupons at the moment.
Bottom line
I would hands-down try three out of these four products again. I like that the ingredients are all intentional — there's nothing included that's used for "filler" or for the sake of being cost-effective. That said, the Eye Eye Baby eye cream was a flop for me — mostly because the inclusion of lavender oil was too much for sensitive skin, and the rest of the ingredients didn't pack enough of a punch.
Don't miss our Beauty Finder guide for more skincare reviews, comparisons and top deals.
More guides on Finder