Finder is committed to editorial independence. While we receive compensation when you click links to partners, they do not influence our content.
Fitbit Surge – Price, Specs & Features Review
Is the splurge worth it for the Fitbit Surge? You decide.
Pros: Fitbit's most advanced tracker, bigger screen, automatic sleep tracking, great battery life.
Cons: Not waterproof, not cheap.
Why should I buy it? If you're looking for a very good fitness tracker and don't mind spending a few extra dollars, the Surge could be the perfect fit.
Design
The Fitbit Surge sits at the top of Fitbit's range of activity trackers, so you'd expect a premium design from the most expensive in the range. The Surge certainly looks different to its Charge and Charge HR cousins, featuring a full square screen instead of the distinctive little strip on the other models. This gives it more of a 'smartwatch' look and the LCD touchscreen is connected to a black rubber wristband. It's comfortable to wear and features a heart rate monitor on its underbelly, while the button on the side combines with the touchscreen to make it simple to use. In short, although bigger than other models in the Fitbit range, the Surge is still quite unobtrusive in design – which is exactly what you want.
Key features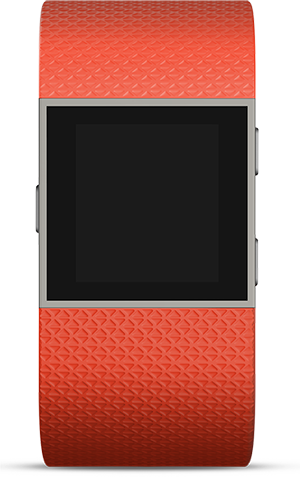 GPS tracking. Like a smartwatch, the Fitbit Surge features built-in GPS tracking so that you can record your route, run time, distance, pace and elevation data. You can than use this data to try to beat your personal bests.
Heart rate tracking. PurePulse Heart Rate means the Surge can continuously keep track of your heart rate to help you maximize the intensity of your workouts.
Activity tracking. The Surge offers all the basic activity tracking features you can find on the Fitbit Charge, allowing you to track your steps, distance, floors climbed, calories burned and active minutes. Automatic sleep monitoring is also included in the package.
Long battery life. The lithium-polymer battery in the Fitbit Surge will last for seven or more days of use. It can be charged back to full capacity again within one to two hours.
Notification and music. The Surge provides call and text notifications via the display to help you stay up to date, while you can also play songs from your playlist.
Wireless syncing. Bluetooth technology allows you to wirelessly sync the data from your Fitbit Surge to your computer, tablet and more than 150 different iOS, Android and Windows smartphones.
Ease of use
Although it's larger and bulkier than Fitbit's other offerings, the Surge is nonetheless not too heavy and still feels comfortable on your wrist. And when being used as an activity tracker – i.e., when you use all the features available on the entry-level Fitbit Charge – it's a piece of cake. Tracking your activity is as simple as can be, while Fitbit's app is a triumph of clever design and is perhaps the easiest on the market to use. Information is clearly presented and easily accessible, no matter how technologically incompetent you may happen to be. On the other hand, the heart rate tracking and sleep tracking could do with a little work, both in terms of presenting the information more clearly and providing more useful insights. The GPS tracker is a wonderful inclusion, but it's not all that suitable when you move on from running to a range of other sports. And don't even think about taking it swimming, as the Surge is splash-proof but not waterproof.
The final word
It may have some smartwatch features but the Fitbit Surge is definitely not a smartwatch in its own right. While the incoming call and text notifications are useful, they're not as practical or user-friendly as those on a proper smartwatch. Where the Surge really excels, however, is when it's used as an activity tracker. Monitoring your distance taken, calories burned and the like is effortless, as is accessing the data you collect. The bottom line is that this is a great fitness tracker, but it's up to you whether you want to fork out the extra dollars for GPS tracking, heart rate tracking and call- and text notifications. The Fitbit Charge offers all the essential inclusions you'd expect on a basic fitness tracker for around $100 cheaper, so consider exactly what you're looking for in a device before making your final decision.
More guides on Finder
Smartwatch finder

We can help you choose the smartwatch that best suits your needs. Whether its a fitness tracker, smartwatch or timepiece, we've got you covered.

Android Wear Smartwatches

Android Wear takes a simple accessory like a watch and turns it into a must-have item to get through your day.