Finder is committed to editorial independence. While we receive compensation when you click links to partners, they do not influence our content.
Fitbit Charge HR – Price, Specs & Features Review
Love the Fitbit Charge? Why not check out its next of kin, the Fitbit Charge HR?
Pros: Continuous heart rate tracking, all the features you'd expect from an activity tracker, caller ID, long battery life.
Cons: Not waterproof, heart rate tracking could be improved.
Why should I buy it? It has all the great features of the Fitbit Charge, but you also get heart rate tracking for just a small extra outlay.
Put the Fitbit Charge and the Charge HR in the same room together and you'd be hard pressed to tell the two apart. That's not a bad thing, however, as they both boast simple, understated style that blends in well and goes virtually unnoticed on your wrist.
The rubberized wraparound wristband is lightweight and comfortable – the skin irritation problems that prompted the recall of the Fitbit Force have been dealt with – and the black OLED display is narrow and streamlined. The screen doesn't illuminate unless you push the small side button to turn it on, although be warned that this screen can scuff easily if you're not careful.
It also features a watch-style strap rather than the clasp mechanism found on the Charge.
Key Features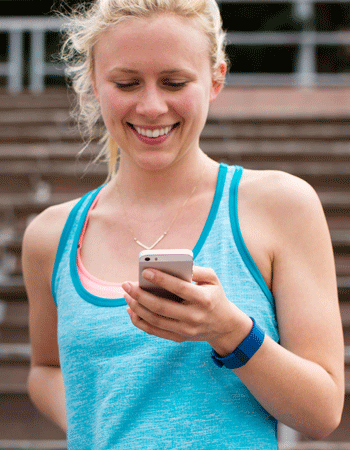 Heart rate tracking.As mentioned, the key feature of the Charge HR is PurePulse Heart Rate. This provides automatic and continuous heart rate monitoring so that you can monitor how many calories you've burned, check the intensity of your workout, maximize your workout potential and reach your fitness goals sooner. It provides a much easier way to keep track of your heart rate than strapping a monitor to your chest.
Long battery life. The lithium-polymer battery in the Charge HR takes between one and two hours to charge and then lasts up to five days. However, this is down on the promised seven to ten days battery life of the Charge.
Activity tracker. The Fitbit Charge HR allows you to track your workouts, the steps you've taken, distance traveled, active minutes and calories burned. It also provides automatic sleep monitoring and offers the ability to set a silent alarm.
Caller ID.The OLED display provides incoming call notifications when your phone is nearby, while it also provides easy access to the time and your daily stats.
Wireless syncing.The Charge HR uses Bluetooth to allow you to wirelessly sync your data to tablets, computers and in excess of 150 iOS, Windows and Android smartphones.
Intuitive app.The Fitbit app is incredibly simple to navigate and use – even for those who aren't at all tech savvy.
Ease of Use
The Fitbit Charge looks simple to use and, for the most part, it is. From tracking your daily activities to syncing to your chosen device, everything is handled with minimum fuss. The Fitbit app, once a bit of a nightmare, is now also incredibly simple to use. Whether you just want basic data or to wade through a wealth of stats, you can do either with consummate ease. It even allows you to quickly log the food you eat so that you can keep track of your diet.
However, the heart rate monitoring and data collection could perhaps do with a little improvement. To start with, you need to keep tapping the tracker or pressing the button to view your heart rate, which isn't always convenient, while the way some of the information is presented is a little difficult to understand. Having said that, the heart rate tracker is a great feature on any activity monitoring device.