First look at Kylie Cosmetics x Stormi Valentine's Collection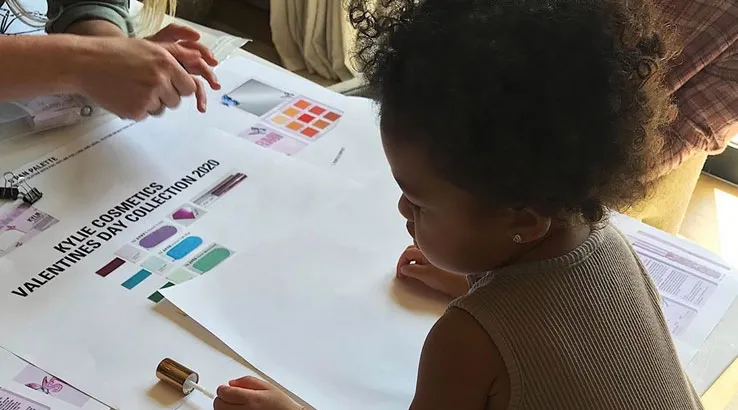 It was only a matter of time before baby girl got into Mom's billion-dollar makeup business. Last week, Kylie Jenner teased an upcoming Valentine's collaboration with daughter Stormi Webster, who turns 2 on Feb. 1.
Kylie Cosmetics posted on its Instagram page a photo of Stormi captioned "First collaboration of 2020 coming soon." With Stormi's birthday on the heels of Valentine's Day, fans expect the collection — rumored to include an eyeshadow palette, gloss, lipstick and more — to drop within the next few weeks.
Update
Kylie Cosmetics confirmed the collection will drop Feb. 1 — and Jenner herself posted new teaser images of Stormi collection product packaging to Instagram stories on her personal page.
In the teaser post, Stormi's shown playing with a lip gloss applicator amid drawings of butterfly-adorned lip kit packaging and a nine-pan eyeshadow palette. While butterflies may not be a typical Valentine's motif, they're reportedly significant to Jenner — she and Stormi's father, Travis Scott, have matching butterfly tattoos, and the beloved insect is Stormi's nursery theme.
Sneak peek
Popular beauty news account Trendmood1 posted behind-the-scenes sneak peeks of the collection, featuring shots of Jenner rocking vibrant pink lids, a velvety nude lip and a butterfly hairpiece perched on her crown. A second teaser shot posted by Trendmood1 shows new Kylie lip kits, though it's unclear whether these are part of the collab or another upcoming launch.
Based on prior special collections, we expect this one will sell out fast. Stay tuned for further updates, product swatches and more as we pick up additional details.