Fintechs and banks partner to provide service during COVID-19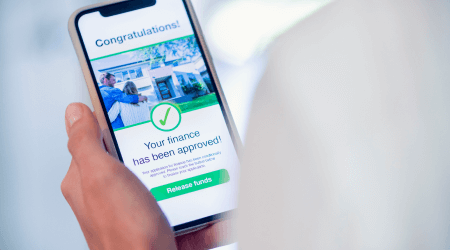 Social distancing has forced lenders to make major changes that are here to stay.
It's easier than ever to get a loan online in 2020, thanks to new partnerships between banks and financial technology companies, or fintechs. At least that was the consensus at industry conference LendIt Fintech 2020. And as banks move online, online lenders are vying to become banks.
"I think 2020 will be defined as the turning point for fintech in some ways," said Bo Brustkern, the cofounder and CEO of LendIt Fintech, during the opening remarks of the conference.
It's the annual industry event for fintech companies, and this year the conference was held virtually from September 29th to October 1st.
"It was one of the most extraordinary periods in my career," said Peter Renton, the LendIt Fintech chairman, describing 2020. "You had companies like Cross River Bank putting up online portals. … Fintech was mobilizing."
Here's what these changes mean for individuals and businesses who want to take out a loan in the future.
It's easier to find and apply for a bank loan online
Part of the surge in online lending came from necessity. Government shutdowns and social distancing rules made it impossible to get in-person service at many banks.
But much of it was spurred by the Paycheck Protection Program (PPP). The PPP forced banks to accept a volume of applications that they didn't have the staff to process. And online lenders didn't have funding or the systems in place to fund the loans and receive the government guarantee.
Kabbage, a business lender, also had to partner with some 125 banks to fund PPP loans.
Kabbage was one of the first online lenders to get approved to offer PPP loans by the Small Business Administration (SBA), according to CEO and Cofounder Rob Frohwein.
"But once you get access to [the PPP], you also realize that you don't have access to it unless you're a bank," he said during a panel at LendIt.
Lendio, an online business loan connection service, went from working with 75 lenders before the coronavirus outbreak to over 300, mostly due to the PPP.
"We onboarded 250 banks and credit unions, " Lendio CEO Brock Blake said during another panel on the state of small business fintech lending.
Even after the PPP has been over, bank-fintech partnerships forged during the PPP appear to be here to stay.
Online lenders are becoming more like banks
Finding a lender you can trust also could become easier, again thanks to the PPP. When the SBA approved nonbank lenders to offer PPP loans, it also legitimized online lenders in the eyes of regulators.
Online Lender SoFi has recently applied for a bank charter, and online bank Varo has already been approved for one.
Companies that get a bank charter are required to follow federal banking regulations, which tend to be more strict than the regulations fintechs are currently subject to.
Online lenders are regulated by individual states and government bodies like the Consumer Financial Protection Bureau.
But the lack of federal regulation for fintechs had left the space a virtual wild west and a headache to follow. And it can make it difficult for borrowers to tell which lenders are operating legitimately — and which are actually offering a good deal.
Community banks and credit unions are leading the way
Community banks and credit unions are notoriously small and low tech. But this has worked to their advantage during COVID-19.
All banks needed to make a shift online. But community banks and credit unions were able to adapt faster because they didn't have massive technology systems to update and replace.
Looking locally might actually be the answer if you want a fast loan with an easy-to-use app. At least in the near future.
It's easier for lenders to tell if you can afford a loan right now
Banks have taken a strong shift in the factors they consider when processing loan applications — thanks in part to partnerships with fintechs.
Traditional credit scores can take six months to reflect spending and repayment habits and just don't reflect the current reality for most borrowers.
While lenders still consider credit, having a good score alone won't help your application as much as it used to. Instead, industry lenders generally see cashflow as a better way to assess potential borrowers. And fintechs have made it easier for banks to run a real-time cashflow analysis.
This means that how you manage your money — outside of lending — is more important than ever. Lenders are looking at your spending habits, savings, bill payment history, bounced checks — anything that would appear in your bank account or other financial statements.
While these shifts were prompted by COVID-19, it's likely that they're here to stay. For the most part, it's sped up plans that companies already had in place, rather than forcing them to change course. Ultimately, it could make lending both safer and easier for borrowers and lenders alike.
Photo: Supplied