Finder is committed to editorial independence. While we receive compensation when you click links to partners, they do not influence our opinions or reviews. Learn how we make money.
Find a luxury credit card that fits your lifestyle
Claim a status symbol while earning rewards and enjoying premium perks.
Flash a luxury card and it can draw the attention of a room. Besides the status, luxury cards can offer first-class travel perks for regular jet-setters along with top-of-the-line reward opportunities. Here's a look at just what these cards bring to the table and whether they're worth the cost.
Luxury card comparison
There are a lot of luxury credit card options, but most are cobranded airline or hotel credit cards. If you're looking for a reward redemption freedom, these are the top luxury cards to consider:
The Platinum Card® from American Express
Luxury Card Mastercard® Gold Card™
Chase Sapphire Reserve®
Citi Prestige® Credit Card
U.S. Bank Altitude Reserve Visa Infinite® Card
| | The Platinum Card® from American Express | Luxury Card Mastercard® Gold Card™ | Chase Sapphire Reserve® | Citi Prestige® Credit Card | U.S. Bank Altitude Reserve Visa Infinite® Card |
| --- | --- | --- | --- | --- | --- |
| Annual fee | $550 (see rates & fees) | $995 | $550 | $495 | $400 |
| Welcome offer | | | | | |
| Reward program | | | | | |
| Airline credit | | | | | |
| Intro APR period on balance transfers | | | | | |
| Can carry your balance | | | | | |
| Global Entry or TSA PreCheck fee credit | | | | | |
| Uber credits | | | | | |
What are luxury credit cards?
Luxury credit cards offer perks above and beyond standard credit cards at the cost of high annual fees and demanding membership requirements. Benefits range from access to exclusive airport lounges and travel rebates, to rewards rates that outpace standard cards.
Our pick for a luxury credit card
Luxury Card Mastercard® Black Card™
Read more
Compare luxury credit cards
Are luxury credit cards worth the cost?
Whether a luxury credit card is worth its yearly price tag depends on how you want to use it. The high costs associated with owning a luxury card can be a tough pill to swallow, especially since annual fees can be hundreds or even thousands of dollars. These fees can be made up in some cases, but only by taking full advantage of its premium perks.
Typical luxury credit card features
Many luxury credit cards share standard features, often with leveled-up benefits:
Signup bonus. Many luxury cards offer especially large signup bonuses, a perk often tied to the price of a card's annual fee.
Rewards structures. Eligible purchases with a luxury credit card can earn as high as 5x reward points.
Annual credits. Luxury cards are leaders in the field when it comes to annual credits, often offering hundreds of dollars in credit each year for travel and other expenses.
Travel benefits. Unlimited complimentary access to airport lounges, car rental insurance and roadside assistance are all standard perks with luxury cards.
Time-saving features. Concierge services and global luggage delivery services are just a couple of the time-saving benefits some luxury cards carry.
Chauffeured transportation. Several luxury cards offer access to chauffeur services. While you'll need to pay out of pocket, many cards offer discounts on the service as well.
How to make a luxury credit card pay off
There's only one way to make a luxury card pay off: use enough of the card's perks to overcome the card's large annual fee. No matter how much you enjoy using the card, if you're not creating enough value through perks to meet or exceed the card's annual fee then you're needlessly spending money.
To do this, you're going to want to look at the entirety of your card's features. The best way to do this is to sign in to your card account page and find the section on card benefits.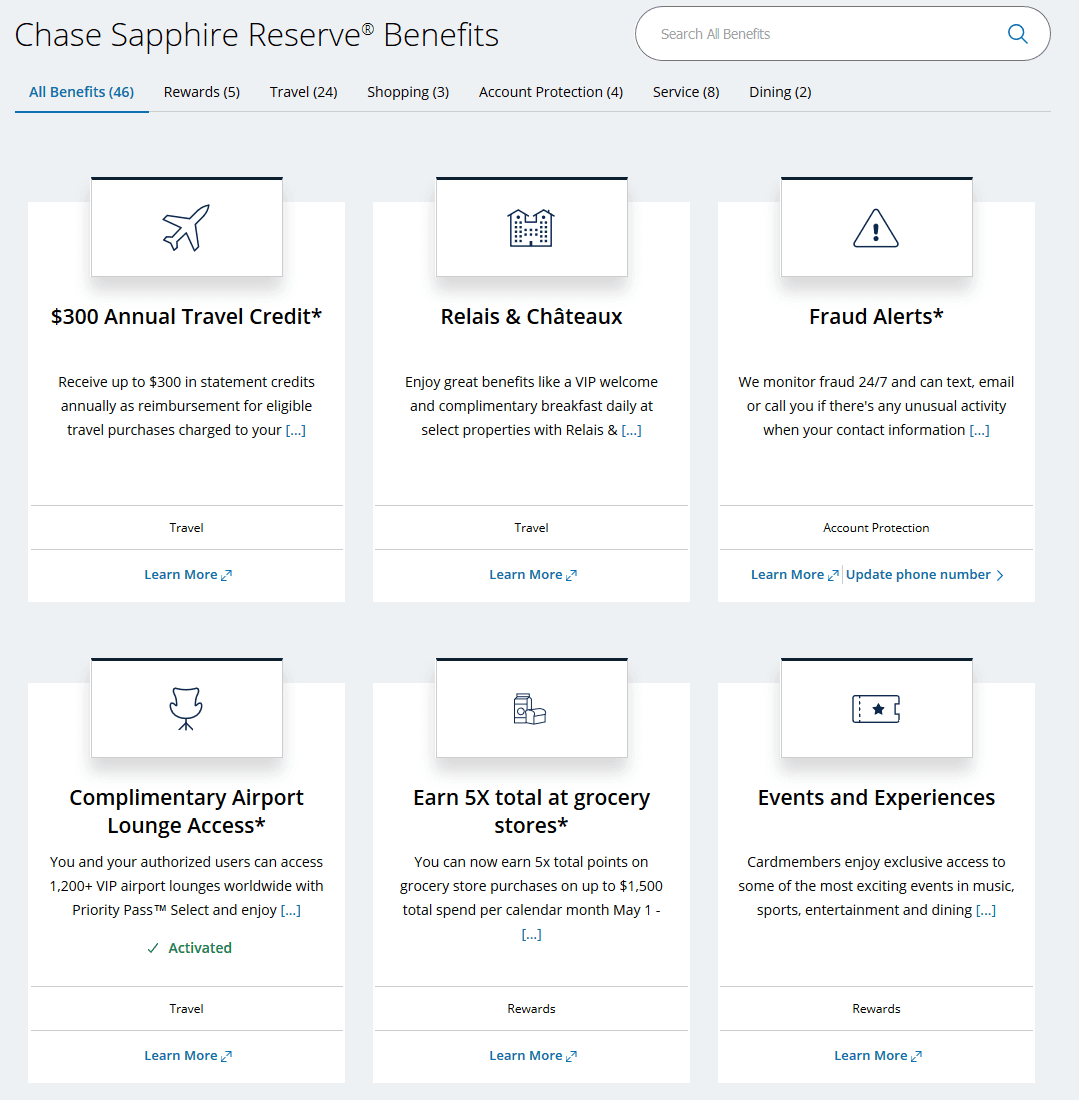 Example of perks needed to cover annual fee
| Card perk | Monetary value | Card annual fee |
| --- | --- | --- |
| Annual travel statement credit | $200 | |
| Annual Uber statement credit | Up to $200 | |
| Centurion Lounge access | $50 each stay | |
| Saks Fifth Avenue statement credit | Up to $100 | |
| Total | $550 | $550 |
Looking at the The Platinum Card® from American Express as an example, you'd need to get more than $550 in value through card perks to make using this card worth it each year. Looking at the card benefits, we can see the Amex Platinum offers a $200 travel credit, as well as a $200 Uber credit. If you travel frequently, you should have no trouble earning what amounts to $400 each year without much effort.
From there, you'd just have to create an additional $150 in value. Your remaining options include a few stays at the Centurion Lounge (valued at $50 per stay), using your $100 credit at Saks Fifth Avenue, or claiming your complimentary benefits at eligible Fine Resorts and Hotels (valued at up to $550) annually. If you don't travel frequently, then this particular luxury card likely isn't the right pick for you.
Clearly, luxury cards spare no expense when it comes to perks – this isn't even counting the base reward rate of using the card on travel purchases. But to make using any luxury card worth it, you have to remember to leverage those features.
Here's a brief comparison of a few luxury cards and what perks you'd have to use to make them worth the spot in your wallet.
A brief luxury credit card comparison
Credit Card
Annual Fee
What you need to spend to pay for the card
The Platinum Card® from American Express
$550

Use your $200 airline fee credit
Use your $200 in Uber credits
Take advantage of any of your Fine Hotels & Resorts benefits including a minimum $100 special-amenities credit

Chase Sapphire Reserve®
$550

Use your $300 annual travel credit
Use your $100 Global Entry or TSA PreCheck fee credit once every four years
Relax at an eligible airport lounge at least once, worth $50

Luxury Card Mastercard® Gold Card™
$995

Use your $200 annual airline credit toward flight-related purchases
Use your one-time $100 Global Entry fee credit
Regularly take advantage of your airport lounge access
Redeem 2x points you spend on airfare
How do I get a luxury credit card?
Applying for a luxury credit card is the same as applying for any other type of credit card, though with stricter requirements. You can submit your application online or over the phone. It may also take longer to be approved for a luxury credit card, since most approval processes aren't automated.
Do I qualify for a luxury card?
Most luxury cards require you have a history of excellent credit for consideration.
Exceptions to the rule
Some cards take luxury to the next level. Invite-only credit cards not only sport great luxury benefits, but enormous credit limits. Examples include the Centurion® Card from American Express and the JP Morgan Reserve Card.
Bottom line
With great credit and confidence in your spending habits, the right luxury credit card can offer you benefits that far outpace the hefty annual fee. Take a more in-depth look at these luxury cards to find the one that's perfect for you.
For less expensive cards, you can check out more cards with travel benefits.
Frequently asked questions