Take these steps now if you might need financial aid for the fall semester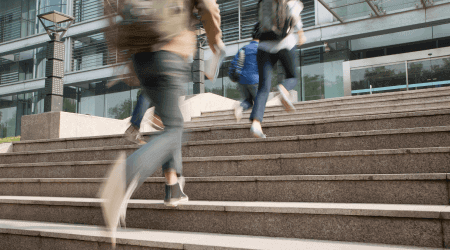 Get those applications in now, even if you're thinking of taking a gap year.
Applications for federal student aid were down by nearly half compared to last year, an Associated Press analysis of federal data found.
The number of high school seniors who filled out the Free Application for Federal Student Aid, more commonly know as the FAFSA, was down by 45% between March 14th and April 11th.
Completing the FAFSA is one of the most important steps a college-bound high school senior can take to prepare for the fall semester.
Between colleges offering limited in-person instruction — or fully moving online — many seniors just might not be sure if it's worth starting a degree this fall.
But even if you're not sure what the next year will hold for you, there are a few steps you might want to take now. You can always return aid if you decide to hold off on your degree. And the longer you wait to apply for financial aid, the fewer options you have.
Fill out the FAFSA now
The sooner you fill out the FAFSA, the more financial aid options you'll have access to. Not only is it essential to getting access to federal student loans and federal work-study. It's also required to apply for many scholarship and grant programs.
In fact, scholarships and grants are really what you might want to focus on right now. You can apply for federal loans for the 2020-2021 academic year until June 30, 2021. But scholarships and grants tend to have much earlier deadlines and are available on a first-come, first-serve basis.
Fill out the CSS Profile too — if it's still available
The College Scholarships Service profile, or CSS Profile, is the main application that many non-federal financial aid programs rely on. Some 400 colleges use this to assess your eligibility for in-school financial aid programs and can reduce the amount you need to borrow.
However, many schools have priority deadlines for this application, so talk to your school's financial aid office to make sure you still have time to submit.
Unlike the FAFSA, the CSS Profile isn't free. It costs $25 to fill out the application and $16 per school you'd like to send it to. But low-income undergraduates may be able to qualify for a fee waiver.
Research scholarships and grants available now
Many scholarship and grant deadlines have ended, but there are still some last-minute opportunities. Talk to your school's financial aid department and your high school guidance counselor, and research local organizations in your area to find out what your options are.
Rather than focusing on one big, competitive scholarship, consider applying for several opportunities. Applying to a wide range of small awards is less risky and may be able to get you more funds than you expected.
Set up an appointment with your school's financial aid office
Try to make an appointment to Zoom with someone at the school you're thinking of attending to get an idea of what your options are for the fall semester. You may want to ask about scholarships and grants, what work-study would look like if your school is holding remote classes or what the procedure is for returning aid if you decide not to attend.
Also ask about how plans for the next semester might affect your cost of attendance — which usually includes meal plans, housing and personal expenses. Your cost of attendance might significantly decrease if your school is relying on remote learning, even if tuition and fees remain the same. In that case, you might not need to apply for as much aid as you had expected.
Photo: Getty Images