Our 10 fave finance bloggers to follow on Twitter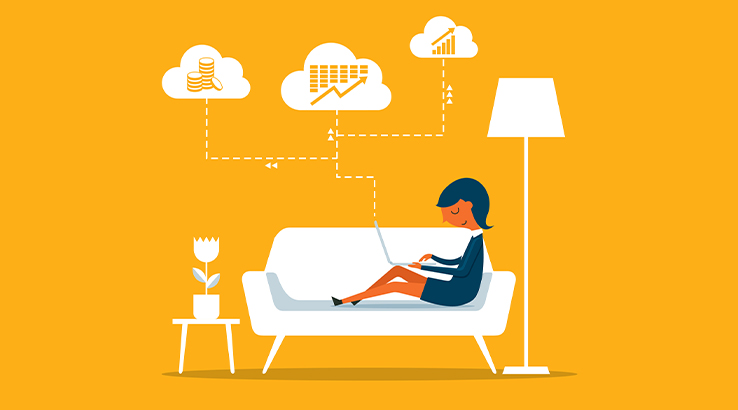 Get a daily dose of thoughtful finance tips, strategies and relatable memes.
Staying motivated when it comes to personal finances can be tough at times. But following these bloggers on Twitter links you to daily encouragement to keep your goals in sight.
1. My Fab Finance
Why we like it. Thoughts of the day, inspiring messages and discussion prompts geared toward women make Tonya Rapley's My Fab Finance an engaging and motivational follow.
My Fab Finance focuses on financial self-reflection. You'll also find motivational quotes and questions to get you engaged with the community — or simply following the conversation.
What's the point in having more money if you're miserable? Get paid AND be happy! It's not this or that. It's this AND that! Start working on your happiness today even if you aren't at your financial goal! pic.twitter.com/2EKKBBIAey

— My Fab Finance (@MyFabFinance) February 1, 2020
Follow @MyFabFinance on Twitter
2. Dave Ramsey
Why we like it. Consistent, motivational — and sometimes biting — quotes on finances and self improvement make Dave Ramsey worth the follow for us.
Money-planning tools, event announcements, quotes and a razor quip every now and again make up the majority of Dave Ramsey's Twitter feed. You'll also get the occasional notice for special discount offers on the Dave Ramsey website for his personal finance courses.
If you live like no one else now, later you can live and GIVE like no one else.

— Dave Ramsey (@DaveRamsey) January 17, 2020
3. Broke Millennial
Why we like it. Insightful articles and creative questions make it fun to engage with Erin Lowry on Twitter.
Erin is an active writer, so you'll find a good deal of her recent articles as you scroll. She also shares some of the steps in her and her husband's financial journey and answers questions that come up about it.
We made the "irrational choice" and I shared some hard numbers over on Instagram… https://t.co/EOSS8sYeHw https://t.co/e2JrE0wucc

— Broke Millennial ® (@BrokeMillennial) December 18, 2019
Follow @BrokeMillennial on Twitter
4. The Finance Bar
Why we like it. Money expert Marsha Barnes targets women and couples with The Finance Bar. It presents great tips to stay focused on financial wellness, with truly gentle reminders that make for a judgment-free — but motivational — zone.
Questions posed to encourage conversations and reflection on personal finance goals are two big parts of The Finance Bar's brand. You'll also find practical weekly assignments designed to help you better care for yourself and build your finances.
👋🏾Gentle reminder📚🧘🏾‍♀️🌤💰#thefinancebar pic.twitter.com/4sS41F1tWL

— The Finance Bar™ (@thefinancebar) February 2, 2020
Follow @TheFinanceBar on Twitter
5. HerMoney
Why we like it. HerMoney by personal finance columnist Jean Chatzky regularly posts straightforward and honest content geared toward empowering women to better their finances.
Information about annuities, finding the best coworking buddy and how to challenge your own views on money are just a small peek at what you can find on the HerMoney feed. Previews of the HerMoney podcast also pop up, which cover topics like estate planning, motherhood, careers, borrowing, budgeting, retirement and more.
No matter how cognizant you are of your spending habits (or how much you cut back), you're still stuck with those inescapable monthly bills. Here's how to (at least) avoid overpaying 6 monthly bills. (@thepennyhoarder for @HerMoneyMedia) https://t.co/1FrG0h6eOD

— HerMoney (@HerMoneyMedia) January 21, 2020
Follow @HerMoneyMedia on Twitter
6. Think Save Retire
Why we like it. Think Save Retire with 30-year-old retirees Courtney and Steve Adcock does a good job of presenting actionable tips alongside personal growth stories.
As the name might suggest, Think Save Retire focuses on personal finance content specific to retirement. In many cases, early retirement. It also features interviews with other finance bloggers and advice for digital nomads.
Let's face it, January sucks. You might feel like you're struggling to get motivated to work. BUT that doesn't always mean you're ready to retire…#FinancialIndependenceRetireEarly #SmartMoney #MoneyBloghttps://t.co/soF0SUUtPP

— Think Save Retire (@ThinkSaveRetire) January 16, 2020
Follow @ThinkSaveRetire on Twitter
7. Financial Mechanic
Why we like it. Adorable cat pictures take the sting out of hard looks at how to change your thinking about personal finance.
Follow along with the Financial Mechanic's personal finance journey with highlights from her blog, and a weekly roundup of articles from other content creators. Financial independence and early retirement is a big part of the feed, along with a ton of support for other women in the personal finance blogging community. Oh, and the cute cat pictures are a big plus.
The Financial Flight – A Craft Beer Menu Of Personal Finance https://t.co/5cne9LfCyq vía @fimechanic

— Financial Mechanic 💵🔧 (@fimechanic) January 31, 2020
8. Smart Money Mamas
Why we like it. You'll find steady original content that focuses on family finances, but Chelsea Brennan blogs personal finance and self-care tips that almost anyone can use.
A fair amount of Chelsea's feed is dedicated to boosting Smart Money Mama blog posts — most revolving around personal finance with a bent toward families. Even singles will find tips on planners, tracking net worth and more. Following Chelsea will award you with an occasional meme and insight on frugal living.
This is your friendly reminder to find and join your local Buy Nothing Group. It restores my faith in humanity daily. You can find yours here: https://t.co/yvanD89woM@Buy_Nothing Groups are amazing for reducing unnecessary spending and waste, but there is so much more to it…

— Chelsea Brennan (@SmartMoneyMamas) December 21, 2019
Follow @SmartMoneyMamas on Twitter
9. Hey Berna
Why we like it. Bernadette Anat approaches personal finance with humor and wit that makes it easier to stay hyped about budgeting.
Posts are a bit sparing on Berna's Twitter feed, but she has a strong focus on the importance of diversity and representation in personal finance — as she says, "You can get money advice from someone who looks and lives like you." This, combined with her other focus — making money fun — creates little gifts of both understanding and playfulness. A follow will also help you stay on top of Berna's event announcements and podcasts she's on.
me explaining why
I need $17.99 to buy
the crime scene
investigation kit
from the book fair catalog my mom pic.twitter.com/NFxhFlPa5k

— Bernadette Anat (@HeyBerna) June 14, 2019
10. Money Saved Is Money Earned
Why we like it. Timely content on personal finance matters make Money Saved Is Money Earned a practical follow — but the kitten pictures are a great bonus.
Run by Sebastian and Tawnya, Money Saved Is Money Earned is a blog and Twitter feed that brings together unique perspectives on personal finance. Personal anecdotes, guides for teachers and retirement education resources make for a well-rounded feed. You can also catch retweets of articles from other personal finance bloggers to get even more angles on how to better manage your money.
He turned 91 yesterday!https://t.co/g96UzPe2Og

— Money Saved is Money Earned (@moneysavedblog) January 31, 2020
Follow @MoneySavedBlog on Twitter
Don't forget to follow Finder on social!
For more personal finance on social, you can keep up with Finder on Twitter, Pinterest, Instagram, LinkedIn, YouTube and Facebook. Our Twitter brings you news and a regular selection of our best articles to help you stay empowered to compare financial products and save.