Finder is committed to editorial independence. While we receive compensation when you click links to partners, they do not influence our opinions or reviews. Learn how we make money.
Compare burial insurance to cover funeral costs
Also known as final expense, you can help ease the financial burden of your passing with burial insurance.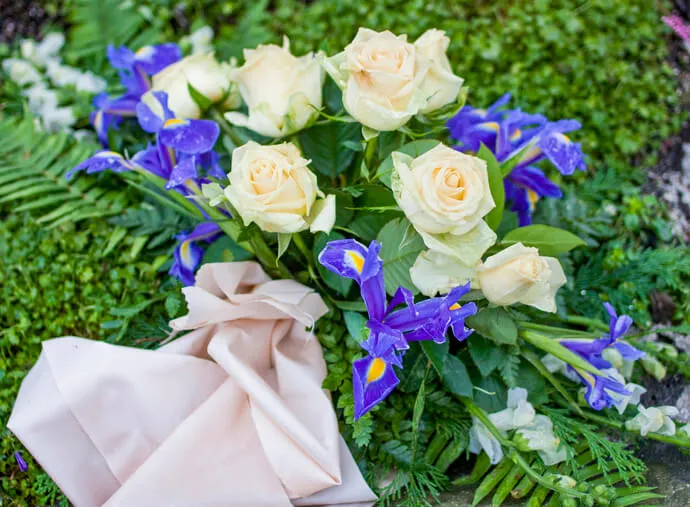 Burial insurance insurance, also called final expense insurance can cover the costs associated with medical bills and a funeral to ease the financial burden on your family. Knowing how it works and what to watch out for can help ensure your loved ones don't have to worry about how they'll pay the bills.
What is burial insurance and how does it work?
Burial insurance is a type of permanent life insurance with death benefits designed to cover the cost of medical bills and a funeral. Coverage typically starts at $5,000 and tops out at $25,000.
Because it's permanent life insurance, it remains in effect as long as you continue paying your premiums. After you die, the death benefit is paid out to your beneficiaries. Despite this policy's name, your beneficiaries can spend the money however they wish.
Typically, final expense insurance is marketed to seniors who don't have enough savings to cover their end-of-life costs. It's also a good option for people with underlying health conditions that may prevent them from buying a traditional policy. Unlike traditional life insurance, these policies do not require a medical exam for underwriting. But many companies require at least a health questionnaire to learn the basics of your situation. If you're suffering from a terminal illness, you may face high premiums or even rejection.
The way this policy works is simple. You buy a final expense policy from a life insurance company, indicating the benefit amount and your beneficiaries. Then, when you pass, your beneficiary can use the money to pay for your funeral costs, medical bills and/or unexpected expenses.
Average cost of burial insurance
The two most important rating factors in final expense insurance are age and gender. Unlike traditional life insurance policies, health status is not a determining factor.
The older you are, the more you'll pay for a final expense policy. Men pay higher premiums than women, simply because data suggests that women live longer. A person in their 50s can expect to pay around $400 a year for a $10,000 or $20,000 policy. A person in their 80s can expect to pay more than $1,000 a year.
Pros and cons of final expense insurance
Pros
Offers peace of mind. If you want to make sure your loved ones won't be left with your funeral, medical bills and end-of-life costs, a final expense policy can ease that burden.
No-medical exam policies available. With a simplified or guaranteed issue policy, you won't need to take a medical exam to qualify for coverage.
Cons
Premiums can be high and benefits low. This is because the insurer doesn't have a complete picture of who they're covering, so they're assuming much more risk.
Costs can exceed the benefit. If you buy the policy too early or outlive the term, the high price of the policy may not be worth it.
Types of final expense insurance
There are two main types of coverage, and anyone can apply for either:
Simplified issue policies skip the medical exam but require you to fill out a health questionnaire. Unless you answer "yes" to one of the knockout questions — like if you're in a wheelchair — there's a good chance you'll be approved.
Guaranteed issue policies forgo both the medical exam and health questionnaire. Since the insurer doesn't know anything about the person they're covering, the coverage limits are usually low and the premiums are high.
Where can I buy burial insurance?
Most major insurers sell final expense insurance policies, including Mutual of Omaha, Transamerica and AIG.
Can I buy final expense insurance while I'm hospitalized?
Yes, you can purchase a final expense policy at any time — even if you have a medical condition, or you're in the hospital. The policy doesn't require extensive medical underwriting, so depending on your health profile and insurer, your coverage could go into effect immediately.
Understand the fine print
Final expense plans can either be bought as a term policy or as a whole life policy, which usually ends at age 100. Term policies are typically for a period of 10, 20, or 30 years, while whole life policies are guaranteed until either age 100 or 120.
Final expense policies sometimes have a waiting period before they pay the full benefit amount. For example, if a policy has a two year waiting period after the policy has been issued and you pass away in those first two years, the company will either pay out a reduced benefit amount or no benefit amount.
There are policies without a waiting period, so thoroughly check and compare policies before you buy.
Is final expense insurance the same as a preneed plan?
It's similar to a preneed insurance in that it's designed to lift the financial burden of your funeral or burial from grieving family members.
But final expense insurance differs in three key ways:
Place of purchase. Preneed plans are typically bought directly through a funeral home to cover the costs of burial services, whereas final expense insurance is bought through a life insurance company.
How it's paid for. You pay for your preneed plan directly to a funeral home, with the money earmarked for a stated burial plan. Final expense insurance, however, remains in force as long as you continue paying your premium, paid out at your death.
Benefit use. Unlike with a preneed plan that sets aside money for services at a specified funeral home, your final expense insurance benefit goes directly to your beneficiaries, who can use it however they see fit.
Is final expense insurance right for me?
Final expense insurance is a solid option for those who don't have a traditional life insurance policy or let their term policy lapse. It doesn't require a medical exam, which could be a relief if you're health excludes you from a traditional life insurance policy.
Final expense insurance is a good option if:
Underlying health issues prohibit you from getting a traditional term or whole life insurance policy.
You are older and traditional life insurance premiums would be too expensive for your budget.
You are concerned about paying for the costs of a funeral and burial only and don't have any other debt or expenses to pay off.
Ask an expert: What's the main difference between final expense and life insurance?

Anthony Martin
Final expense insurance is life insurance. It's usually a whole life policy with very lenient underwriting and small coverage options. Some companies may market a term life insurance policy as final expense insurance, but most companies are selling whole life when they use this phrase.

Final expense insurance is also often referred to as burial or funeral insurance. All these labels mean the same thing — just like the words attorney and lawyer. For decades, these phrases have been used for marketing purposes instead of saying something like "buy life insurance to cover your funeral expenses."

Who are the best candidates for final expense insurance?

The best candidates are people who meet the following conditions:

They want to have some kind of cremation or burial service upon their passing.


They don't have any means of ensuring their burial costs will be paid upon their passing, and they prefer those costs are not left as a burden to their loved ones.

Final expense insurance is worth buying any time these conditions are true and the person can comfortably afford the payments.

Are there any insider tips to getting the best price for burial insurance?

Be open to insurance companies you've never heard of. In the final expense market, the big-name companies are very rarely the best option for most clients. The unknown companies usually have lower rates and more favorable underwriting.

Disregard all advertisements. All advertisements for insurance — especially final expense insurance — are technically true, but they are highly misleading. Consumers should not use advertisements as a basis to determine expectations. It's very common to see advertisements that say "9.99 per month" or "rates start at $10 per month." What the average consumer fails to consider is how much and what type of coverage they're getting for that $10 per month? Many consumers will get exposed to what it really costs and then immediately reject it because "they've seen it for much cheaper on TV."

Work with an independent agent that has access to 10 or more insurance companies. Independent agents represent multiple insurance companies so they can shop around and match their clients with whichever carrier is best for their client. Their job is to find you the best deal. If one of their companies were to offer a high price because of health or lifestyle, that's okay because they can just pivot to another carrier that doesn't. Plus, working with an agent gives you access to no waiting period products that often have the cheapest rates possible. To compare, 95% of final expense policies are guaranteed issues that cost anywhere from 50-200% more — and all come with a two-year waiting period before you're covered.

Don't default to a guaranteed acceptance plan.

Many consumers think if they have any health issues, guaranteed issue is the only way for them to qualify for a new policy. Nothing could be further from the truth. While there are some very dire illnesses where guaranteed acceptance is their only option for new coverage (i.e. HIV, dementia, dialysis and transplants), most health issues are accepted by some insurance companies. The question is, which one will take them? Going back to the point above, this is where working with an independent agent is so powerful.
Alternatives to burial insurance
There may be some situations in which a final expense policy isn't the best option for you. But these policies can also help to take care of your end-of-life expenses:
Term life insurance. A potentially cheaper option if you're under age 65 and healthy enough to pass a medical exam. It can provide a higher benefit than a final expense policy for the same premium or less.
Whole life insurance. A permanent life policy that also grows cash value, but with higher premiums than other options. It could be a good option if you're healthy, under age 65 and want cash value growth to use however you wish later.
Through an estate. Funerals and burials can be paid through the deceased's estate, but executing an estate takes time and likely can't happen before the funeral and burial. Also, the executioner of the will is the only person able to make decisions and allocate funds.
Is prepaying for a funeral an option?
Yes. You can buy a preneed plan directly from a funeral company to satisfy your wishes without putting a financial strain on your family.
Potential downsides to a preneed plan are that it's specific to a particular funeral home, which could be a problem if it goes out of business, move out of your location, raise expenses, or isn't one your beneficiaries wish to use.
Bottom line
If you're in your 70s or 80s and don't own a life insurance policy — or if you know you won't be able to pass a medical exam for a traditional policy — look into final expense coverage.
But if you're younger than 65 and in good health, there may be better or cheaper alternatives for you. Compare the various types of life insurance to find the right fit for your situation.
Frequently asked questions