Finder makes money from featured partners, but editorial opinions are our own.

Advertiser disclosure
How to finance a Ferrari
With prices topping half a million dollars, you won't be able to take out a traditional car loan.
Ferrari has been crafting luxury sports cars since 1940. If you're looking to add one to your collection, you can choose between financing from a luxury car loan provider or directly through an authorized dealership.
How can I finance a Ferrari?
Because of Ferrari's high price tags, you'll need a luxury car loan to purchase one. While this limits the lenders you can turn to, you'll find that interest rates tend to be lower than with traditional car loans because of your vehicle's value.
In addition, you can also browse personal loans secured by a savings account or investment portfolio. These also typically come with competitive rates, though your lender may have special requirements if you plan on using your funds to buy a Ferrari.
Beyond these two options, you also have the choice to buy or lease your car directly through Ferrari Financial Services:
Financing through Ferrari Financial Services. In addition to traditional car loans, Ferrari Financial Services offers an option with a balloon payment. This comes with a low monthly repayment, followed by one larger payment at the end of your loan term.
Leasing through Ferrari Financial Services. Ferrari leases range from a short 13 months to five years. There are multiple mileage options available, and you can pick from an open- or close-ended lease.
As with any type of loan, the rates and terms you qualify for will depend on your credit history and personal financial situation.
How to apply with Ferrari Financial Services
Ferrari Financial Services doesn't have an online application. To get started, you'll need to contact an authorized Ferrari dealership to inquire about your financing options.
To locate a Ferrari dealership near you, head to the Ferrari site and enter your location to find a dealer in your area.
Ferrari Financial Services pros and cons
Pros:
Variety of lease terms
Loans and lines of credit available through FFS
Preowned models available
Cons:
No online application
Specific rates not listed
Few discounts
Compare car loan providers to finance a Ferrari
Use our comparison table for a side-by-side view of available lenders to help you get behind the wheel of a new Ferrari. Select up to four loan providers at once.
What special discounts or programs does Ferrari offer?
Ferrari doesn't offer any special discounts, but it does have a Ferrari Collectors Program. This allows you to take out a loan or line of credit secured by the equity you own in a single Ferrari or a collection of Ferraris. Visit Ferrari's website for more information on how to borrow.
What will a new Ferrari cost me?
For Ferrari's base models, you can expect to pay anywhere from $215,000 to over $600,000. How much you ultimately pay will depend on the features you add to your car and the destination fee, among other factors.
Cars
2019 Ferrari Portofino
Starting MSRP: $215,000
Build: Coupe
City/highway MPG: 16/22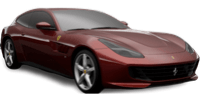 2019 Ferrari GTC4Lusso
Starting MSRP: $301,000
Build: Coupe
City/highway MPG: 12/17
2019 Ferrari 488 Pista
Starting MSRP: $350,000
Build: Coupe
City/highway MPG: 15/20
2019 Ferrari 812 Superfast
Starting MSRP: $364,000
Build: Coupe
City/highway MPG: 12/16
2019 Ferrari SF90 Stradale
Starting MSRP: $600,000
Build: Coupe
City/highway MPG: Not available
Car insurance costs that come with driving a Ferrari
What warranty comes with a new Ferrari?
Yes — all new Ferraris come standard with a three-year, unlimited-mileage warranty as well as a seven-year free maintenance program that begins on the purchase date. You also have the option to purchase the 15-year extended warranty — known as the Power15. Available for both new and preowned Ferraris, it covers your vehicle's primary mechanical components.
Ferrari collector programs
Ferrari offers two programs to current owners looking to use their vehicle or collection as collateral for a loan or line of credit:
Ferrari Select. The Ferrari Select program allows you to borrow against the equity in a single Ferrari or a collection of Ferraris. The minimum line of credit amount is set at $500,000, and the maximum depends on the value of your collection.
Ferrari Direct. The Ferrari Direct program allows you to use the equity in a single vehicle — either a Ferrari or other luxury car — to secure a term loan. These loans have flexible terms and no early termination or origination fees.
Use your loan or line of credit for almost any legitimate purpose — from purchasing a classic Ferrari to investing in a business venture.
Bottom line
Ready to invest in a new Ferrari? Browse your luxury car loan options to find the best deal available to you.
Frequently asked questions
What is Ferrari's certified preowned (CPO) program?
Ferrari's CPO offers a variety of new and previous-year models.
When will the Ferrari Portofino be available?
The Portofino's availability varies by location. To get information on its launch and events, submit an inquiry form on the Portofino page on Ferrari's website.
How can I contact Ferrari?
Email its customer care team at customerservice@owners.ferrari.com or call either of its toll-free numbers at 877-933-7727 or 877-933-77274.