Fenty's new Diamond Bomb highlighter is only in Asia for now, but we have the details
Everything we know so far about Fenty's new Diamond Bomb shade, called Rosé Rave.
Good news Fenty fans: there's more sparkly glow coming your way. The beauty brand launched a new Diamond Bomb shade, dubbed Rosé Rave, and it's available in Asia now. No word yet on when the product will be released in the United States, but we're breaking down what we know so far.
What can I expect from Rosé Rave?
The Instagram account Trendmood1 released a sneak peek at the product, and it's a light pink sparkle. The Diamond Bomb series is made from a jelly-powder formula and offers a crystal-like texture, which can be used on the face and body.
https://www.instagram.com/p/CFPhzfiBTqI/
What Diamond Bomb products are available now?
If you're antsy to get shopping, there are two other Diamond Bomb shades you can choose from.
The All-Over Diamond Veil: Inspired by the

crystal dress Rihanna wore at CFDA in 2014, this

icy white sparkle comes in a matching compact case.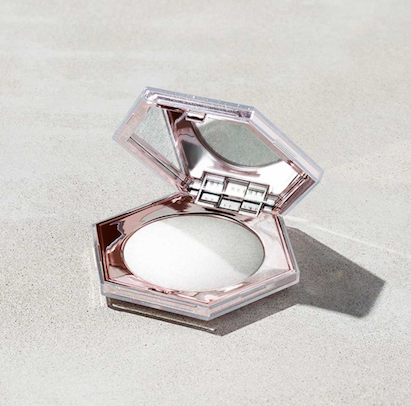 Cognac Candy: For a deeper, copper tone, go with this highlighter.
Diamond Bomb Buki Duo: Snag a combo of the All-Over Diamond Veil and the Face & Body Kabuki Brush 160, which is made from synthetic bristles and features a pinkish hue.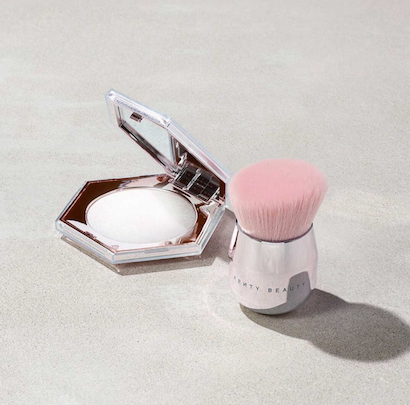 How do I use the Diamond Bomb?
Feel free to apply this product all over your face and body – though the Fenty website cautions that a little goes a long way. Below, find a tutorial courtesy of Rihanna herself, breaking down the best ways to use the Diamond Veil.
Photo: Supplied