Fenty Beauty's limited edition summer collection is here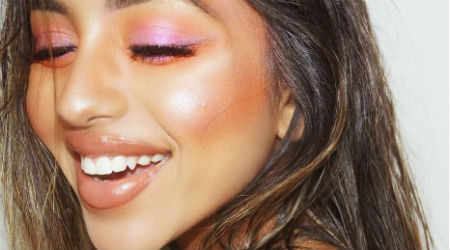 Available for a short time only, the Beach, Please! collection is a must-have for summer 2018.
Get excited Fenty Beauty fans, because Rihanna is blessing us with more makeup goodness. As if Fenty Beauty body glitter wasn't enough, the Beach, Please! collection features more iridescent and shimmery goodness.
Fenty Beauty is more than obliging the holographic trends that have ruled 2018 with this collection, which features two lip luminizer trios called Summer Daze and Summer Nights. Each trio retails for $32, which works out to less than ten bucks per gloss. Thanks for thinking of our wallets, Ri. There's also a highlighter duo named Killawatt Foil, which comes in three different, bold, metallic shades. Each duo costs $36. Finally, the Island Bling 2-in-1 liquid eyeshadow is available in two colors for $26.
Hardcore Fenty Beauty fans will undoubtedly want to order the holy grail of the collection, a complete set that includes 11 full size Fenty Beauty essentials and a limited edition beach towel. Besides all three highlighter duos and both lip gloss trios, you'll get a Body Lava in the color of your choice, a kabuki brush, a Fairy Bomb Glittering Pom Pom, a highlight brush and both Island Bling 2-in-1 eye shadows. The complete summer collection retails for $391. If you can't live without it, be sure to order soon: It's already listed as low stock on the Fenty Beauty website.
Picture: Fenty Beauty