Feds say SBA funding off-limits for marijuana business loans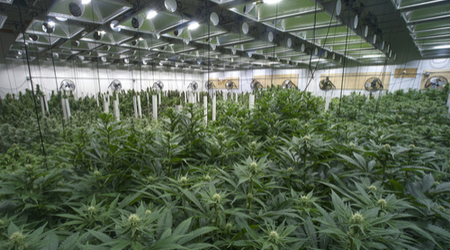 The cannabis industry is thriving in spite of the Fed's rejection of marijuana business loans.
Despite rising marijuana stocks, the federal government announced that Small Business Administration (SBA) loans are off-limits for marijuana- and hemp-related businesses.
The news comes in spite of the fact that the cannabis industry is one of the fastest-growing job sectors, having experienced a 693% increase in the last year.
The announcement followed an earlier rule, this time to clarify a more extensive stance against SBA-backed marijuana business loans.
Last month, the Trump administration clarified its ruling on SBA loans and said that any business connected to the marijuana industry won't qualify for bank loans counting on the Fed's backing.
The new rule extends to businesses that are both directly and indirectly connected to the weed industry, even in the 29 states where medical marijuana is legal.
This means that if a business services the cannabis industry but never works directly with marijuana itself, it won't qualify for SBA loans. Previously, the SBA prohibited loans for companies that had direct involvement in the industry.
SBA Administrator Linda E. McMahon sent out the memo stating the document was intended to clarify rules on the SBA loan programs concerning the cannabis industry.
The memo attempts to justify the government's stance by stating that the sale and distribution of marijuana are prohibited by federal law and that marijuana-related businesses involve transactions revolving around illegal activity. It continues with, "Therefore, businesses that derive revenue from marijuana-related activities or that support the end use of marijuana may be ineligible for SBA financial assistance."
The memo goes on to further identify the types of businesses that are ineligible to participate in the SBA program, including direct marijuana businesses that grow, produce, process, distribute and sell marijuana and related products and edibles for personal or medical purposes, even if it's legally operating.
The new guidelines include businesses that indirectly support the marijuana industry.
The memo proceeds to clarify the government's stance on businesses that indirectly support the marijuana industry. These include businesses that offer testing services or sell equipment used for growing marijuana plants.
Other companies involved with the sale of smoking devices, bongs, pipes, inhalants and other products frequently used with marijuana are also ineligible.
Hemp-related businesses are also ineligible unless a business can prove that its products or activities are legal. This includes products such as paper, rope and clothing.
The new guidelines even state that SBA loan borrowers are prohibited from renting office areas to ineligible businesses in the cannabis industry, citing that it could be subject to confiscation due to involvement in illegal activity.
Because FBA-backed marijuana business loans are off the table for aspiring cannabis entrepreneurs, they'll have to find other ways to finance their business.
Cannabis industry growing like a weed.
The new SBA rules are unlikely to have major effects on the cannabis industry, which was worth $9 billion in US sales last year.
Forbes points out that a report from New Frontier data shows that the marijuana sector is expected to create more than 250 million jobs by 2020. This figure trumps expected job growth from other major job sectors, like utilities, manufacturing and government.
The medical marijuana market is expected to experience huge growth from $4.7 billion in 2016 to $13.3 billion in 2020. Recreational sales are also expected to soar to $11.2 billion in 2020.
These figures only factor in where marijuana is currently legal. More legalization across the US could drive the figures even higher.
New Frontier Data CEO Giadha Aguirre De Carcer says the numbers show that marijuana is a major economic driver and an integral part of job creation in the US economy.
If you're interested in starting a cannabis-related business, learn more about alternatives to SBA-backed loans such as CannaFundr crowdfunding or Green Leaf Money cannabis loans.
Picture: Shutterstock