Finder is committed to editorial independence. While we receive compensation when you click links to partners, they do not influence our opinions or reviews. Learn how we make money.
Compare federal vs. private student loans
Compare the good, the bad and the situational of these two student loan options.
Editor's choice: Credible Labs Inc. (Student Loan Platform)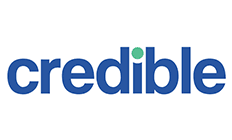 Compare multiple lenders
No hidden fees
Get rates without affecting your credit
Go to site
Federal student loans are most student's first choice when it comes to borrowing for school. But they come with limits and might be able to cover all of your educational expenses. And if you're in grad school they might even be the least expensive choice.
What's the difference between federal and private student loans?
Federal student loans are funded by the government. Everyone gets the same rates and fees, which are set by Congress, as well as access to a variety of repayment plans and forgiveness programs. You don't need good credit or a cosigner to qualify.
Private student loans come from private lenders such as banks, credit unions, state agencies and even schools. They're designed to pick up where federal loans can't cover. You usually need good credit, a regular job or a cosigner to qualify. There are more options for noncitizens.
With both types of loans how much you receive is determined by your school, and you can use your loan toward tuition, fees and education-related expenses while you're a student. And they typically come with a six-month grace period before you start making payments.
The most recent stats on student loan debt
Snapshot: How federal and private student loans compare
Federal student loans
Private student loans
Purpose
Education-related expenses directly related to school
Education-related expenses, including some postgraduate costs
Who it's best for
Any eligible student
Students who've already used up their federal loans, can't qualify for federal loans or have postgraduate expenses, like bar study courses or residency relocation
How disbursement works
Funds go directly to your school, which forwards to you any remaining funds after paying school fees
Funds go directly to your school, which forwards to you any remaining funds after paying school fees
Eligibility requirements
You must:

Be a US citizen or eligible noncitizen with a Social Security number
If you are male, register with the Selective Service System
Enroll at a Title IV school
Enroll at least half-time for direct loans
Consistently earn satisfactory grades
Have a high school diploma or equivalent
Be at least 18 or the age of majority in your state

You or your cosigner must:

Be a US citizen or permanent resident
Prove a verifiable income
Have good credit
Have a low debt-to-income ratio
Have no previous student loan defaults
Go to an eligible school
Be at least 18 or the age of majority in your state

APR
Fixed rate of 2.75% to 5.3% , depending on the student and loan type. Congress set the rates for new student loans each year, which change on July 1.
Varies, though APRs can reach 18% or more, depending on the lender
Cosigner
Not required for most federal loans, with the exception of Direct PLUS Loans
Required for students who are younger than 18 and don't meet the lender's credit, income or legal residency requirements
Academic requirements
Satisfactory academic progress while enrolled, based on your school's standards
None
Lifetime limits

$57,500 for undergraduate students, $23,000 of which can be a subsidized loan
$138,500 for graduate or professional students, $65,500 of which can be a subsidized loan. Includes undergraduate student loans

Varies by lender, though many let you borrow up to 100% of your school's tuition and fees
When repayment starts
Usually six months after leaving school, though some come with the option of starting full or interest-only repayments immediately
Six months after leaving school, or immediately with full or interest-only repayments
Compare lenders for private student loans and refinancing
What are the benefits of federal and private student loans?
Federal student loans
Federal student loans are usually a student's first choices. Even private lenders like Sallie Mae suggest that students apply for federal loans before considering private options. They typically have lower, fixed interest rates than private lenders are able to offer.
If you get a subsidized loan — only available to undergrads — the government pays your interest while you're still in school. You also won't need a credit check, making it ideal for students who don't yet have a credit score and can't find a cosigner with good credit.
But the real benefits of federal student loans come after graduation, including:
Federal forgiveness programs. Going into public service, education, health care or the military? You may be eligible to have a portion of your loan forgiven.
Tax benefits. The interest you pay on your loans is tax-deductible.
Repayment plans based on income. You have the option of determining payments based on how much you can afford.
Extended terms. Depending on your repayment plan, you could get a loan term as long as 30 years. (Keep in mind that making smaller payments over time means you'll end up paying more in the end.)
Federal student loan rates
Congress changes the interest rates on federal loans every July. On July 1, 2020, rates went down from 4.53% to 2.75% on direct loans for undergraduates. Rates on direct unsubsidized loans for graduate students went down from 6.08% to 4.3%. And Direct PLUS loan rates went down from 7.08% to 5.3%.
Since federal loans come with fixed interest, you don't need to worry about paying these rates on loans you already have. The new rates only affect federal loans issued between July, 1, 2020 and July 1, 2021.
Private student loans
Private student loans are often designed to step in and cover expenses when federal student loans fall short. They're there for you when you can't quite scrape together enough federal loans and scholarship money to pay for your dorm room. They also have fewer restrictions as to how you can use your money, using it for postgraduate expenses, such as bar preparation courses or residency-related expenses.
What's more is that it's not hard to find one that'll give you a grace period before you have to start making payments — sometimes longer terms than federal loans offer. And while federal loans tend to come with low interest rates, they're not always lower than what private lenders offer, especially for graduate students.
What are the drawbacks of federal and private student loans?
Federal student loans
The main problem with federal student loans is that they come with a cap. In the face of ever-increasing higher education costs, they frequently aren't anywhere near enough to cover basic costs.
Here's how federal student loan limits compare to the average annual cost of college for the 2018–2019 academic year:
| Type of degree | Avg annual tuition & fees: In-state public college | Avg annual tuition & fees: Out-of-state public college | Avg annual tuition & fees: Private college | Federal student loan limit |
| --- | --- | --- | --- | --- |
| Dependent undergraduate | $21,370 | $37,430 | $48,510 | $31,000 |
| Independent undergraduate | $21,370 | $37,430 | $48,510 | $57,000 |
| Graduate and professional students | Varies | Varies | Varies | $138,000 lifetime limit (including undergraduate degree) |
Sources: https://studentaid.gov/understand-aid/types/loans/subsidized-unsubsidized & https://research.collegeboard.org/trends/college-pricing/resource-library
Only taking out federal loans just isn't going to do it for students with limited scholarships or other means to pay for school.
There's also a limit on how many subsidized loans you're able to take out. This means that you won't always be able to take advantage of the low interest rates and other perks that come with the best loans.
And you'll want to be careful with setting your term limits after you graduate. It's tempting to go with the lowest possible payment over the longest possible time, but you'll end up paying more in interest over the life of your loan.
Private student loans
Any disadvantages of private student loans are primarily the result of them acting more like your typical personal loan. They can come with high interest rates and unexpected fees, and your payments won't have anything to do with how much you earn.
One major problem that students could run into with private loans: Rates and terms are partially determined by a credit check. Many students don't yet have a solid credit score, which means you'll need to find a cosigner with good credit. If you can't find one, you're stuck with high interest rates and fees that could lead to potentially unaffordable payments after you graduate.
Which is the better option for me?
Say you're just starting college and your parents are able to cover a good part of your tuition — so much that your school doesn't see any reason to give you a scholarship. Because your needs are well under federal student loan borrowing limits, you'll may want to go for them first.
But what happens after you finish college, and then law school, and then reach your lifetime borrowing limit? You still need to take the bar before you can start that job you've lined up in September, but bar study courses cost thousands of dollars that you don't have. Here's where you might want to consider taking out a private student loan.
Bottom line
Many students who can't afford to pay for college out of pocket take out federal student loans to cover the basics. If you're have remaining education costs that aren't covered by federal loans — or simply need to borrow more than the limit — private student loans can help you out of that pinch.
But before you make any borrowing decisions, it could be a good idea to talk to your school's financial advisers and compare all of your student loan options on your own.
Frequently asked questions