Fashion and beauty deals we can't get enough of this week – Jan 24, 2018
From the Mac Lunar New Year collection to the new KKW beauty concealers, check out our picks for this week.
Best sales of the week:
Boohoo
This British fast-fashion retailer is offering 80% off of everything in its store. This definitely won't last too long, so head over to find the cutest bodysuits, dresses and more.
Cosme De
The online beauty superstore is offering up to 70% off of gifts on its Valentine's gift guide, so score a gift for your sweetheart now.
Forever 21
Until further notice, get free shipping with any order of $50 or more. Time to load up on new looks for the new year.
The best of beauty for the week: gimme that new new.
Mac Lunar New Year
I'm completely obsessed with these sweet shades nestled in even sweeter packaging. With four lipsticks, a shadow palette and a powder compact, this adorable collection is one you shouldn't miss.
Powderpuff Lippie by NYX
NYX is so cool right now, and it's well deserved. This brand revolutionized cheap makeup and made it trendy. The new lip collection, Powderpuff Lippie comes in eight colors. There's one that's perfect for every skin tone and occasion. With its unique applicator, this lip treatment goes on colorful and bold and is available now at Ulta.
Glossier Solution
The first anti-acne product from breakout beauty giant Glossier is making a big splash. With the studies to back up the new product, an innovative product design and adorable signature pink packaging, I can't wait to get my hands on this chemical exfoliator.
KKW Beauty concealers
The newest thing from the always busy Kim Kardashian is her collection of concealers. We're excited to check these out, from the woman whose highlight kits broke the internet.
Best collabs of the week
Universal Thread x Target
Target's got a new trick up its sleeve for next month: a collection called Universal Thread. This new lifestyle brand will focus on women and denim. All items will be affordably priced between $5 and $40.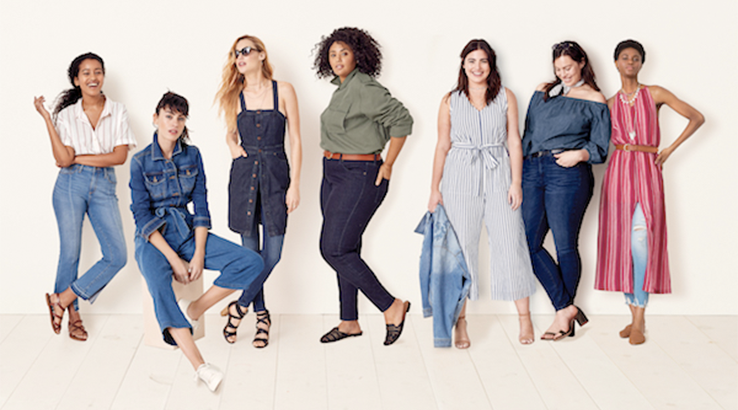 Umbro x ASOS
Umbro will feature a special collection this season, exclusive to ASOS. With beautiful pieces like their emerald green tracksuits, this sporty collab is sure to please the athletic fashionistas out there.
C'est Moi x Target
Target is amping up a new beauty brand called C'est Moi, which is French for "It's me!" This brand is especially designed for teens and tweens, and it's way cuter than traditional acne lines. Offering gentle, carefully curated cosmetics and skincare in blue and yellow packaging, teens are sure to love this new Target brand.
Favorite fashion from this week: new takes on old classics
Urban Outfitters
We love this sweet take on a classic thermal by UO. The Jojo thermal has the traditional soft comfort of a thermal but ties into a sweet bow on the bottom, adding femininity and style.
Boohoo
Cable knit sweaters are getting a bit dated, but pairing them with cable knit pants definitely spices things up. Check out this bold and fun look from Boohoo, where the sweater doesn't stop at the waist.
Free People
Bring back the turtleneck with this warm, chunky sweater that will make you want to cuddle up until it's finally summer again. The cuffed sleeves help pull together an otherwise slouchy look to make people think you actually plan your outfits. Sorcery.