Finder may earn compensation from partners, but editorial opinions are our own.

Advertiser Disclosure
Facet Wealth Financial Planning review
Pay flat fees based on your needs, not your investments.
Facet Wealth Financial Planning's dedicated CFPs hope to make investing more accessible by providing personalized financial planning and investment strategies regardless of your net worth. However, there are no branch locations, so you won't be able to meet your adviser in person.
Consider Facet Wealth if you're looking for personalized advice and 1:1 meetings with a certified financial planner.
Look elsewhere if you prefer to manage your investments independently.
What we think of Facet Wealth
Facet Wealth is an easy way to get help from a Certified Financial Planner (CFP), a fee-only planner who isn't paid to recommend certain products.The CFP only works for you. And you can get as much help as you feel you need, based on a clear schedule of fees. You're also not limited to certain investment types or account types.
Those fees can go pretty high, so you'll have to decide how much help, and how much ongoing help, you'll need based on your portfolio and how often your plans might change.
How does Facet Wealth approach investing?
Facet Wealth uses a personalized approach to help customers work toward their financial goals. Its strategy can be broken down into four steps:
Introduction. Visit the Facet Wealth website to schedule a 30 minute introductory call.
Sign up. Provide your income information, assets, risk tolerance, financial goals and other details.
Match. Facet Wealth will match you with a dedicated certified financial planner (CFP).
Plan. Your CFP helps you develop a plan to reach your financial goals.
Manage. Your adviser provides ongoing management of your investments and assets and offers advice when you need it.
What should I expect when meeting with my financial planner?
After your introductory call, Facet will match you with one of its CFPs. Before your first meeting, you'll receive an introductory packet and login credentials to Facet's online questionnaire. Your Facet CFP will use the information you provide to tailor your planning experience.
Meetings with your CFP can be held in the daytime or evening and are conducted by phone or videoconferencing — whichever you prefer. Facet suggests that during the first year, their clients tend to meet more frequently with their adviser, but that there's no predetermined number of required meetings. You're free to meet with your adviser as frequently or infrequently as you'd like.
What financial services does Facet Wealth offer?
Here's a breakdown of Facet Wealth's financial services:
Dedicated CFP. A personal CFP can speak to you over the phone or via videoconference to help you meet various financial goals
Wealth planning blueprint. Design your own personal financial plan complete with one-page plans for individual goals.
Lifestyle and expense planning. Plan for the future of your family by factoring in potential expenses.
Debt management. Tackle outstanding debt by creating a debt management plan.
Portfolio management. Build a personalized investment portfolio designed to cater to both your short- and long-term financial goals.
Investment management. Learn how to construct and diversify your investment portfolio to better manage your assets.
Retirement planning. Outline your retirement goals alongside your CFP and create an action plan to utilize going forward.
Tax planning. Minimize the impact of taxes while keeping your financial goals in sight.
Estate planning. Take care of your loved ones after your death by drawing up an estate plan with the help of your CFP and personal attorney.
Retirement income. Track your retirement income and create a distribution plan from your savings.
Trust and legacy planning. Structure your finances to provide for future generations and preferred charities in your absence.
Facet Wealth Financial Planning fees
Facet Wealth charges flat fees for its services, which range from $480 to $5,000 a year. This allows you to tailor your experience to your needs and budget. There are seven levels that increase in price and services rendered:
| Service | $480 a year | $800 a year | $1,600 a year | $2,400 a year | $3,000 a year | $4,000 a year | $5,000 a year |
| --- | --- | --- | --- | --- | --- | --- | --- |
| Dedicated CFP | | | | | | | |
| Wealth planning blueprint | | | | | | | |
| Portfolio design | | | | | | | |
| Lifestyle, cashflow, expense planning | | | | | | | |
| Debt management | | | | | | | |
| Investment management | | | | | | | |
| Retirement, education planning | | | | | | | |
| Tax planning | | | | | | | |
| Estate planning | | | | | | | |
| Retirement income and distribution | | | | | | | |
| Trust and legacy planning | | | | | | | |
| Small business planning | | | | | | | |
Pros and cons
Pros
Here's what you can expect when working with Facet Wealth.
Dedicated advisers: You will work with one CFP or more depending on the amount of services you need. CFPs are fiduciaries, which means they're legally required to provide advice only in your best interests. They don't receive commissions for recommending certain investment products.
Flat fees: Facet Wealth charges flat fees based on the complexity of services provided. According to its official Form ADV, these negotiable fees can range from $1,200 to $15,000 per year.
Account linking: Facet Wealth uses the encryption services of Finicity and Plaid to link your banking and investing accounts so you and your CFP can view these on one platform.
Cons
Despite its unique online platform and flat fees, Facet Wealth still has a few drawbacks to watch out for:
Limited track record. This provider has only been around since 2016 and has less than $50 million under management.
No branches. While you can get in touch with your CFP whenever you need assistance, there are no branches and you won't be able to meet your adviser in person.
Fees can be high: Facet Wealth's fees will rise as the scope of its services do. According to its website, annual fees can range from $1,800 to $6,000. But its Form ADV indicates it can climb to $15,000.
Compare with other financial advisers
Facet Wealth Financial Planning reviews and complaints
Facet Wealth was established in 2016, so there isn't a lot of information or customer reviews online. As of October 2020, it has no established presence on Trustpilot and its Better Business Bureau page has just one complaint — an investor seeking a fee refund after closing their account.
The good news is that Facet Wealth has no Consumer Financial Protection Bureau complaints and it's registered with the SEC.
According to Investor.com, a website that rates financial advisers based on over 300,000 data points from the SEC and FINRA, the company holds a trust score of 82%.
How do I get started?
Facet Wealth requires a phone call to apply for financial planning, but you can get started online:
1. Visit the Facet Wealth website and click Get Started.
2. Select a date to schedule a phone call.
3. An adviser will reach out to get to know you.
4. You'll be matched with a CFP who will complete a free financial review.
5. If you're satisfied with the service, your CFP will walk you through the application process.
6. Provide all requested information and submit your application.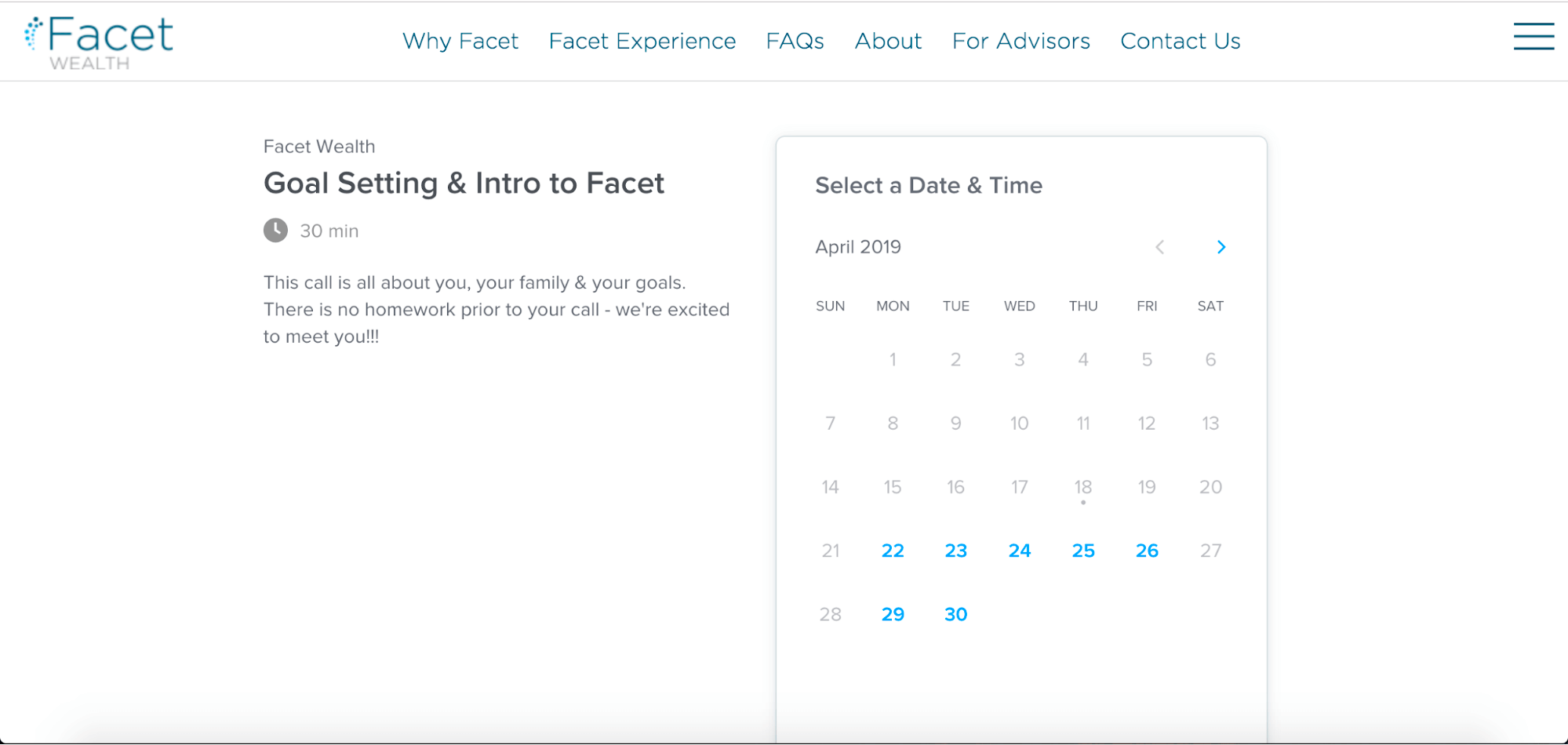 Required information
To open an account with Facet Wealth, you'll need to provide the following information:
Name, date of birth and address
Contact information such as email and phone number
Social Security number
Employment information
State-issued identification
To create an accurate financial strategy, you may be asked for more details such as:
Risk tolerance
Investment goals
Debt statements
Balance sheet of current assets
Eligibility
You'll need to meet a few eligibility requirements before you can open an account:
18 years old
US resident
State-issued ID
Social Security number
Bottom line
Facet Wealth's transparent, flat-fee schedule means there are no surprises when it comes time to pay your adviser. However, it's only been in business since 2016, so if you're looking for a more established financial planner, compare other financial planning options to see what else is out there.
Frequently asked questions
Do Facet Wealth plans include life insurance?
No. However, the company also sells insurance, so it may be recommended as part of your financial plan.
What is a fiduciary?
A fiduciary is a person that is legally responsible for another person's assets. In this case, your CFP has a fiduciary responsibility to make financial decisions that would benefit you.
How do I cancel my Facet Wealth policy?
Contact your CFP and ask to cancel your policy. They will then walk you through the steps. There are no cancellation fees when you cancel a policy.
How do I meet with my adviser?
You can meet with your dedicated CFP by phone or video call.
What is a Certified Financial Planner (CFP)?
A Certified Financial Planner is a professional designation awarded by the Certified Financial Planner Board of Standards. Financial planners attain this designation by meeting the CFP Board's criteria, which includes formal education, work experience, professional ethics and successfully passing the CFP Board's exams.